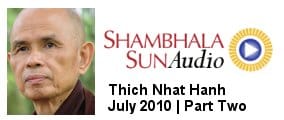 In this second clip culled from our July 2010 feature interview with Thich Nhat Hanh, the Zen master and mindfulness proponent explains, simply, how to make sense of the various Buddhist traditions and practices available to us today.
Click this player to listen:
You can hear our previously posted installment of Melvin McLeod's conversation with Thich Nhat Hanh, in which the Zen master discusses mindfulness as the path to happiness, here — and there will be more to come. In the meantime, you can browse the entire July 2010 issue here, or listen to previous installments of Shambhala Sun Audio, here.