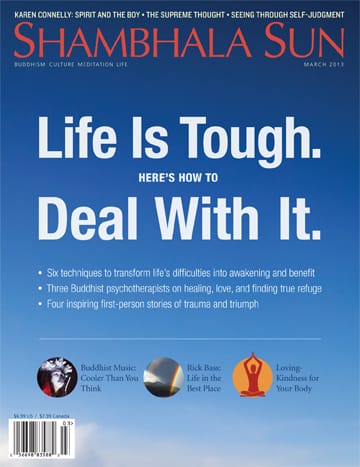 The March Shambhala Sun is on newsstands now, featuring techniques for transforming life's difficulties into awakening and benefit, and stories from people who have done it.
In "Life is Tough: Six Ways to Deal With It," Zen teacher Norman Fischer guides us through six powerful ancient slogans that can help us transform challenges into the path. Four Buddhist practitioners — Ruth Ozeki, Josh Korda, Margaret Roach and John Tarrant — share their personal stories of trauma and transformation. Andrea Miller interviews Tara Brach, John Welwood and Barry Magid, three Buddhist psychologists who combine Western psychology and Buddhism into a powerful path to love and fulfillment.
In "Ruin, Beasties, and Constant Craving," Rod Meade Sperry surveys the intersection of Buddhism and today's popular music, from jazz to metal to rap and beyond. Plus: Rick Bass on protecting the environment and creating a new Atlantis in Montana, Karen Connelly on family, Diana Winston's review of Cyndi Lee's new yoga memoir May I Be Happy, and much more — click here to see what else is inside. If you're not a subscriber, click here to subscribe and save half.