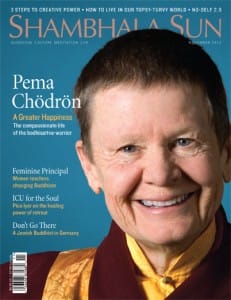 The November Shambhala Sun is now on newsstands, and you can browse excerpts and complete stories online now. Here's what you'll find:
A Greater Happiness: a new teaching from Pema Chödrön on the compassionate life of the bodhisattva-warrior.
Feminine Principal: Andrea Miller profiles three woman teachers — Trudy Goodman, Roshi Pat Enkyo O'Hara and Lama Palden Drolma — who are changing the face of Buddhism.
Topsy-Turvy World: The strength of mind that comes from meditation, says Norman Fischer, can help us end the denial that keeps a world of problems spinning.
Don't Go There: As a Jew and a Briton, Henry Shukman had avoided all things German. But as a Buddhist, he knew he had to when he was asked to teach at a zendo in the Black Forest.
Plus, new pieces from Pico Iyer, Margaret Wheatley, David Loy and many more — click here to see what else is inside. And if you're not a subscriber, click here to subscribe and save half.