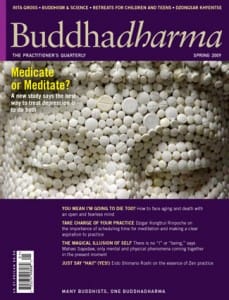 Last week we told you about an article in the new issue of Buddhadharma: The Practitioner's Quarterly on how best to treat depression. The article talks about a new study that suggests trying to heal your depression with meditation alone can make the condition chronic and prone to relapse. Now you can read the article, Medicate or Meditate, online.
The article is written by four physicians who are also long-term meditators: Roger Walsh,  Robin Bitner, Bruce Victor and Lorena Hillman. They explain why both antidepressants and meditation have an important role to play in treating depression.
The article has generated a number of comments from readers. If you'd like to hear what others have to say or would like to share your own experience, click on Comments.