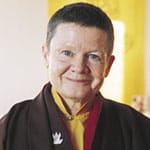 "Without realizing it, we continually put up protective walls made of opinions, prejudices, and strategies, barriers that are built on a deep fear of being hurt. These walls are further fortified by emotions of all kinds: anger, craving, indifference, jealousy, and arrogance.
"But fortunately for us, the soft spot — our innate ability to love and to care about things — is like a crack in these walls we erect. It's a natural opening in the barriers we create when we're afraid. With practice we can learn to find this opening. We can learn to seize that vulnerable moment — love, gratitude, loneliness, embarrassment, inadequacy — to awaken bodhichitta."
For more, see "Stay With the Soft Spot," Pema's classic teaching from the pages of the Shambhala Sun, or see our special Spotlight page of her teachings from the Shambhala Sun.