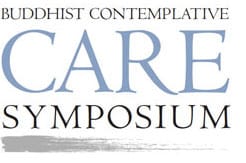 The New York Zen Center for Contemplative Care and the Garrison Institute recently held their 2012 Buddhist Contemplative Care Symposium on Palliative & End of Life Care at the Garrison Institute. The symposium was a four-day gathering of researchers, spiritual caregivers, medical practitioners, and patients themselves, exchanging ideas on "contemplative best practices" and working toward standardization.
"The highlight for me was definitely watching a community develop around the broader topics of contemplative care," said Anna Calabrese, program coordinator for the NYZCCC.
"It was witnessing social workers, doctors, nurses, massage therapists, poets, and former patients connecting and creating a broader vision of what is possible for this work. There was a real emphasis on how the arts can play a role in medicine — especially around end of life care. That was also a highlight for me. This was really brought home when Marie Howe, the Poet Laureate of NY State, gave a reading."
Some of the keynote speakers during this event included Anthony Back, MD; Diane Meier, MD; Koshin Paley Ellison; Judy Lief; Robert Chodo Campbell; Radhule Weininger, MD; Michael Kearney, MD; and BJ Miller, MD. The event, held from November 8 to 11 at the Garrison Institute in New York, was the first symposium of its kind.
"We got lots of feedback around keeping this conversation going. People want to stay in touch. People want to be connected in the evolving work," Calabrese continued. "We also heard how good it was that the Symposium was at a retreat center — Garrison Institute — and not at a hotel or conference center. It made practice an integral part of the content."
For more information on the New York Zen Center for Contemplative Care, please visit http://zencare.org/
Photo by Max Maksimik.  From the NYZCC Facebook page.