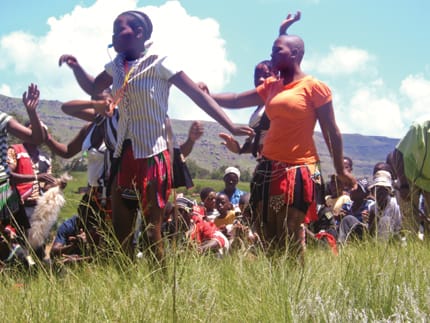 Photo by ThanissaraIn a country ravaged by poverty, violence, and AIDS, Buddhists Thanissara and Kittisaro are finding ways to make a difference in people's lives—and discovering South Africans' own deep sense of interconnectedness.

All dharmas are forms of emptiness, not born, not destroyed, not stained, not pure, without loss, without gain. Bodhisattvas benefit living beings, but do not see any living beings. This is indeed a difficult and yet exquisite point; one cannot grasp it.
—Nagarjuna
In 1994 we were invited to lead a number of meditation retreats in South Africa. This began a long association that led us to founding a small hermitage and cofounding two HIV/ Aids Outreach response programs. The hermitage is nestled on a mountain called Mvuleni, which means both "place of rain" and "place of opening." It is where local people come to pray for rain. In response to the environment we called the hermitage Dharmagiri, which means "sacred mountain."
A quiet knock at our door is a frequent occurrence at Dharmagiri, usually followed by requests for help with schooling, funerals, medicine, money, advice, and the settling of disputes. One day Jabulani knocked and asked us to visit his friend Sipho who had just found out that he was HIV positive. In the nineties and early 2000s, such news was a certain death sentence. Sitting on wobbly plastic chairs in Sipho's room, he told us his story. As the bleak news soaked in, we considered the ramifications. There was not much emotional processing; Sipho himself seemed curiously resigned after a short burst of anger. In the next meeting we discussed diet, careful sexual practices, giving up drinking and smoking, taking vitamins, and going for blood tests. All a huge leap in responsibility for a young man living in a crowded shack alongside an alcoholic father and a brother recently returned from jail. Next month is a long way away, never mind the consequences of HIV infection in ten years' time. So why plan for that?
As the process lurched through alcoholic episodes, visits to the clinic to stand in hopeless lines, consultations with Sipho's girlfriend who was also infected, taking their sick baby to hospital, a midnight suicide attempt, and more queues at the clinic, miraculously the rural mission hospital started an antiretroviral rollout. The program was funded by an overseas nongovernmental organization that was one of many emerging nonprofits trying to respond to the burgeoning crisis. We managed to get Sipho signed up. He was lucky. Many struggling with infection have no access to treatment or choose to die quietly rather than be tested and suffer the shame of social stigma.
Sipho is just one of millions of South Africans whose lives have been affected by the AIDS pandemic that cruelly swept across the land soon after the victory over apartheid. At the time that Jabulani approached us, the South African government was in deep denial about the far-reaching consequences of AIDS. It took ten years of legal battles undertaken by the Treatment Action Campaign (TAC) and heavy pressure from international lobby groups to get the South African government to roll out its own antiretroviral program. TAC and other nonprofits also took on the pharmaceutical industry over the unrealistic cost of these lifesaving drugs.
When we first arrived in South Africa, it was in the midst of euphoria as the country made its relatively peaceful transition from apartheid to democracy. However, our experience of the "Rainbow Nation" soon became more muddied as we encountered layers of wounding left in the wake of apartheid, which had sharply divided a whole nation, leaving a strange dissonance created by people living in parallel but completely different worlds. The white world had its place names, streets, cities, tidy houses with lawns, and flower beds; the black world was dust roads, shacks, and location numbers shrouded in invisibility. In rural KwaZulu Natal, where Dharmagiri is located, we were confronted by an entrenched economic disparity between whites and blacks. The "homelands" (also called "locations") of the black communities had scant resources save a few overcrowded mission schools and health facilities. The unemployment in these areas is still extremely high, about 70 percent in the community we currently work in. Hard on the heels of this initial euphoria, the AIDS pandemic hit, killing millions and devastating communities already fragmented by years of protracted struggle.
As meditation practitioners and monastics trained in the Thai Forest Tradition of Ajahn Chah, we had no experience of social activism when we arrived in South Africa. Our primary training and focus was on inner changes of consciousness rather than outer political or social changes, but we could not ignore the circumstances we found ourselves in. We accepted an invitation to be spiritual directors of a Buddhist center in Ixopo, which is also in the hills of KwaZulu, an area that became widely known because of Alan Paton's 1948 novel Cry the Beloved Country that was twice turned into film. We found ourselves in a vicinity embroiled in a bloody turf war between the two political factions—the African National Congress and the Zulu-based Inkatha Freedom Party. While facilitating one of our first silent ten-day retreats, more than a hundred people were murdered on Christmas Eve in a nearby "location."
The land of South Africa has been scarred and bloodied by numerous racial and tribal wars, including a heart-wrenching genocide of its First Nation, the KhoiSan. This history has forged a people whose psychology is deeply shaped by trauma, a struggle for survival, and the peculiar kind of distortion and denial that justifies racial discrimination. In the Buddhist Retreat Center, each day a small group from the local Zulu community arrived to work as cooks, cleaners, and gardeners. These were people dealing on a daily level with violence, poverty, and the overwhelming residue of apartheid. Even before apartheid they had been colonized by the British and turned into a servant class. These workers, whom their white "bosses" referred to as boys and girls, always greeted us with warm smiles, but it was as though there were a thick pane of glass between us—we could see each other, rub shoulders, but the invisible wall remained. We lived so near, yet so far apart.
---
Thanissara (Mary Weinberg) and Kittisaro (Harry Randolph Weinberg) are cofounders of Dharmagiri Hermitage and Outreach in South Africa. They have been married for twenty years.
Thanissara was one of the first women to be ordained in the West as a nun in Ajahn Chah's Forest Tradition and lived as a nun in the order for twelve years. She is now a facilitator for the community dharma leader program at Spirit Rock Meditation Center in Woodacre, California.
Kittisaro was a Rhodes Scholar at Oxford before going to Thailand in 1976 and ordaining with Ajahn Chah. He lived as a monk in the Forest Tradition for fifteen years and has practiced Chan and Pure Land Buddhism for the past thirty years.