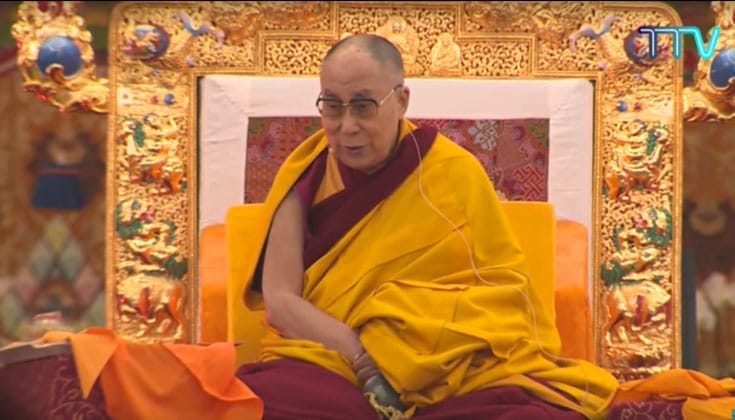 His Holiness the 14th Dalai Lama on the final day of the Kalachakra Empowerment. Photo via
TibetTV
on YouTube.
His Holiness the Dalai Lama told attendees of the Kalachakra Empowerment at Bodhgaya, India that he believes we can expect him to stick around for some time to come.
As Central Tibetan Administration reports, His Holiness, who turned 81 in July, said "You are making this Long Life Offering to me and praying 'May you live 10,000 years', but we know that's not possible. However, my dreams and other indications have shown that I could live to be 113. I don't know about that, but I think I can say I'll live to be 100. So, be happy, be at ease."
About 100,000 devotees attended this year's Kalachakra Empowerment, a gathering where key Buddhist teachings are passed on to devotees through several days of teachings, prayers, and chanting. His Holiness also offered special prayers for those who could not attend the ceremonies after Chinese authorities deemed the event "illegal" to attend. He asked attendees to repay him by paying careful attention to his advice at the ceremonies rather than thanking him through prayers and offerings.
"If you really feel that I am of some benefit and would like to repay gratitude, listen to my advice and implement it in your daily lives. That would be most beneficial and fruitful," he said.