From Mangala Shri Bhuti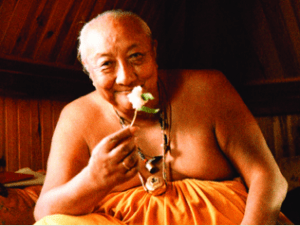 February 20 — To walk into the courtyard of Shechen Monastery yesterday morning, in Bodanath, Nepal, was to enter into a display of warmth and devotion on a grand scale. A white silk canopy hundreds of feet across rose and fell on the gentle morning breeze over the eighty or so lamas, all close students of Kyabje Dilgo Khyentse Rinpoche, who have gathered, along with countless monks, nuns and students from the West and Asia, to join in recalling their teacher's life and activity. [To quote] the concluding lines of Neten Chokling's devotional film homage to Khyentse Rinpoche, titled Brilliant Moon, "the teacher lives on in each student's heart." Nothing better summarizes the feeling of the Centennial Celebration, and surely, this is what distinguishes the path of Buddhist practice from being a limited worship of something outside oneself. However, this wouldn't diminish in any way the joy one feels in witnessing the presence of so many younger teachers at the event, like HE Khamtrul Rinpoche and, of course, Khyentse Yangsi Rinpoche himself.
Watch video of the event here.
Follow the celebrations here.