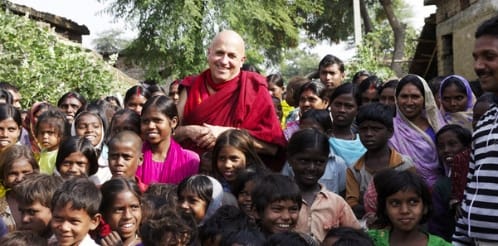 We're always happy to talk about the work of Karuna-Shechen here; the organization, which focuses on humanitarian work in the Himalayan region, is truly an inspiration. And it turns out, it had a great 2011. By which we mean that its work — 120 projects by the count of main coordinator Matthieu Ricard (pictured, center, above) — flourished, assisting many people in need. Here's Ricard's latest "annual report," as it were; see if you're not inspired.
Writes Ricard:
Dear Friends of Karuna-Shechen,

The year 2011 has been fruitful and constructive for Karuna-Shechen and we have begun a few new ventures in our target countries.

In East Tibet, we are continuing our commitment to assist local people with their projects and needs. We are supporting the construction of two new large schools and a surgical clinic. We are helping with elementary schools and continuing our work with small medical clinics and social services. This includes support to the elderly, disabled, and destitute.

In Nepal, the Shechen Clinic has a new director, an experienced and dedicated Nepalese woman, Aruna Rayamajhi, who we hope will further lead the clinic towards fulfilling its mission of caring for the most needy. We have built two new Bamboo Schools (in Ilam and Jhapa) and the first Bamboo College. These projects enable more than 3,000 students to receive an education from kindergarten to pre-university level.

In the remote mountain area of Humla we are building an addition to a hostel for boarding children from distant villages. We are also in the process of adding new classrooms to the adjacent school. In collaboration with Bunker Roy, we have begun two rainwater collection projects, as well as continuing to work with him on our solar electricity programs in India and Nepal.

In India, under the skilled and enthusiastic leadership of Shilpa Sharma, the program that trains illiterate village grandmothers to become solar engineers has been successful. Four women, trained at the Barefoot College to bring solar electricity to their villages, have brought light to over 300 households. Four nuns from our Shechen Orgyen Chöling nunnery in Bhutan are now being trained at the college and next spring a number of grandmothers will be sent from Nepal.

On the administrative side, 2011 was also a most constructive year thanks to the great kindness of our collaborators and our main benefactors and advisors who generously gathered from all over the world in Nepal, last April. Together, we could consider in-depth the outcome of ten years of Karuna-Shechen's activities and, even more importantly, to carefully and realistically envisage our future. As a result of this memorable week of discussions, a clearer and more structured picture emerged for our organization, showing us a way to move forward.

The Karuna-Shechen co-workers in the various branches and sister organizations have been extending their most precious time and energy to further Karuna-Shechen's activities.

Our work has remained a living example of the interdependence and synchrony between good hearts at all steps and levels of our activities. Our field staff and the local coordinators make sure that our goals are achieved properly
Our branches are carefully run by dedicated core collaborators of Karuna-Shechen, and
Our benefactors make the whole endeavor possible through their loyal and  generous support. Our donors have become close friends and advisors over the years and we owe them a deep debt of gratitude.

Contemplating the whole picture and all that we have achieved over eleven years despite our natural shortcomings, the 120 projects of Karuna-Shechen fill us with immense joy and boundless gratitude to all.

I am personally committed to continue to serve this noble purpose as long as I will be physically and mentally able to do so. Thank you all for your interest and support.

With warm wishes,
Matthieu Ricard
Founder of Karuna-Shechen
For more information and to learn how to take part in Karuna-Shechen's work, visit them on the web.