In each issue of the Shambhala Sun (henceforth titled Lion's Roar), we feature a "Dharma-Burger." So: what is a Dharma-Burger? It's any example of Buddhist thought or imagery that's been co-opted or otherwise infused into advertising or marketing—and, therefore, pop/mass-culture. These "Burgers" are often cheesy, piled high with dubiosity. But they can be tasty, too. Like our first one. (But from there, things get a bit sketchier.)
1. The Buddha Bar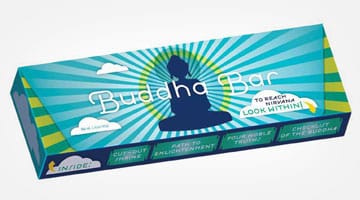 The Buddha Bar was created by the odd, fun-loving people at The Unemployed Philosopher's Guild (UPG), which sells a host of oddities including "EnlightenMints," and "Freudian Slippers." It's tempting to write off the Buddha Bar as a lightweight cash-in. After all, there's just a generic "fruit & nut bar" inside. Outside, though, is where the flavor is.
As UPG's Jay Stern (title: "Associate Philosopher") told me, a lot of work goes into designing and factchecking the packaging of a product like the Buddha Bar. And it shows. Featured are a cut-out "on-the-go" Buddhist Shrine; two quizzes ("10 Characteristics of the Buddha," one reads, "How many do YOU have?"), and playful breakdowns of Buddhist thought. "The 8-fold path leads to the end of suffering," the packaging tells us. "The Buddha Bar provides essential vitamins and minerals to send you on your path, but when you're finished eating, I'd think about getting on this. Seriously, the 'end of suffering' is not to be missed."
2. Lucky Buddha beer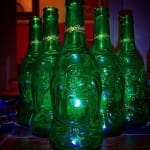 From the various "Buddha Bar" lounges found around the world to style-biting spirits like "Zen" liqueur, alcohol sellers have found again and again that cashing in on Buddhism's mystique works. Lucky Buddha (slogan: "Enlightened Beer") made its name by shaping its very bottle like Hotei — "not actually THE Buddha and therefore not religious but cultural," LB's website tells us, almost defensively. (It's now in cans, too.) In January, the brewer stepped things up, peddling the beer as a Super-Bowl bettor's good luck charm.
3. Umm….
This headline from Metro.co.uk, about a device that monitors your breathing, speaks for itself.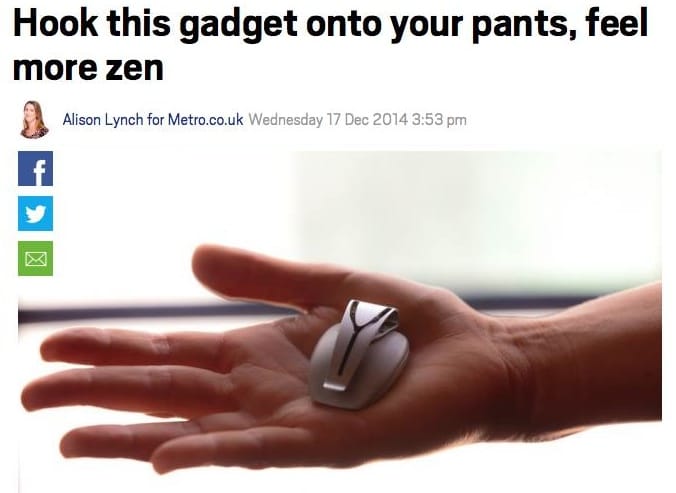 4. "Buddha" on the dance floor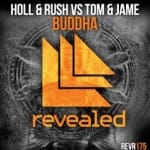 From a team-up of Dutch DJ/producer duos—Holl & Rush and Tom & Jame—comes a product that epitomizes Buddhism's marketing cachet. The foursome's new single is called "Buddha," and features a statue of the Awakened One in its cover design. So what is the song about? "Suffering and the end of suffering"? No. "Compassion and interconnection"? Not quite. "Causing some serious dance-floor damage"? Ding-ding-ding! Not that there's anything new about packaging dance music this way: the ubiquitous Buddha Bar dance-CD series had its eighteenth release this year, and there's been no shortage of imitators purveying likewise "chill" tracks. The difference here is that the pounding, wordless "Buddha" is anything but chill. But then, it's more likely to get bodies, and units, moving.
5. Perhaps this one's more a "Dharma-Reuben"?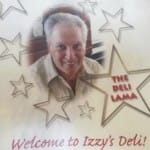 Say hello to the self-appointed "Deli Lama." You'll find him, and this cheeky sign, at Izzy's — The Deli of the Stars — in Santa Monica, California.
6. Putin as Buddha?

If evoking Buddhist imagery is a "plus" as far as selling trinkets and spa visits goes, then surely the same principle applies to, say, Russian president Vladimir Putin—right? Widely considered to be anti-democratic, Putin was nonetheless recently painted as a true man of the people in a London exhibition that unironically depicted him in the guises of several admirable figures, including Batman, Confucius, Martin Luther King Jr., Gandhi, and yes, the Buddha. Nyet, spaseeba!
Thank you for reading Lion
'

s Roar. Now can we ask for your help?

Lion's Roar is a nonprofit. Our mission is to share the wisdom of the Buddha's teachings—to inspire, comfort, support, and enlighten readers around the world. Our aspiration is to keep LionsRoar.com available to everyone, providing a supportive, inspiring Buddhist community that anyone can access, from curious beginners to committed meditators. Do you share our aspiration? We can't do this without your help.

Lion's Roar reaches more readers like you than ever before. Unfortunately, advertising and other revenues are falling for print and online media. We know we have something deeply precious to share with the world, and we want to continue this important work. Can you help support our efforts now?

Lion's Roar is independent, unbiased, not-for-profit, and supported by readers like you. Please donate today and help the lion's roar echo for readers around the world.