Today marks the 30th birthday of the Panchen Lama, who disappeared when he was six years old.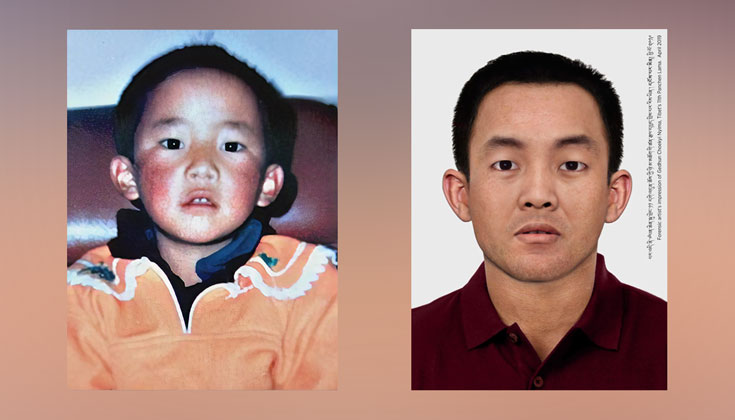 A forensic artist has created an image of what the Panchen Lama might look like 24 years after his disappearance at age 6. The unveiling of the image at a Tibetan community in London was broadcast on the BBC program "The One Show."
The Panchen Lama, Gedun Choekyi Nyima, is one of the most important figures in Tibetan Buddhism, after the Dalai Lama. Nyima was identified as the Panchen Lama in May 1995, at six years old. Three days later, he disappeared. Many suspect he was abducted by the Chinese government. Today, April 25, marks his 30th birthday, and Tibetans around the world are campaigning to draw attention to his disappearance.
There is only one confirmed photo of the Panchen Lama. It served as the sole reference for the forensic interpretation. The forensic image was commissioned by the International Tibet Network's Political Prisoners Campaign Working Group and created by Tim Widden, a UK-based expert in facial aging.
THANK YOU FOR READING LION'S ROAR. CAN WE ASK FOR YOUR HELP?
At Lion's Roar, our mission is to communicate Buddhist wisdom in today's world. The connections we share with you — our readers — are what drive us to fulfill this mission.

Today, we're asking you to make a further connection with Lion's Roar. Can you help us with a donation today?
As an independent nonprofit committed to sharing Buddhist wisdom in all its diversity and breadth, Lion's Roar depends on the support of readers like you. If you have felt the benefit of Buddhist practice and wisdom in your own life, please support our work so that many others can benefit, too.

Please donate today — your support makes all the difference.

Lion's Roar is a registered charity in the US and Canada. All US & Canadian donations are tax deductible to the full extent allowed by law.