Marcia Z. Nelson looks at the Buddhist books that have graced bookshelves across the country—including her own.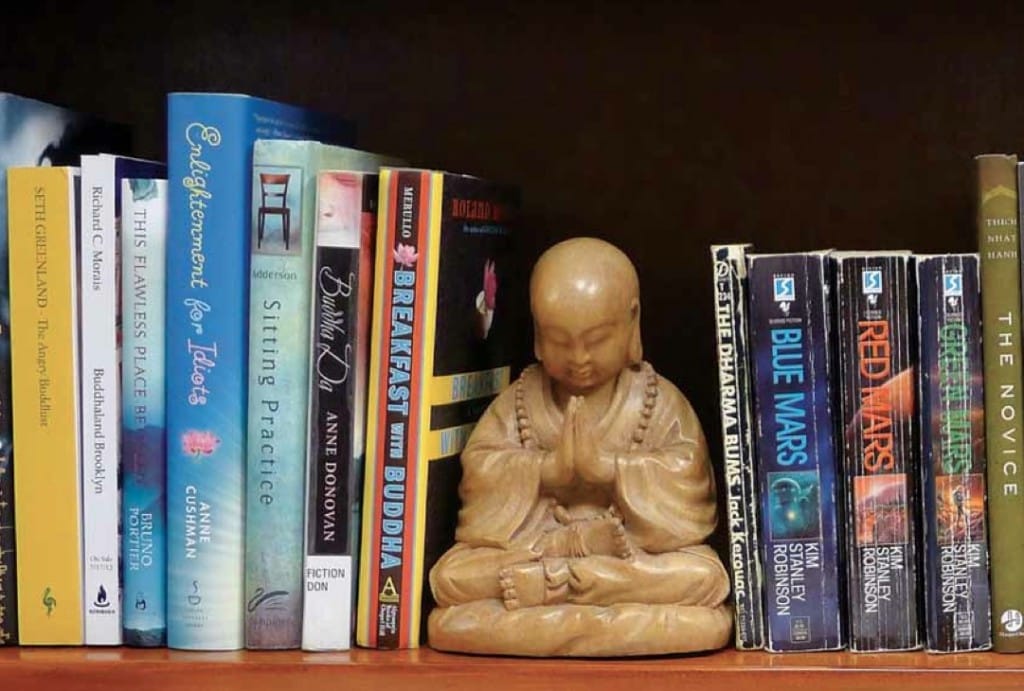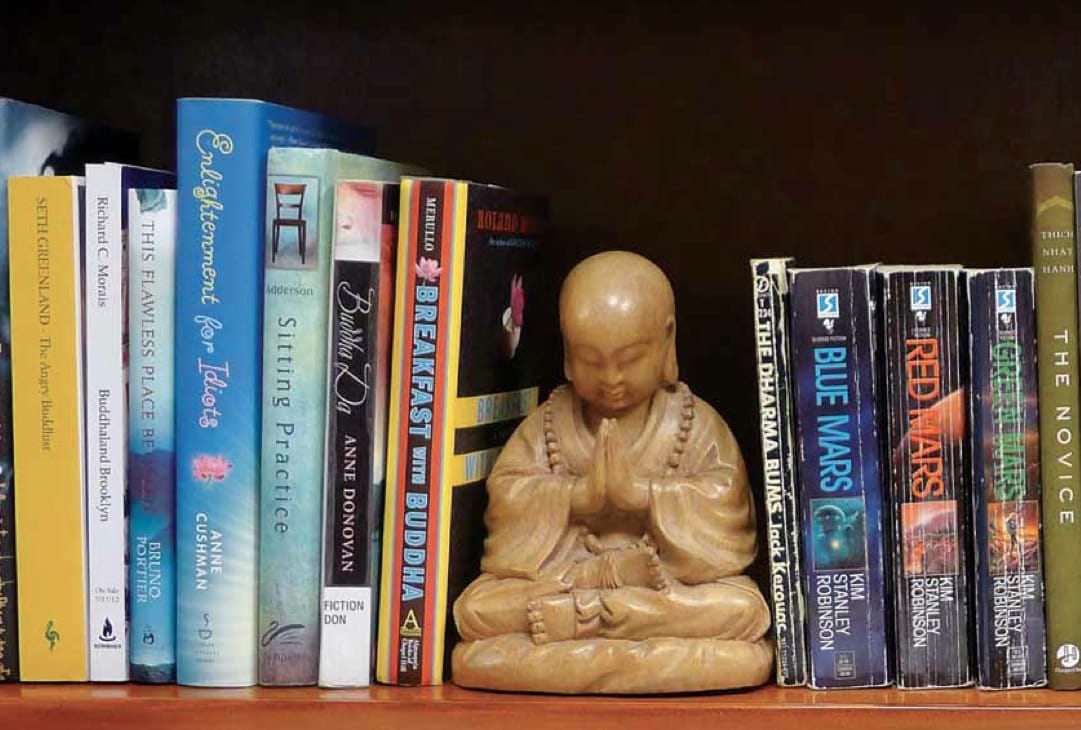 The past three decades has seen the flourishing of many branches of Buddhism in the West, and one of the most important ways they have transmitted the dharma is through books. Many of the Buddhist books published are for specialists, but a number of them have been exceptionally successful in presenting the jewels of Buddhism to the wider culture.
As I set out to spotlight and celebrate the most significant and influential of these, I quickly realized the research would be easy: all I had to do was look at my own bookshelves. Although I'm not a Buddhist, my spiritual life has been influenced by Western Buddhism's major teachers, and so has my professional life as a book review editor. Many of the groundbreaking books I'm presenting here have been on my nightstand—and in the homes and lives of millions of others—in years past. If these are gathering dust on your shelves, breathe out (and blow off the dust) and enjoy your favorite teachers once more.
It's impossible to read just one book by Thich Nhat Hanh. (In my household, my husband and I together have sixteen.) The 82-year-old Vietnamese Zen Buddhist monk has generated many books over many years for many audiences. One compelling gateway to his body of teachings is Peace is Every Step: The Path of Mindfulness in Everyday Life, published in 1991. It's a collection of short talks, writings, and conversations about doing everyday activities with mindfulness: washing dishes, eating, answering a phone. Thich Nhat Hanh is a master of simplification, compressing numbered precepts, aggregates, truths, jewels, and complexities of Buddhism into a single moment—the present moment—and a single breath, in and out. Thay, as he is affectionately called, is a poet as well as a monk, teacher, and lifelong ardent proponent of peace. The eyes of compassion with which he sees, and about which he teaches, are also artist's eyes seeing everyday details: tangerines and telephones. Thich Nhat Hanh, observes his publisher Travis Masch at Parallax Press, personifies the Buddhism he teaches.
How could a book about happiness, love, and kindness not be cherished? Loving-Kindness: The Revolutionary Art of Happiness by Insight Meditation teacher Sharon Salzberg, first published in 1995, graduated first to "classic" status at Shambhala Publications and this spring was also released in mass-market format, making available to a broad audience Salzberg's highly accessible style of teaching. Loving-Kindness presents the brahmaviharas, the "heavenly homes" afforded by the four qualities of love, compassion, sympathetic joy, and equanimity. Salzberg fills the book with meditation exercises, anecdotes about friends and travels, and confessions of fears and shortcomings. Her self-effacing honesty reinforces a central message of empowerment: just as the author has grown and overcome, you too can grow in love, compassion, joy, and equanimity.
If you are familiar with Pema Chödrön's When Things Fall Apart: Heart Advice for Difficult Times, chances are good you got it while going through a rough time in your life, or you gave it to someone in trying circumstances. The 1997 book is about the very premises of Buddhism—its four noble truths that there is suffering, a cause for suffering, an end of suffering, and a path to achieve that. Chödrön speaks from the heart: she knows what it's like when things fall apart, as they invariably do, or will. At that point, the student of Buddhism has an opportunity to follow the path, however much kicking, screaming, or clinging she may want to do. With the enlightened suggestion to look at suffering instead of running away from it, the nun proves herself an apt student of her teacher, Chögyam Trungpa Rinpoche. This application of Buddhism's basics is eminently helpful, and positively friendly—a boon companion for troubled times. Managing editor Dave O'Neal at Shambhala Publications says this book of Chödrön's spoke loud and wide. "It broke way out of the Buddhist audience," O'Neal says.
Through his pioneering work in Mindfulness-Based Stress Reduction, Jon Kabat-Zinn has brought the benefits of meditation practice to those sorely in need of mind-body help: the stressed and sick. Through Wherever You Go, There You Are: Mindfulness Meditation in Everyday Life (1994) and the earlier Full Catastrophe Living: Using the Wisdom of Your Body and Mind to Face Pain, Stress, and Illness (1991), Kabat-Zinn brought Buddhist meditation into the mainstream. In his books Kabat-Zinn uses plain language to make meditation come to be nothing more—or less—than paying full and close attention, "the direct opposite of taking life for granted," he writes. Though Wherever You Go contains exercises, Kabat-Zinn presents mindfulness as a way of life rather than a technique. His work has also contributed to forging ties between Buddhism and science. Neuroscience today is increasingly interested in understanding the relationship of mind, brain, and body, and Kabat-Zinn's work has helped bring mindfulness meditation into labs as well as living rooms.
Everyday Zen: Love and Work by Charlotte Joko Beck is filled with those small and deep paradoxes that Zen is so good at: no-self, gateless gate, nothing to do, nowhere to go. Through Joko Beck's clarifying tutelage, these mind-bending propositions become less cryptic and more self-evident. This 1989 work is based on a series of her dharma talks, which gives it a special quality of directness. There's little Buddhist lingo, little talk of enlightenment. It's all about practice. Then practice more. Sitting is practice, emotions are practice, relationships are practice. There's nowhere to go but everyday life, every moment of which offers a chance to wake up and smell the now. The old Asian Zen masters have much to say about life in the twenty-first century, and Joko Beck has translated them well into this here, this now. She can distill her teaching into one of her favorite lines from the Shoyo Roku, a collection of koans: "From the withered tree, a flower blooms."
Chögyam Trungpa Rinpoche was nothing if not ambitious; perhaps it's more accurate to say he had great aspirations—aspirations not so much for himself but for his students and everybody else. Shambhala: The Sacred Path of the Warrior, published in 1984, starts with a chapter on creating an enlightened society. Trungpa Rinpoche made no small plans. Shambhala is a guidebook for life, an attempt to translate a complex and ancient Tibetan system of beliefs, symbols, and practices to fit a contemporary Western lifestyle. From how to sit on a meditation cushion to how to dress, Trungpa offers instruction. In choosing the central metaphor of the warrior for his teachings, Trungpa could reach across belief systems and cultures, and break out of the boxes of Buddhism and religion. His reach is broad: he draws on the wisdom of The Little Prince by Antoine de Saint-Exupery as well as the Kalacakra Tantra of Tibetan Buddhism. He offers wisdom householders can use: "The first step in learning how to rule is learning to rule your household, your immediate world."
Like Thich Nhat Hanh, His Holiness the Dalai Lama has produced a lot of books. Some are based on transcriptions of his teachings and can require serious knowledge of Tibetan Buddhist teachings. But His Holiness' The Art of Happiness: A Handbook for Living, co-written with American psychiatrist Howard Cutler, was remarkably accessible, and many did access it. The 1998 book sold 1.5 million copies in the U.S. alone, and occupied the bestseller list for almost two years. Presented as a meeting of Western psychology and Eastern philosophy, the book blended you-can-do-it practicality and the irreproducible charisma of the Dalai Lama, whose own life offers compelling testimony to the possibility of happiness despite adverse circumstances. The scientific framework of psychology brought by Cutler is especially congenial for the Dalai Lama, a man of science, though not in the materialistic Western sense. This work helped pave the way for numerous books written since about happiness as well as books about positive psychology and Buddhism and science. The right topic met the right authors at the right time.
Hard to believe an esoteric Tibetan teaching about death would make an enduring spiritual classic, but in the hands of Buddhist teacher Sogyal Rinpoche, The Tibetan Book of Living and Dying opened to Western eyes wisdom about dying that also made living better. Sogyal Rinpoche's chatty, storytelling tone makes all the potentially daunting Tibetan terms and techniques he discusses that much more approachable. More importantly, he acts as friend and guide to a taboo subject: death itself, waiting beyond the other side of fear at life's end. Nobody gets out of here alive, but Sogyal Rinpoche's calm manner of explaining the age-old wisdom of his tradition lessens the fear factor. Reframing an ancient text about dying as a book about living was a stroke of genius.