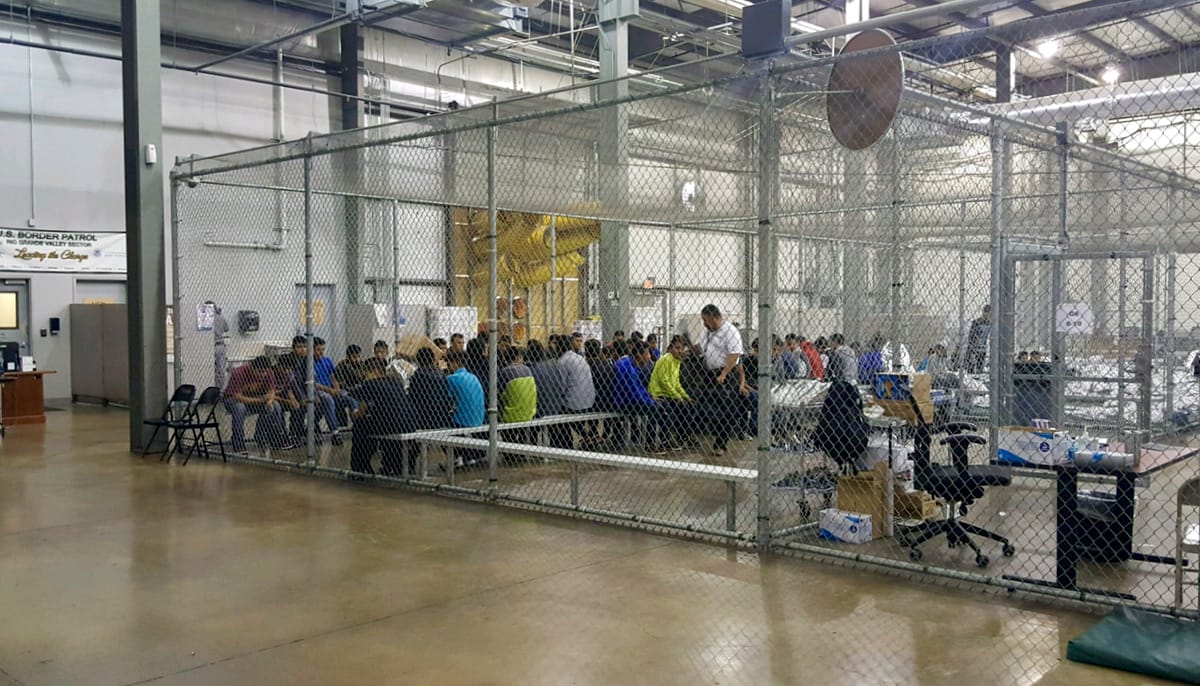 Approximately 2,000 children remain separated from their parents at the US-Mexico border.
On Friday, more than 300 Buddhist teachers, leaders, and practitioners across traditions sent out a letter addressing the U.S. Customs and Border Protection's zero-tolerance immigration policy and asked for all separated immigrant families to be reunited.
"We stand with leaders of other faith traditions in expressing that the policy of separating children from parents was morally wrong and lacking in compassion," the letter reads.
The letter, drafted by Buddhist teacher Lorne Ladner, urges the US against creating a policy to intern immigrant families, comparing such a policy to the internment camps that imprisoned Japanese-Americans during the Second World War.
"The initial impetus for writing the letter came from seeing images on news reports and from hearing the sounds of young children taken from their parents," said Ladner. "When one's own government is causing that suffering, to remain silent would be shameful."
Last week Trump signed an executive order ending the separation of families entering the U.S. illegally. While the zero-tolerance policy remains in effect, US Customs and Border Protection is no longer referring migrant parents illegally crossing the Mexico border for prosecution.
On June 18, the Soto Zen Buddhist Association released a letter, signed by 200 Buddhist teachers from across traditions, calling for an end to the government's practice of separating children from their parents. Buddhist have been involved in many other protests, statements, and direct actions related to the government's zero-tolerance immigration policy.
On Wednesday, a federal judge in California blocked the Trump administration from separating immigrant families at the border, ordering that those who were separated be reunited within 30 days.
The full letter is included below:
To President Donald Trump & Secretary of Homeland Security Kirstjen Nielsen,

We, the undersigned Buddhist teachers, practitioners, and organizational leaders, while recognizing the small step taken by the signing of an executive order to stop new separations of children of color from their parents at the southern border, are today expressing our ongoing, serious concerns.  We stand with leaders of other faith traditions in expressing that the policy of separating children from parents was morally wrong and lacking in compassion.  While much damage has already been done by this policy, we urge you take steps immediately to reunify the children with their parents.  We also urge you not to construct a policy that creates new trauma by creating internment camps for full families like those that many Japanese-American Buddhists were imprisoned within during World War II.

Like other great faith traditions, our Buddhist tradition places a great emphasis on the practices of love and compassion.  A genuine practice of compassion is engaged in without bias.  Though individuals may differ in terms of culture, race, language or gender, we are all the same in wanting to be happy and not wanting to suffer.  And those children currently separated from their parents are the same as any other children in wanting their parents' love, affection and guidance.  Recognizing this truth—how we are all the same in these fundamental ways—makes the continuation of the suffering these children are experiencing due to the former policy intolerable.  Also, in terms of children learning compassion, the bonds of loving kindness between parents and children is the very ground in which it grows.  The forcible separation of children from their parents and keeping them in detention centers has no doubt traumatized these children, interrupting their development, and thereby creating lasting negative effects on them and those around them.  Again, when one contemplates the truth of this, the continued separation of these children from their parents is intolerable.  When we as adults become insensitive to the plight of innocent children who land in situations beyond their control, we are also incrementally destroying our own humanity.

Creating internment camps for families to be held for indefinite periods of time is another way of creating trauma and pain and would be another policy devoid of compassion.  It would also be a repetition of a mistake made during World War II when many Japanese-American Buddhists and Christians were held indefinitely in such camps.  Overall, a policy of "zero tolerance" will always be problematic.  As a nation of immigrants and diversity, we need tolerance.  It is in tolerance that we find our human connections, compassion and wisdom.

So, it is with minds focused not only on the welfare of those children and families at the southern border but also on the welfare of our nation's leaders and all our citizens that we urge you to immediately reunite these children with their parents and to institute a policy which includes tolerance and compassion.

Lorne Ladner, PhD  Teacher and Director of Guhyasamaja Center, Fairfax, VA

Wilson Hurley, LCSW  Resident Teacher at MSTC, Fairfax, VA

Tenzin Buchung, Buddhist scholar and translator, PhD Candidate at Emory University, Atlanta, GA

Venerable Losang Dondrub  Spiritual Program Coordinator at Guhyasamaja Center, Fairfax, VA

Venerable Gyumed Khensur Rinpoche Lobsang Jampa, Abbot Emeritus of Gyumed Tantric College, Senior Teacher at Sera Mey Monastic University, Touring Teacher, Head Teacher at DNKL Center, Redding CT

Professor Robert Thurman, PhD   Je Tsongkhapa Professor of Indo-Tibetan Studies at Columbia University, President of The American Institute of Buddhist Studies, Co-founder of Tibet House US, New York, NY

Venerable Thubten Chodron: Buddhist teacher, Abbess of Sravasti Abbey, author

Jose I. Cabezon, Dalai Lama Professor of Tibetan Buddhism and Cultural Studies UC Santa Barbara; Vice President, American Academy of Religion

Tara Brach, PhD  Founder of Insight Meditation Community of Washington, Washington, DC

Bhikkhu Bodhi, Chair, Buddhist Global Relief

Dr. Jack Kornfield, Spirit Rock Center, Woodacre, CA

Lama Tsultrim Allione, Founder and Resident Teacher of Tara Mandala, Pagosa Springs, CO

Anne C Klein, PhD  (Lama Rigzin Drolma) Professor in Dept. of Religion at Rice University; Cofounding Teacher of Dawn Mountain Center for Tibetan Buddhism, Houston, TX

Harvey B Aronson, PhD (Lama Namgyal Dorje) Cofounding Teacher of Dawn Mountain Center for Tibetan Buddhism, Houston, TX

Joseph Goldstein, Insight Meditation Society, Barre, MA

Khenpo Tsultrim Tenzin, Spiritual Director of Tibetan Meditation Center, Frederick, MD

Dr. Gareth Sparham, Translator

Acharya Judith Simmer-Brown, Shambhala International and Naropa University

Rev. Tenku Ruff, Soto Zen Buddhist Association, President

Telo Tulku Rinpoche, Shadjin Lama of Kalmyk Republic, Russia; President, Buddhist Union of Kalmykia, Russia; Kalmykia & Erie, CO

Joshin Byrnes, Sensei, Vice Abbot, Upaya Zen Center

Eijun Linda  Cutts, Central Abbess, San Francisco Zen Center, Green Gulch Farm Zen Center, Tassajara Zen Mountain Center

Ven. Amy Miller, Buddhist Nun and Touring Teacher, The Foundation for the Preservation of the Mahayana Tradition, Philadelphia, PA

Lama Surya Das, founder of the Dzogchen Center, Dzogchen Retreats

Amy Hertz, Jewel Heart Instructor and board member, Publisher of the Dalai Lama's Ethics for a New Millennium and Universe in a Single Atom

John Dunne, PhD, Professor at University of Wisconsin—Madison, Fellow at Mind & Life Institute, Academic Advisor at Ranjung Yeshe Institute

Guy Newland, PhD, Chairperson of Department of Religion and Philosophy, Founder of Central Michigan Sangha

Kate Munding, Teacher Council of Spirit Rock Meditation Center, lead teacher of Insight Meditation Community of Berkeley, CA

Venerable Geshe Tashi, Sera Mey Monastic University and DNKL Center, Redding CT

Venerable Tenzin Lhamo, MSW-ACP, Buddhist Chaplain, Falls Church, VA

Pema Gorap, President/Executive Director, Partners for Tibetan Education, Falls Church, VA

Jonathan Landaw, Buddhist editor and meditation instructor, Capitola, CA

Hugh Byrne, PhD, Senior Teacher, Insight Meditation Community of Washington, Washington DC

Gelong Thubten Tsultrim, aka george churinoff

Matthew Reagan (Reverend Bu Hee), Secretary, International Buddhist Committee of Washington DC, Silver Spring, MD

Venerable Thubten Pemo, Santa Cruz, CA

Bishop Noriaki Ito – Higashi Honganji Buddhist Temple

Roshi Pat Enkyo O'Hara, abbot, Village Zendo, NYC

Dr. Nicholas Ribush, MD, co-founder and former director Wisdom Publications, founder and former director Kurukulla Center for Tibetan Buddhist Studies, founding director Lama Yeshe Wisdom Archive

Lopon Chandra Easton, Teacher and Translator, Tara Mandala

Edwin Kelley, Instructor for Tergar Meditation Community

Tim Olmsted, Instructor for Tergar Meditation Community

Myoshin Kelley, Instructor for Tergar Meditation Community

Cortland Dahl, Instructor for Tergar Meditation Community

Patrick Lambelet MA, Buddhist teacher, PhD student in Religious Studies, University of California, Santa Barbara

Venerable Sarah Thresher, Buddhist nun and teacher, Crestone, CO

Venerable Drimay Gudmundsson, Buddhist nun and teacher, CA

Venerable Lobsang Yangchen, Santa Cruz, CA

Venerable Tenzin Legtsok, Buddhist monk and teacher, Raleigh, NC

Elaine Jackson, Resident Teacher at Vajrapani Institute for Wisdom Culture, Boulder Creek, CA

Lisa DuPont. M.S., (Venerable Gyalten Chime) American Buddhist nun & School Psychologist

Ruth King, Founder of Mindful Members Insight Community, NC

William Aiken, Buddhist and President, Interfaith Conference of Metropolitan Washington, Washington, CA

Matthew Brensilver, Governing Teachers Council, Spirit Rock Meditation Center, Woodacre, CA

Sharda Rogell, Senior Teacher at Spirit Rock Meditation Center, CA

Don Handrick, Resident Teacher at Thubten Norbu Ling Tibetan Buddhist Center, Santa Fe, NM

David R. Loy, Rocky Mountain Ecodharma Retreat Center

Venerable Gyalten Palmo, Buddhism Teacher, Foundation for the Preservation of the Mahayana Tradition

Peggy DiVincenzo, LPC, LMFT   Insight Meditation Teacher, Fairfax County, Virginia

Paula Chichester, Meditation Teacher for FPMT International

Emily Hsu, Buddhist teacher, CA

Amy Barton Cayton, PhD, LMFT, MAC, BCPC, CA

John Ackerly, Takoma Park, MD

Oren Jay Sofer, Spirit Rock Teachers Council, Spirit Rock Meditation Center, Wood Acre CA

Ven. Mitra Bishop, Abbot, Mountain Gate, Spiritual Director, Hidden Valley Zen Center

Chas DiCapua, Vipassana Meditation Teacher

Robyn Brentano, Trustee, Foundation for the Development of Compassion and Wisdom

Scott Snibbe, Meditation Instructor, Vajrapani Institute, Boulder Creek, CA

Erika Neil, LCSW, Mindfulness Meditation teacher, Centreville, VA

Deborah Rozelle, PsyD, child trauma specialist, Lexington, MA; lay Buddhist Chaplain, Jewel Heart International Tibetan Buddhist Learning Center, Ann Arbor, MI

John Jackson, Director Chamma Ling Retreat Center, Crestone, CO

Venerable Ani Losang Tendrol, Guhyasamaja Center, Fairfax, VA

Dr. Michael Sanger; Program Coordinator, MSW Program Valdosta State University

Venerable Thubten Tsultrim, Sravasti Abbey, Newport, WA

Venerable Thubten Jigme, Sravasti Abbey, Newport, WA

Laura Hauer, Cloud Mountain Retreat Center, Castle Rock, WA

Wilhelmina van Grieken, recovering World War II survivor, Buddhist practitioner, Silver Spring, MD

Yolanda Rommel, Mental Health Counselor, Social Worker, Chaplain (Christian and Buddhist), Taos, NM

Lama Matthew Rice, Spiritual Director at Rime Buddhist Center, Kansas City, MO

Brian D. Lawson (Venerable Thubten Losang), Sravasti Abbey, Newport, WA

Anna Douglas, PhD., Buddhist Teacher, Spirit Rock Meditation Center, CA

Steven D. Vannoy, PhD, Associate Professor, Counseling Psychology, University of Massachusetts Boston

Bhikshuni Thubten Semkye, Sravasti Abbey, Newport WA

Venerable Bhikshuni Thubten Chonyi, Sravasti Abbey, Newport, WA

Venerable Thubten Nyima, Newport, WA

Venerable Thubten Tarpa, Sravasti Abbey, Newport WA

Venerable Thubten Damcho, Buddhist Nun, Sravasti Abbey, Newport, WA

Bhikshuni Thubten Samten, Sravasti Abbey,  Newport WA

Lynn Gebetsberger (Venerable Tenzin Tsepal), Sravasti Abbey, Newport, WA

Venerable Thubten Lamsel, Buddhist nun and practitioner, Sravasti Abbey, Newport WA

Eugene Cash, Founder San Francisco Insight, Senior Member of Spirit Rock Teachers Council, CA

Leslie Inman, M.Ed., Resident Teacher Thubten Kunga Center, Deerfield Beach, FL

Susie Harrington, Spirit Rock Meditation Center Teachers Council, CA

Bishop Myokei Caine-Barrett, Nichiren Shu Order of North America, Resident Priest, Myoken-ji Temple, Houston, TX

Barbara Taylor, President MSTC DC Buddhist Center, Fairfax, VA

Sharon Hurley, Treasurer MSTC DC Buddhist Center, Fairfax, VA

Mary Ann Chang, Vice-President MSTC DC Buddhist Center

Lhundub Chodron, Director at Land of Calm Abiding, Big Sur, CA

Venerable Thubten Jampa, Sravasti Abbey/ Buddhist Monastery, Newport, WA

Ryusho Jeffus, Shonin, MDiv, BCC – Nichiren Shu Buddhist tradition – Cheif priest Myosho-ji, Wonderful Voice Buddhist Temple, Syracuse NY

Beth Dart, Board of Directors, Vajrapani Institute, Boulder Creek, CA

Shasta Wallace CMT, Vajrapani Retreat Center Community, Boulder Cree, CA

Jo Marie Thompson, Co-Founder of Kevala Retreat, Norwalk, WI

Karen Bewick, Namgyal Ling Center, Gainesville, VA

Susan P. Miller, LPC, NCC, Tara Mandala Satellite Sangha, Northern Virginia

Rev. Taigen Dan Leighton, Guiding Dharma Teacher, Ancient Dragon Zen Gate, Soto Zen Buddhist temple, Chicago

Shinge Roko Sherry Chayat, Abbot, Zen Studies Society, Dai Bosatsu Zendo Kongo-ji, New York Zendo Shobo-ji, Abbot, Zen Center of Syracuse

Bob Doppelt, Soka Gakkai International

Don Isaacson, Board Member for Land of Medicine Buddha, Soquel, Ca.; Board Member for Vajrapani Institute, Boulder Creek, Ca.; Teacher for Ocean of Compassion Buddhist Center, Campbell, CA

Venerable Angie Muir, Tibetan Buddhist Nun, CA

Anne Fraser, Meditation Instructor, Shambhala International, Carpinteria CA

Venerable Thubten Tarpa, Sravasti Abbey/ Buddhist Monastery, Newport, WA

Rev. Dr. Bhikshuni Trinlae, Goffstown, NH

Venerable Gyalten Palmo, Buddhism Teacher, Foundation for the Preservation of the Mahayana Tradition

Eido Frances Carney Roshi, Teacher and Abbess, Olympia Zen Center, Olympia, WA

Rev Joan Hogetsu Hoeberichts, Roshi, Heart Circle Sangha, Ridgewood

Pam Cayton, Founder of Tara Redwood School and Creating Compassionate Cultures, CA

Karuna Cayton, Founder of the Karuna Group, CA

Venerable Ani Lhundub Jampa, ILTK Pomaia, Italy and Deer Park Buddhist Center Oregon, WI

Rev. Wendy Egyoku Nakao, Abbott, Zen Center of Los Angeles, CA

Rev. Myo Denis Lahey, Abbot, Hartford Street Zen Center, San Francisco CA

Rev. Shinryu Thomson, Village Zendo, New York, New York

Rev. Myozen Joan Amaral, Zen Center North Shore, Beverly, MA

Mushin Abby Terris, Guiding teacher, Sangha Jewel Zen Center, Corvallis, OR

Reverend Ben Connelly, Minnesota Zen Meditation Center

Rev. Diane Eshin Rizzetto, Abbot, Bay zen center, Oakland, CA

Daigaku Rummé, Confluence Zen Center, St. Louis, MO

Karen Kojo Burgin, Heart Circle Sangha, Ridgewood,  NJ

Rev. Kiyonobu Kuwahara, Berkeley Buddhist Temple, Berkeley, CA

Reverend Ryushin Andrea Thach, Red Cedar Zen Community, Suzuki/Weitsman lineage

Steve Hamner, Ph.D.; Montana State University and University of Massachusetts-Amherst

Shankha Mitra, Computer Scientist, Buddhist Teacher & Spiritual Program Coordinator at Vajrapani Institute, Boulder Creek, CA

Trey Ligon, Director of Dharmakaya Center, Reno, NV

Anne Ligon, Spiritual Program Coordinator of Dharmakaya Center, Reno, NV

Venerable Ani Carol Corradi, Co-Director, Tse Chen Ling Center, San Francisco, CA

Bro. John C Ray, Interfaith Minister, Washington, DC

Sally Armstrong, Co-guiding Teacher, Spirit Rock Meditation Center

Rev, Grace Schireson, Ph.D., Zen Buddhist Priest

Lama Tsomo, Namchak Foundation, Missoula, MT

Reverend Kate Zen'etsu Edwards, Ordained Buddhist Chaplain, Order of Interbeing, Madison, WI

Rev. Mary Mocine, Abbess, Vallejo Zen Center

Ven. Gyalten Lekden, Buddhist teacher in the FPMT; affiliated with Sera Je Monastery & Harvard Divinity School

Rev. Kotoku Crivello, Resident Head Priest, Zen Center of Pittsburgh , PA

Jan Chozen, Abbot, Zen Community of Oregon, Great Vow Zen Monastery, Oregon

Hogen Bays, Abbot, Zen Community of Oregon, Great Vow Zen Monastery, Oregon

Brian Halterman, Meditation Teacher, Birmingham, AL

Christopher Ives, Stonehill College, Easton, MA

Sarah Brooks, FPMT Spiritual Programme Coordinator

Margaret Kim, Center Director at Ocean of Compassion Buddhist Center, Campbell, CA

Helen Miller, APCC, AMFT Office Manager Gyuto Foundation/Tibetan Buddhist Monastery Richmond, CA

Su Ianniello, Pamtingpa Buddhist Center, Tonasket, WA

Ronnie Chase, Meditation Instructor, Tubten Kunga Center, Deerfield Beach, FL

Ulrike Jaklin, Tara Mandala, Pagosa Springs, Pagosa Springs, CO

Kirian Regan, Buddhist Practitioner, Tara Mandala, Pagosa Springs, CO

Christine Fleming, Finance Director at Tara Mandala Buddhist Retreat Center, Pagosa Springs, CO

Natalie Jo Baker, Staff and Volunteer Coordinator, Tara Mandala Buddhist Retreat Center, Pagosa Springs, CO

Judy Roitman (Zen Master Bon Hae), Kansas Zen Center, Kwan Um School of Zen

Sylvan Genko Rainwater, Soto Zen Priest and Teacher, Dharma Rain Zen Center, Portland, OR

Rev.Zuiko Enji Angie Boissevain, Floating Zendo San Jose, CA

Nancy Floy, Heartwood Integrative Health & Healing, Evanston IL

Alex Campbell, PhD, BCBA-D, San Rafael, CA

Rev Gesshin Greenwood, Blue Cliff Zen Sangha

Rev. Eko Noble, Acharya, Founder/Spiritual Director, Radiant Light Sangha, Friday Harbor, WA

Reverend Patrick Teverbaugh, Santa Cruz Zen Center, Santa Cruz, CA

Rev. Jill Shunzan Kaplan, Zen Heart Sangha, Woodside, CA

Chaplain Debra Anyu Savelle, Eugene, Oregon

Rev. Mark Eko Morris, Heart Circle Sangha, Ridgewood, NJ

John Castlelloe, PhD, IT Manager for Liberation Prison Project, Cary, NC

Chuck Thomas, practitioner, Heartwood Prayer Wheels, CA

Valerie Thomas, practitioner, Heartwood Prayer Wheels CA

Arya Cayton, EstWst Collective

Jhana Cayton, EstWst Collective

Kelden Cayton, EstWst Collective

Kokyo Henkel, Santa Cruz Zen Center, California

Shodo Spring, head teacher, Mountains and Waters Zen Community

Carolyn Eiko Joshin Atkinson, Head Teacher, Everyday Dharma Zen Center, Santa Cruz CA

Rev. Chris Fortin   Everyday Zen Foundation, Dharma Heart Zen

Rev. Bruce Fortin, Occidental Laguna Sangha.

Rev Beth Kanji Goldring, Vipassana Phnom Penh

Jonathan Prescott, BCC, BCCC, BCPC, Order of Interbeing, Plum Village Zen Lineage

Karin Ryuku Kempe, Spiritual Director, Zen Center of Denver, CO

Larisa Wahler ( Venerable Lozang Yönten), Buddhist nun and teacher for the Foundation for the Preservation of the Mahāyāna Tradition

Ejo McMullen, Resident Priest, Buddha Eye Temple, Eugene, OR

Rev. Ryushin Hart, Corvallis Zen Sangha

Rev. Myoshin Kaniumoe, 'Alaneo Zendo, Hilo, Hawaii

Rev. Renshin Bunce, Beginners Mind Zen, San Mateo, CA

Venerable Tenzin Drolma, Chicago, IL

Linda Hoju Strauss, Dharma Holder, Heart Circle Sangha

Rev. Myo-O Habermas-Scher, Dharma Dance Sangha, Minneapolis, MN

Rev. Jisho Warner, Abiding Teacher, Stone Creek Zen Center, Sebastopol, CA

Peg Syverson, Resident teacher, Appamada, Austin, TX

Flint Sparks, Resident teacher, Appamada, Austin, TX

Venerable Tenzin Jangchup, Buddhist monk, CA

Venerable Detong Choyin, USA

Venerable Thubten Nordzin,(Ingrid) Buddhist nun, Santa Cruz CA

Venerable Anet, Kachoe Dechen Ling, Aptos CA

Dawn Neal, Insight Meditation practitioner and teacher, Marin Sangha, San Francisco Insight, Insight Meditation South Bay, Insight Meditation Center of Redwood City, CA

Helen Hobart, Board Certified Chaplain, Ordained in Thich Nhat Hanh tradition, facilitator at Sacramento Buddhist Meditation Group

Venerable Lhundrub Tendron/Kathy Downs, Buddhist nun, Jasper, AK

Harrison Blum, MDiv, M.Ed., Board Certified Chaplain, Community Dharma Leader, Insight Meditation Tradition, Director of Religious and Spiritual Life & Campus Chaplain, Emerson College

Rev Michel Engu Dobbs, Ocean Zendo, Bridgehampton, NY

Venerable Gyaltan Yarphel (John Jackson), Buddhist monk, hermit

Eileen Messina, Buddhist Chaplain, California

Ani Tenzin Desal, Tibetan Buddhist nun

Venerable Tenzin Pelyang, Buddhist nun ordained by HH The Dalai Lama, Ardsley NY

Rev. Geoffrey Shugen Arnold, Abbot-Zen Mountain Monastery, Mt. Tremper NY

Nancy Kodo Conover, Teacher from Zen Community of Oregon

Nan and Allen Witaker-Emrich, Teacher from Zen Community of Oregon

Abby Mushin Terris, Teacher from Zen Community of Oregon

Jogen Salzberg, Teacher from Zen Community of Oregon

Kisei Costenbader, Teacher from Zen Community of Oregon

Soten Lynch, Teacher from Zen Community of Oregon

Shinei Monial, Teacher from Zen Community of Oregon

Kennyo Dunn, Teacher from Zen Community of Oregon

Erik Jampa Andersson, Sowa Rigpa practitioner and instructor, Sorig Khang International, Los Angeles, CA.

Rev. Zuiko Redding, Resident teacher, Cedar Rapids Zen Center, (Soto Zen denomination)

Bodhi Stroupe  Temple Manager and apprentice teacher at Tara Mandala, Pagosa Springs, CO

Rev. Taikodo Marta Dabis, MS, MBA, BCC, Lead Priest, JissoJi Zen Ann Arbor, MI

Anne Seisen Saunders, Roshi, Sweetwater Zen Center, National City, CA

Taihaku Priest, Abbot, Shao Shan Temple, Woodbury, VT

Kenzan Seidenberg, Vice-Abbot, Shao Shan Temple, Woodbury, VT

Nancy Black, MD

Shayla Ortell, Licensed Professional Counselor, member of multiple sanghas, Centreville, VA

Debra Ladner, JD  Bethesda, MD

Jacquelin Downey  BS Art Education, Pratt Institute, Brooklyn, N.Y.  Buddhist practitioner, retired teacher and Human Relations Council Director

Jennifer MacLeod Kelley, New York, NY

Saul Kotzubei, MA, Buddhist Studies, Voice & Public Speaking Teacher, Los Angeles, CA

Jenny Van West, Musician & Buddhist Practitioner, Portland, ME

Fabienne Pradelle, Boulder Creek, CA

Joe Montgomery, Media A/V Consultant, Maryland Buddhist Vihara and International Buddhist Committee of Washington, DC, Ashton, MD

Rich Watkins, Daikaku, Heart Circle Sangha

Meryl Landy, Buddhist Practitioner, San Francisco Zen Center Prison Outreach; Insight Meditation Center Redwood City, CA

Tanya Bonner, Buddhist Action Coalition, New York, NY

Regina Valdez, Compassion, NYC

Kim Grose Moore, Buddhist Chaplain, CA

Willie Mukei Smith-The Village Zendo New York City

Susan Altabet, NY

Myoko Jenifer Kern, Heart Circle Sangha, White Plum Asanga

Rev. Hozan Alan Senauke, Clear View Project, Berkeley, CA

Lhundrup Chosang, MS, Colorado

Karina Kohn, Practitioner, New York, NY

Anh T. Tran, MD, JD, Santa Clara, CA

Robert Cusick, Stanford Lecturer & Sr. Stanford CCT Instructor

Mike Young, Vienna,VA

Theresa Griffith, Anchorage, AK

Jhamba Dolkar Sherpa, MA

Tashi Tsering Sherpa, MA

Sarajane Parker, Pracitioner, Santa Cruz, CA

Louise Rosenthal, Lead Respiratory Therapist at Henry J. Carter Hospital, Harlem, NY

William Kane, Santa Cruz, CA

Jodi Schmitt, Vienna, VA

Eric Propst, PsyD, Falls Church, VA

Anthony Schultz, MN

Padma Ball, Charlottesville, VA

Paul Stevenson, Retired Federal Civil Servant, VA

Jeff Petraco RN Richmond VA

Maureen Healy, Santa Barbara, CA

Daniel Hamburger, Michigan

Marc A Ramirez, Vienna, VA

Olivia Hajioff, Vienna, VA

David Roos, The Plains, VA

Lisa Richard, The Plains, VA

Janet Kathleen Ettele, Redding, CT

Karen Sanchez, Drepung Loseling, Atlanta, GA

Patrick O'Grady, MPA, Denver CO

Rebecca Wood, Ashland, OR

Karma Zopa Hlamo (Kathleen Herron) Portland, OR

Leah S Kosik, Olympia, WA

Patricia Turriago, Architect, Oakton, VA

Sesame Fowler, Practitioner of Tibetan Buddhist for 27 years, Parent of 4 children & grandmother of 6 grandchildren, massage therapist, Gardner, CO

Martha C. Neely, LCSW, Winchester, VA

Bill Ryan, East Hampton ,NY

Tai Vautier, Portland, OR

Robert Woods, LPC, Portland, OR

Cory Brill, Dharma practitioner, Los Gatos, CA

Judy Dere, CA

Vineeta Anand, Buddhist Practitioner, VA

Natalie Morris, Buddhist Practitioner, VA

Tony White, Retired Businessman, Buddhist Practitioner, Crs Jct, VA

Michael Wick, NY

Douglas Alfors

Lara Ellis, Photographer & Buddhist practitioner

Victoria Mudd

Ellen J Kabat, MSW, LCSW, Therapist working with children and their families and Buddhist practitioner, VA

Marianna Janicelli, MA, Art Therapist, Thompson, PA

Karen Stevens, MA, LPA, Raleigh, NC

Margaret Lynn Woodson RN LMSW, Atlanta, GA

Michael Griesmer, MA, practitioner at MSTC, Fairfax, VA

Hilde Matheson, Professional Counselor, Winchester, VA

Gloria Cosgrove, Danbury, CT

Donna Wood, Anchorage, AK

Amy Dumke, Bessemer, MI

sujatha baliga, Berkeley, CA

John Ganzi, McLean, VA

Linda Dane, VA

Azlee Bates, VA

Fidele Dusabe, Washington, DC

Rajeev Rauniyar, Guhyasamaja Center, VA

Juliette E Brown, Nyack, NY

Julie Geanakakis, MA, Teacher of new immigrants

Victoria Rainone

Sara Suttle VA

Robin Coleman, MACP

Steve Utzig, NY, NY

Wendy Cook, practitioner, Lama Yeshe Wisdom Archive, MA

George R. Zam,  Buddhist Practioner, Bloomington, IN

Rebecca L. Freeman, retired Professor, VA

David Tendler, Durham, NC

Munira Bootwala

Elizabeth Quaranta, RN, BSN, 40 years and counting, NYC/NJ

Padme Jen Koch, Lessburg, VA

Linda Nobla, VA

Tedda Cnossen

Ying Chen, Practitioner San Jose, CA

James Linehan, San Jose, CA

Ellen Kesho Risbarg, Ridgefield Park, NJ

Max M Honn , VA

Shira A. Rubin, San Jose, CA

Doug Tallman, Belmont, CA

Richard Einhorn, Composer, NYC

Fabrizio Pallotti, Official Italian Translator for His Holiness the Dalai Lama, ILTK teacher of Mind Science and Emotion Hygiene.

Dr. Brigit Schweiberer MD, Teacher of Buddhist Studies, VA Vienna University, AT

Venerable Constance Miller, resident teacher, Instituto Lama Tzong Khapa, Pomaia, Italy

Rod Meade Sperry, Practitioner, Halifax, Canada

Ueli Minder, Teacher, adviser and board member ASRAL NGO, Ulaanbaatar, Mongolia

Mandy Action, Sydney, AustraliaAnka Spencer, Puerto Compasivo, México

Roshi Taigen Henderson, Abbot, Toronto Zen Centre

Koun Franz, Zen Nova Scotia