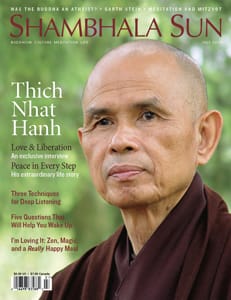 Love can seem like a pretty abstract concept. It's at the core of the world's religious traditions, and all practitioners aspire to the kind of deep, universal love that seems to be the fruition of the spiritual path. But after that, it gets kind of vague. What exactly is this great love we all want? How does it feel, how do we develop it, how does it manifest?
I'm going to say something a little shocking, at least when applied to an eighty-three-year-old celibate monk and great Buddhist teacher. Thich Nhat Hanh is a great lover. Watching him teach, I have experienced his love, and I can think of no better way to describe it: it is the love of a great lover. A great lover who is beyond attachment and whose love extends to all beings.
Listen to one of Thich Nhat Hanh's guided meditations, as he tells us how to address our wounded inner self: "Hello dearest," he might ask us to say to ourselves, "I know you, I know your hurts. You are not at fault. You are loved." The words are said with an extraordinary tenderness, an extraordinary sensitivity. From his own great love, he inspires us to love ourselves, and so others.
This is not love in the abstract. This is real love, palpable love. Sensitive, tender, empathetic. As deep and moving as the love of any parent, child, or lover.
Is spiritual love so different from romantic love, except in its scope? Thich Nhat Hanh has known romantic love. He has written of his deep love for a woman when he was a young man. In my first interview with him, four years ago at Deer Park monastery, he said he has never left this love behind him, but merely extended it to embrace many beings, not just one.
In his feature interview in this issue, Thich Nhat Hanh makes one important distinction between universal, spiritual love and the love that most of us experience in our relationships. He says that too often our love is based on need and dependency—a search for the protection of a parental figure—while true love is based on a deep sense of inner self-sufficiency, and so is not driven by projection or weakness. It can shine on all equally, with no subconscious concern for what others can do for us. This elfin-eared Vietnamese monk has such surprising insight into the modern psyche, such a high emotional IQ, which he integrates into traditional Buddhist teachings with total integrity.
I learned about another side of Thich Nhat Hanh from Andrea Miller's fascinating account of his life in this issue. It is Thich Nhat Hanh, the man of action. His dharma is profound and learned but not cloistered. From a young age he was devoted to courageous, compassionate action—reforming traditional Buddhism, helping the victims of war and injustice, working to end a long and terrible conflict. It cost him forty years of separation from his beloved homeland, but when he finally returned, he immediately went back into action, elevating the status of women in Vietnamese Buddhism, healing the wounds of war, promoting meditation practice as the essence of the Buddhist path. He always was and still is a danger to the status quo.
A great lover. A man of action. I know it sounds like I'm comparing Thich Nhat Hanh to James Bond. But perhaps there isn't as much distance between saint and hero as we think. As defined by Chögyam Trungpa Rinpoche in his Shambhala teachings, Thich Nhat Hanh is a true warrior, one whose every step in a long and fruitful life has been taken in courage and peace.
My interview with Thich Nhat Hanh in this issue was conducted at his biannual five-day East Coast retreat, which I was fortunate enough to attend in its entirety. It was a transformative experience, and the talks that he delivered each day were simply the best presentation of the Buddha's foundational teachings I have ever heard. As I listened, all I could think was that these truths were presented so clearly, so common-sensically, so undeniably, that millions of people should have the chance to hear them. I have been lucky to have had several great Buddhist teachers. I count Thich Nhat Hanh among them. I bow to him with gratitude.