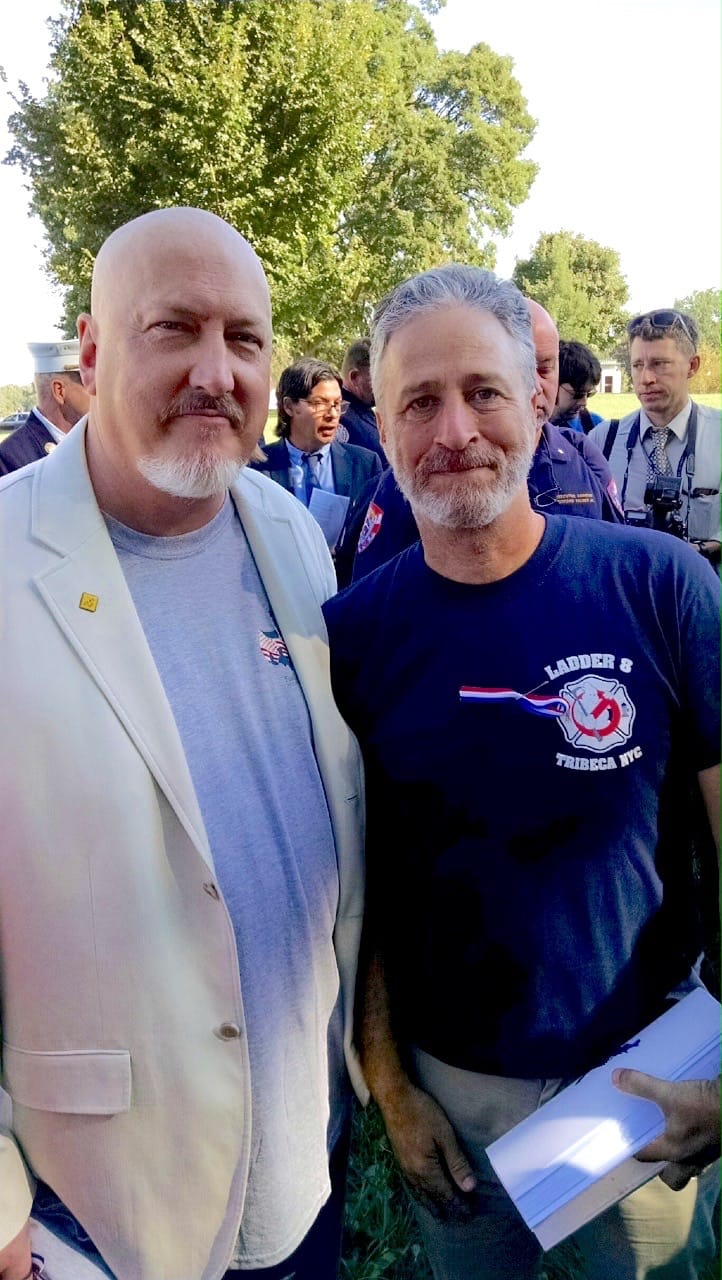 Tony Stultz with Jon Stewart.
Fourteen years after 9/11, the loss and illness are still unfathomable. Reverend Anthony Stultz tells how his Buddhist community (and a famous sympathizer) are engaging in Right Action to help get care to those who need it.
Not Knowing
On September 11, 2001, as the Twin Towers were engulfed in flames and terrified citizens fled the maelstrom, a courageous group of individuals ran toward the inferno. Composed of firefighters, police officers, medical technicians, and other emergency responders, this initial group was followed by others from all over the country, rising to meet the chaos with compassion.
As the dust settled on the destruction and the country slowly recovered, the wounds of those early days left their mark on the brave ones. Sickness and disease ravaged, leaving scars and death.
And what was the response to these valiant folks? To embrace and care for their needs? No. Shamefully, for too many in our elected government, it was to offer them platitudes, parade them before cameras, and then turn away in cowardice-born party politics. The suffering grew as mental anguish was left in the wake of the physical injuries of life, limb, and lung. They found themselves separated and cut off from the society they had worked so bravely to save.
However, they were not alone. One of the first responders, John Feal, founded an advocacy group for those who were being forgotten. He was joined by a political comedian, a man who had become one of the most trusted public figures in America: Jon Stewart. Jon was a sort of sacred clown, the jester who could get away with telling the emperor that he was naked. Together they embarrassed those who had abandoned our heroes, and the Zadroga Act, named after detective James Zadroga, a fallen comrade, was born. Those who were suffering would finally get the care they needed; but how long would it last? Insanely, the funding to provide this care would run out in just five years.
Bearing Witness
One of the members of our Buddhist community, the Blue Mountain Lotus Society, was a police officer who had served at Ground Zero.  He had moved to our town, the location of our main temple, from Brooklyn to help himself heal with our love and support. Familial circumstance changed and he had to relocate once again. One day he contacted me: "Sensei, we need your help." Scott Chernoff told me about his upcoming trip to Washington DC, and asked me to join him, John Feal, and Jon Stewart in bearing witness to the suffering of those men and women who had been told, "We will never forget." I told him I was both humbled and honored to asked to join this band of believers in the possible.
On the morning of September 16, fourteen years after that tragic day, I met Scott by the National Arboretum. Joining the first responders who had come to walk the halls of Congress, we planned what we would do in the day to come. Then, I met Stewart and he joined us along with members of our elected body — champions like Kirsten Gillibrand, who has called for a permanent funding of Zadroga. The crowd of journalists had come not to see the senators or even the dedicated responders; they had come to see Jon. He did not let them down. Using his spotlight to illuminate the heroes, he informed and entertained, warning those who would be marching that they would be exposing themselves to a new danger, namely, "toxic levels of bureaucratic bullshit."
With the press conference over, we began our journey. By day's end we walked over eight miles of the hallowed halls, stopping at each national office to bear witness to those who had sponsored a permanent funding of Zadroga and to challenge those who had not. We were met with both politeness and political correctness, but you could see it in the faces of our elected officials as our group crowded into each room: it was a delusion that they could turn away from us, that they could pretend that we were "other" and not a part of a shared larger interdependent body.
Healing Action
As the day wore on there were triumphs and down falls. We were weary. I sat and others joined me in silent shikantaza on the marble floors. By the end of the day the group had gotten closer. There was even laughter and a kind of joy in the knowledge that what we were doing was like an immeasurable vow.
Out of the Way of Not Knowing had come our Bearing Witness. From this flowed a natural new energy of action. Right Action that would hopefully result in the permanent funding of the Zadroga Act and provide the medical care so desperately needed. Loving action that would carry us onward in its embrace, allowing us to continue this good work,
As we said our goodbyes, I thanked each person and bowed. I had become their chaplain and they my congregation. Our Bearing Witness led to a healing action that had already begun to blossom, like a lotus arising from the mud of our collective delusion, greed and hatred, no matter what future would come.
A Call to Action
We are in the eleventh hour with the Zadroga Act; won't you please join with us in Bearing Witness by contacting your local representative?
Whenever we engage in this type of practice, I ask practitioners to spend some time in Not Knowing, looking at the thoughts and feelings that arise. Next, I ask them to write down what they think the experience will be like. This is followed by the actual action. During our Right Action we will utilize special mindfulness techniques to compassionately connect out of a non-dual awareness of our inherent oneness. When the practitioners have engaged in the action, I ask them to go and sit again to see what arises and reflect on how their actual experience compared to what they anticipated. In our groups we will reflect together with Council practice and the Zen Liturgy of the Gate of Sweet Nectar, offering up the merit of our practice for all beings.
For more information please go to the Feal Good Foundation at fealgoodfoundation.com.
Thank you and a deep bow of gratitude.