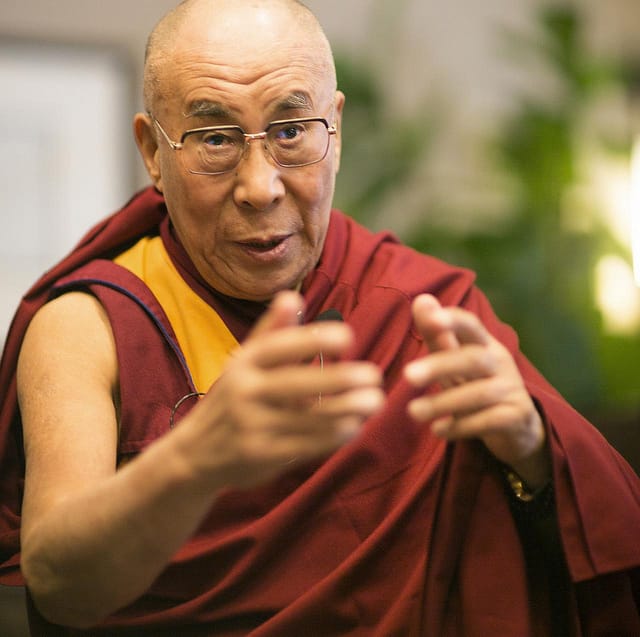 Photo by
Christopher Michel
.
The Dalai Lama plays many roles in the world, from spiritual teacher to political leader to moral exemplar. Here we survey a wide range of teachings by His Holiness, on topics from the personal to the political.
Motivation
Right from the beginning, it is crucial to harbor no illusion of a swift and easy path. As a spiritual trainee, you must be prepared to endure the hardships involved in a genuine spiritual pursuit and be determined to sustain your effort and will. You must anticipate the multiple obstacles that you are bound to encounter along the path and understand that the key to a successful practice is never to lose your determination. Such a resolute approach is very important.
It is crucial for a spiritual practitioner constantly to examine his or her attitudes and actions. If we examine ourselves every day with mindfulness and mental alertness, checking our thoughts, motivations and their manifestations in external behavior, a possibility for change and self-improvement can open within us.
Although I myself cannot claim with confidence to have made any remarkable progress over the years, my desire and determination to change and improve is always firm. From early morning until I go to bed, and in all situations of life, I always try to check my motivation and be mindful and present in the moment. Personally, I find this to be very helpful in my own life.
As soon as you wake up in the morning, if you have any interest in spiritual development, you should examine your own mind and try to develop some kind of proper motivation. Then, make a strong pledge, or determination, that in the future, and especially on this day, you will practice proper behavior and proper ways of thinking. Think that you will help others in the proper ways, and if that is not possible, at least you will refrain from harming them. Then, from time to time during the day, remind yourself of that determination, that motivation.
Mind Training
From my own limited experience, I am convinced that through constant training one can change one's mind: in other words, our positive attitudes, thoughts and outlook can be enhanced, and their negative counterparts can be reduced.
Much of what we perceive, we perceive in a mistaken way, seeing things not as they truly are. This is how we become deluded. To avoid this, we should not accept our perceptions just as we experience them. It is very important to analyze and investigate whether we are seeing things as they truly are. †
One of the principal characteristics of mind-training practice (lojong) is the overwhelming emphasis it places on overcoming our grasping at a solid ego identity and the self-cherishing attitudes based on this apprehension of self. The self-cherishing attitude obstructs us from generating genuine empathy towards others and limits our outlook to the narrow confines of our own self-centered concerns. In essence, with thought transformation, we seek to transform our normal selfish outlook on life into a more altruistic one, which, at the very least, regards the welfare of others as equal in importance to our own, and ideally regards others' welfare as much more important than ours.
The essential point in the teachings of the Buddha is, on the one hand, equating an undisciplined state of mind with suffering and unenlightened existence, and, on the other hand, a disciplined state of mind with happiness, enlightenment or spiritual freedom. This is the essential point. ††
Anger and Patience
As a destructive force there is nothing as strong as anger. An instant of anger can destroy all the positive actions accumulated over thousands of kalpas through the practice of generosity, making offerings to the buddhas, keeping discipline and so on. Indeed, there is no fault as serious as anger. Patience, on the other hand, as a discipline that neutralizes and prevents us from succumbing to anger, is unrivaled. Through it, the suffering we endure from the negative emotions is relieved. It is therefore of the utmost importance that we resolve to practice patience, gaining inspiration through reflecting on its advantages and on the terrible effects of anger.†
If we are very forbearing, then something we would normally consider very painful will not appear so bad after all. But without patient endurance, even the smallest thing becomes unbearable. A lot depends on our attitude.†
Love and Compassion
I have found that the greatest degree of inner tranquillity comes from the development of love and compassion. The more we care for the happiness of others, the greater our own sense of well-being becomes. Cultivating a close, warmhearted feeling for others automatically puts the mind at ease. This helps remove whatever fears or insecurities we may have and gives us the strength to cope with any obstacles we encounter. It is the ultimate source of success in life.
I often joke that if you really want to be selfish, you should be very altruistic! You should take good care of others, be concerned for their welfare, help them, serve them, make more friends, make more smiles. The result? When you yourself need help, you find plenty of helpers! If, on the other hand, you neglect the happiness of others, in the long term you will be the loser.
I consider human affection, or compassion, to be the universal religion. Whether a believer or a nonbeliever, everyone needs human affection and compassion, because compassion gives us inner strength, hope and mental peace. Thus, it is indispensable.
Ultimately, the reason why love and compassion bring the greatest happiness is simply that our nature cherishes them above all else. The need for love lies at the very foundation of human existence. It results from the profound interdependence we all share with one another.
Happiness
Even in ordinary conversation in everyday life, when someone speaks with warm, human feeling, we enjoy listening, and respond accordingly; the whole conversation becomes interesting, however unimportant the topic may be. On the other hand, if a person speaks coldly or harshly, we feel uneasy and wish for a quick end to the interaction. From the least to the most important event, the affection and respect of others are vital for our happiness.
I try to treat whomever I meet as an old friend. This gives me a genuine feeling of happiness.
Though sometimes people laugh when I say it, I myself always want more friends. I love smiles. Because of this I have the problem of knowing how to make more friends and how to get more smiles—in particular, genuine smiles. There are many kinds of smiles, such as sarcastic, artificial or diplomatic smiles. Many smiles produce no feeling of satisfaction, and sometimes they can even create suspicion or fear, can't they? But a genuine smile really gives us a feeling of freshness and is, I believe, unique to human beings. If these are the smiles we want, then we ourselves must create the reasons for them to appear.
We must remember that the different religions, ideologies and political systems of the world are meant for human beings to achieve happiness. We must not lose sight of this fundamental goal and at no time should we place means above ends; the supremacy of humanity over matter and ideology must always be maintained.
It is my belief that the lack of understanding of the true cause of happiness is the principal reason why people inflict suffering on others. Some people think that causing pain to others may lead to their own happiness, or that their own happiness is of such importance that the pain of others is of no significance. But this is clearly shortsighted. No one truly benefits from causing harm to another being.
Working with Enemies
I must emphasize that merely thinking that compassion and reason and patience are good, will not be enough to develop them. We must wait for difficulties to arise and then attempt to practice these qualities. And who creates such opportunities? Not our friends, of course, but our enemies. They are the ones who give us the most trouble. So if we truly wish to learn, we should consider enemies to be our best teacher!
When a problem first arises, try to remain humble and maintain a sincere attitude and be concerned that the outcome is fair. Of course, others may try to take advantage of you, and if your remaining detached only encourages unjust aggression, adopt a strong stand. This, however, should be done with compassion, and if it is necessary to express your views and take strong countermeasures, do so without anger or ill intent.
Anger and hatred are our real enemies. These are the forces we need to confront and defeat, not the temporary "enemies" who appear intermittently throughout life.
Nature of Mind
The nature of mind, clear and aware, is free from defects; it cannot be affected by obscurations. No phenomena, whether mental or occurring in the external world, can affect it. Nothing can alter this natural quality, which is the innate character of the mind itself.†
Generally, various conceptual thoughts are constantly arising in our minds, moment by moment, and function to obscure its essential nature. When you utilize the technique of mindfulness and maintain your awareness on only the object in front of you, immediately perceiving the distractions and withdrawing from them, eventually you will clear away all the conceptual events that obscure the natural state of your mind. You will gradually perceive a very stable and lucid state of mind.
Universal Responsibility
I believe that to meet the challenge of our times, human beings will have to develop a greater sense of universal responsibility. Each of us must learn to work not just for his or her own self, family or nation, but for the benefit of all mankind. Universal responsibility is the real key to human survival. It is the best foundation for world peace, the equitable use of natural resources, and through concern for future generations, the proper care of the environment.
Unfortunately, love and compassion have been omitted from too many spheres of social interaction for too long. Usually confined to family and home, their practice in public life is considered impractical, even naive. This is tragic.
I believe that despite the rapid advances made by civilization in this century, the most immediate cause of our present dilemma is our undue emphasis on material development alone. We have become so engrossed in its pursuit that, without even knowing it, we have neglected to foster the most basic human needs of love, kindness, cooperation and caring.
This need for cooperation can only strengthen humankind, because it helps us to recognize that the most secure foundation for a new world order is not simply broader political and economic alliances, but each individual's genuine practice of love and compassion. These qualities are the ultimate source of human happiness, and our need for them lies at the very core of our being. The practice of compassion is not idealistic, but the most effective way to pursue the best interests of others as well as our own. The more we become interdependent, the more it is in our own interest to ensure the well-being of others.
As a Buddhist monk, I try to develop compassion within myself, not simply as a religious practice, but on a human level as well. To encourage myself in this altruistic attitude, I sometimes find it helpful to imagine myself standing as a single individual on one side, facing a huge gathering of all other human beings on the other side. Then I ask myself, "Whose interests are more important?" To me it is quite clear that however important I may feel I am, I am just one individual while others are infinite in number and importance.
True practitioners are unaffected by external pressures and their own emotions, and they are free to secure the temporary and ultimate benefit of both themselves and others. They remain independent, fear nothing and are never at odds with themselves. Always peaceful, they are friendly with all, and everything they say is helpful.†  ©
---
† From A Flash of Lightning in the Dark of Night by Tenzin Gyatso, the Fourteenth Dalai Lama
© 1994 Association Bouddhiste de Centres de Dordogne. Reprinted by arrangement with Shambhala Publications.
†† From a commentary by His Holiness the Dalai Lama on the Eight Verses of Mind Training, given in Washington, D.C. in 1998.
All quotations, unless otherwise noted, are from The Compassionate Life by Tenzin Gyatso, the Fourteenth Dalai Lama, © 2003, or The World of Tibetan Buddhism by Tenzin Gyatso, the Fourteenth Dalai Lama, and Geshe Thupten Jinpa © 1995. Reprinted with the permission of Wisdom Publications.