Noted with sadness and fond remembrance: the passing away Monday of experimental composer and opera innovator Robert Ashley at the age of 83.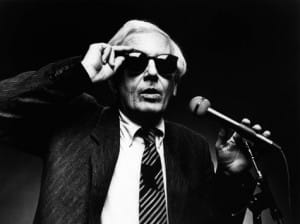 In the 1980's, Ashley brought a surprisingly hip Midwestern sing-song and gentle good humor to his recitation of the stories and songs of the Tibetan yogi-saint Milarepa in recordings of Eliane Radigue's compositions based on these. Buddhist ideas also made sly appearances in his own works. Ashley's "television opera" Private Lives (1978-83),  for example, was called at once a "Buddhist soap opera" and "a comic opera about reincarnation."
Hear Isolde's meditation over an odd carnival Casio vamp in the final movement, "The Backyard":
My mind turns to my breath – one
My mind watches my breath – two
My mind turns and watches my breath – three
My mind turns and faces my breath – four
My mind faces my breath – five
My mind studies my breath – six
My mind sees every aspect of the beauty of my breath – seven
My mind watches my breath soothing itself – eight
My mind sees every part of my breath – nine
My breath is not indifferent to itself – ten
In this rendering of an episode from Milarepa's life, teaching what really constitutes the elimination of desires, Ashley alternates recitation with the Tibetan Buddhist lama Kunga Rinpoche:
To hear a complete work, listen to Radigue's Mila's Journey Inspired by a Dream.