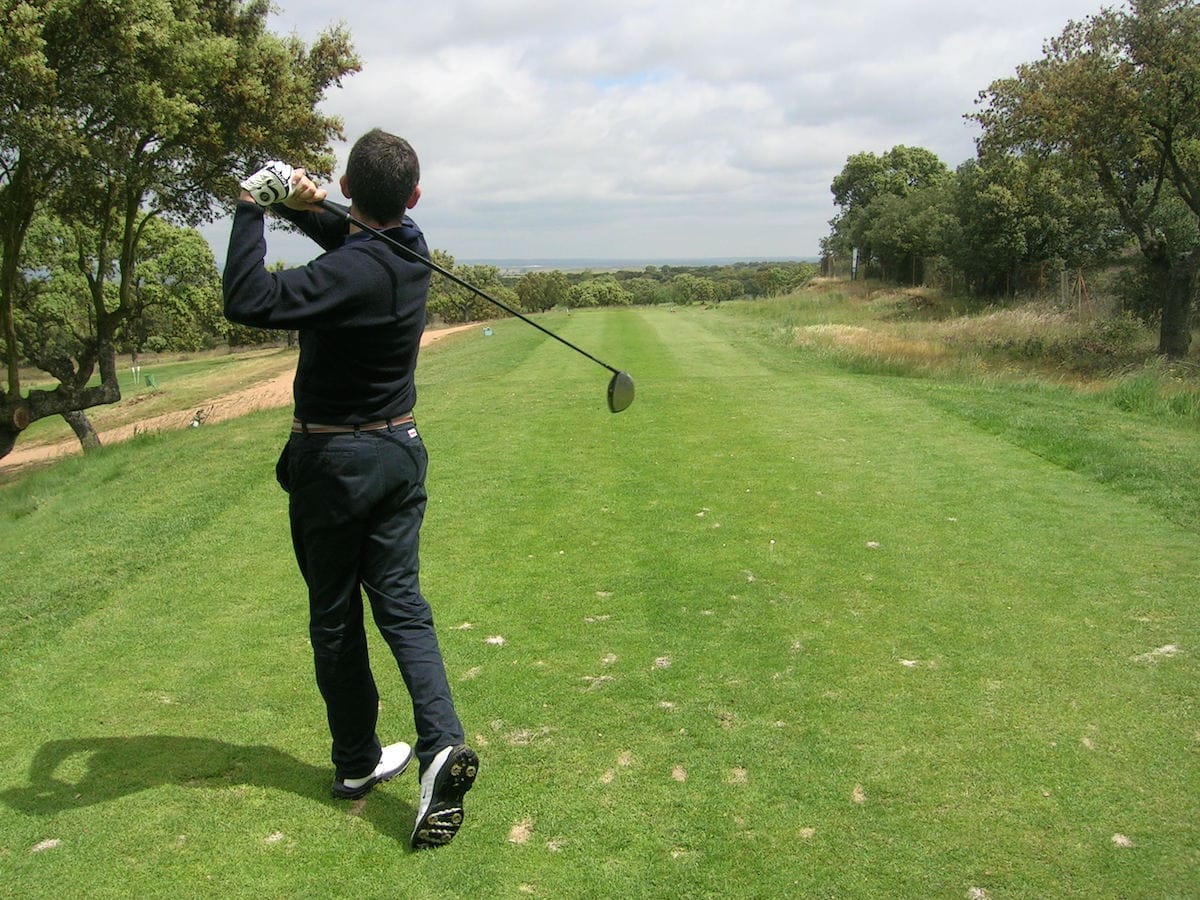 Photo by
Mugor.
The first golf shot was a hole-in-one. It happened 600 years ago on a Scottish summer day. Two shepherds (Jack and Arnie) were walking their sheep to greener pastures; to pass the time they struck at small rocks with their staffs. One particularly clean hit by Jack sent the rock sailing off into the air for a moment, then down into a rabbit hole. When he recovered from the surprise of this vivid sight, Arnie said, "I bet you can't do that again." So Jack tried, and missed of course (holes in one are hard to come by), prompting Arnie to suggest, "Keep your eye on the rock!"
If this scenario is true, it was followed closely by the first bet and shortly after that by the first bit of golf instruction. It wasn't long before the Parliament actually issued a ban on playing the game, saying that it was indeed unprofitable and it was also interfering with the more important skill of archery!
Golf got into my blood, not gradually, but in a single memorable moment. Because of that moment, I've seen the sun rise on Muirfield in Scotland and set on Pebble Beach in California. I've spent thousands of solitary hours hitting practice balls. I've had countless golfing partners of all shapes, sizes and nationalities. I've had birdies and eagles, have seen fox and bison, and 1 have played Saint Andrews at midnight under a full moon after a dozen scotches in the pub.
That moment affected my life so much that golf became my livelihood. I've given lessons to 5-year-olds, 95-year-olds, physically challenged, super athletes, non-athletes, professionals, politicians, priests, and a young prince.
That vivid moment occurred on my first golf outing. I was a 9-year-old in sneakers caddying for my father and Uncle John, and on the second tee of that beautiful course in Rhode Island, I discovered golf. My uncle cracked a drive and my mind sailed along with that ball—I was airborne for what seemed to be a long time, eventually dropping to earth near the green. I must have looked odd standing there gawking with my mind 250 yards away; when I came to my senses, golf and I were inextricably linked.
A recent survey done of corporate executives produced the statistic that 12% of them felt the game was more important to them than sex! (Could this be the answer to overpopulation?) So what is the attraction?
Consider that a golf shot takes about 1.5 seconds to complete; if the golfer shoots 90, only 2-3 minutes of the games are spent actually playing! So a 4 1/2 hour game of golf that covers 10 miles of walking only involves 3 minutes of actual game time.
These long spaces between activity are precisely what people like about golf. There is time for camaraderie, a chance to catch up op the latest gossip with friends, to tell the latest joke. An opportunity to walk on a beautiful, closely mown playing field, surrounded by forest. (The hackers usually end up more in the forest than on the field.) In short, a beautiful place to take a long walk with friends.
To devotees there is an added seduction in the game: the immediacy of one's state of mind to the outcome of actions. Yogi Berra once said, "You can't think and hit at the same time." Trying too hard or thinking too much produces poor shots. The best golfers are able to 'get out of their own way' and allow a relaxed swinging motion to occur.
The difficulty comes partly from the nature of the game itself. In golf the participant has to initiate the action from square one. You are not reacting to a ball flying at you or anticipating a move by the opponent. The ball just sits there like a little computer waiting for instructions. Program in tension and attachment and the printout will be a lost ball.
So the advice of the Zen master of 'not too tight, not too loose' would be appropriate here, and even a step further, you must be tight and loose at the same time. The game is full of opposites: some parts of the body are moving, while other parts are still; some body parts are tense and holding, while others are at ease and flowing. Even the flight of the ball seems to defy logic: swing to the left and the ball goes to the right, swing down and it goes up. It's the only sport I know where the object is to play less than everybody else.
There is a quality common to all sports: when the mind is quiet and the body relaxed, the action seems to flow effortlessly. Arnold Palmer described it as follows: "You're involved in the action and vaguely aware of it. I'd liken it to a sense of reverie—it is not merely mechanical, it is not only spiritual; it is something of both, on a different plane and a more remote one." Mickey Wright, a Hall of Fame woman golfer said, "When I play my best golf, I feel as if I'm in a fog. . . standing back watching the earth in orbit with a golf club in my hands."
If you have ever played golf, you know what that means. If you haven't, give it a try. Just remember to keep your head straight and your eye on the rock.
Can you help us at a critical time?

COVID-19 has brought tremendous suffering, uncertainty, fear, and strain to the world.
Our sincere wish is that these Buddhist teachings, guided practices, and stories can be a balm in these difficult times. Over the past month, over 400,000 readers like you have visited our site, reading almost a million pages and streaming over 120,000 hours of video teachings. We want to provide even more Buddhist wisdom but our resources are strained. Can you help us?
No one is free from the pandemic's impact, including Lion's Roar. We rely significantly on advertising and newsstand sales to support our work — both of which have dropped precipitously this year. Can you lend your support to Lion's Roar at this critical time?