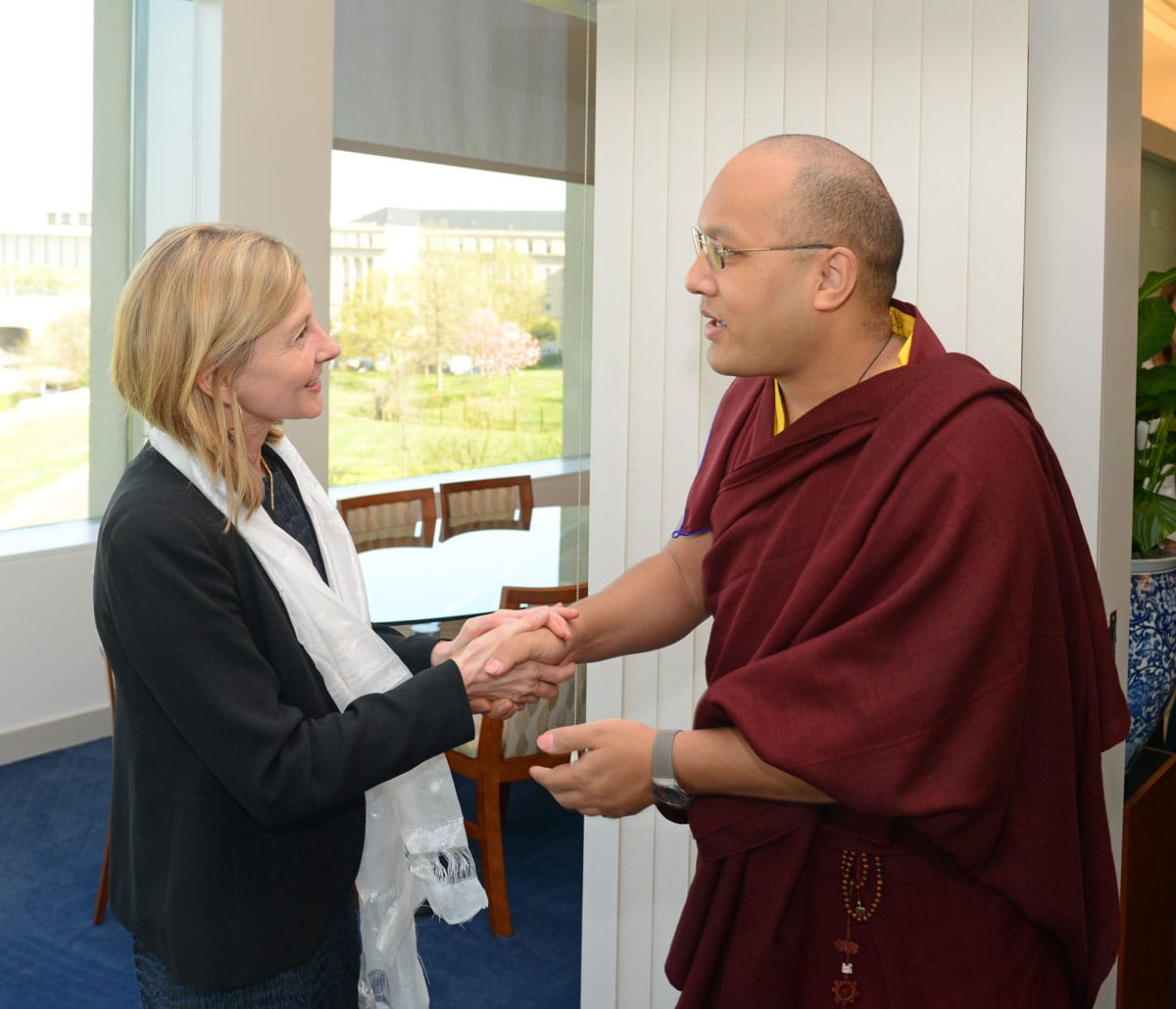 The Karmapa meets with US Institute of Peace President Nancy Lindborg on his current tour. (April 16, 2015). Photo by
US Institute of Peace
.
Five years ago, when I wrote "New Face of an Ancient Lineage," a profile of His Holiness the 17th Karmapa, he was twenty-four years old. It had been ten years since his dramatic escape from Chinese-controlled Tibet. I had been taken with his predecessor, and wanted to see what the new one was like, what he had to say, so when he made his first visit to the United States in the spring of 2008, I jumped at the chance to hear him teach. Now, he is in the middle of his third tour of the United States, and once again when I saw that he would be within striking distance, I bought a plane ticket and made the trek to New York to see firsthand what he's up to these days.
He's clearly been doing his job for a while now. He has the mark of someone who is in charge, as befits his role as the head of the Karma Kagyu lineage, responsible for maintaining the integrity and effectiveness of a body of teachings and practices that's been around for over a thousand years. His teaching events draw a wide variety of people. He is a spiritual and cultural icon for the Tibetan diaspora, a sought-after teacher by Chinese Buddhists, and an important teacher for a number of Western "convert" Buddhists. At the events I attended over a weekend at several large venues in Queens, there were folks covering a very broad range of interests and aspirations.
On Sunday, the teachings were largely about anger, and about forty of us ended up being locked out because the #7 Train was closed down at certain stations, causing us to have to board a train in the wrong direction before we could go in the right direction. We were delayed by about a half hour—your classic annoying first-world problem. Some of us were listening to His Holiness on a special channel on transistor radios (I actually had to buy one from a table set up by the organizers, the kind I used to listen to ballgames on in school when I was a kid). As he was talking about the deleterious effects of flipping our lid, one would-be participant—who did not have the benefit of a transistor radio—brandished his ticket and said loudly, "This is an outrage. We should demand our money back!"
We were let in shortly thereafter, having been made to wait no more than a few minutes. Coming in late and not wanting to distract, I made my way to the back of the room of several thousand people, where sleeping children were splayed across chairs and whole families huddled together sitting on the floor. The domesticity was comforting. A couple in front of me each had their smartphones out and were playing Candy Crush.
And there's the rub. His Holiness exemplifies what is best about tradition—it can maintain truly valuable cultural and spiritual practices and values and hand them along intact to a new generation. He also faces the great challenge of all standard-bearers of any worthwhile tradition: for the tradition to be carried on, it needs to connect with people in a new era, reaching them where they live. Otherwise, tradition becomes a gilded cage.
The Pope faces this challenge, and so do the Dalai Lama and the Karmapa. In the Karmapa's case, he has sought out young people and contemporary scholars by visiting a number of universities on this tour. It appears he wants to not only teach but to listen and learn, in particular to people who, like him, might still be around forty years from now. He wants to hear what they're thinking about the world they're inheriting, about the environment, about gender issues, about life in the digital age. He is a student not only of dharma, but of people, and that will hold him in good stead if he wants to ensure that the dharma he offers is relevant on the largest possible scale.
He frequently seems to connect deep teachings and current everyday concerns, lest they be thought unrelated: Buddhism over here. Social concerns over there. In discussing aggression, he mentioned the scale of our mechanized meat industry and the breadth of our impact on the planet today across so many fronts. As we seek to make a comfortable life for ourselves, we are doing damage. That's aggression. He noted, brilliantly I thought, that the proliferation of the internet and social media means that our karmic impact is greatly amplified. If you were walking around in the middle ages, you could have an impact only on a relatively small scale. Today, your shit can go viral.
If I caught his drift, he seemed to be saying that, we human beings have "perfected" a lot of things. We can fly, we can download, we can eat food brought to us from anywhere and everywhere. But what about the perfections laid out in the path of the bodhisattva: generosity, discipline, patience, exertion, mindfulness, and wisdom? How well have we perfected these? And could we do something far greater than make a comfortable life for ourselves? Could we not make a better world?
That's why people flock to see someone like the Karmapa. He reminds us, not only with his words, but in his way of being, of what matters most. At the end of the event, he wished all of America well, and he meant it. Here's wishing him well. May he find the means to be increasingly relevant in this time. We need it.
For more on the Karmapa, his schedule, and videos of his talks, visit karmapaamerica2015.org.
Related Stories:
Can you help us at a critical time?

COVID-19 has brought tremendous suffering, uncertainty, fear, and strain to the world.
Our sincere wish is that these Buddhist teachings, guided practices, and stories can be a balm in these difficult times. Over the past month, over 400,000 readers like you have visited our site, reading almost a million pages and streaming over 120,000 hours of video teachings. We want to provide even more Buddhist wisdom but our resources are strained. Can you help us?
No one is free from the pandemic's impact, including Lion's Roar. We rely significantly on advertising and newsstand sales to support our work — both of which have dropped precipitously this year. Can you lend your support to Lion's Roar at this critical time?