Among the several books reviewed by the Sun's Andrea Miller in our September 2014 magazine is Thai Magic Tattoos: The Art and Influence of Sak Yant. Here's Andrea's review, interspersed with a selection of the photos found inside the book.
A form of tattooing practiced in Southeast Asia, Sak Yant is rooted in a combination of Theravada Buddhism, Brahmanism, and animism.
The Sak Yant masters—frequently Buddhist monks—are seen as spiritual mediums who imbue the tattoos they create with magical spells for prosperity, protection, and happiness.
Popular images include real and mythical animals from the Hindu pantheon or their symbols, such as Shiva's trident. The principle inspiration for Sak Yant, however, is Buddhist iconography and the most prized image is that of the Buddha.
Thai Magic Tattoos gives a brief history of tattoos in general and Sak Yant in particular. It profiles various Sak Yant masters, outlines the ritualized process of Sak Yant tattooing sessions, and attempts to explain why these sacred tattoos inspire such passion. The text is lavishly illustrated with photography by Rene Drouyer.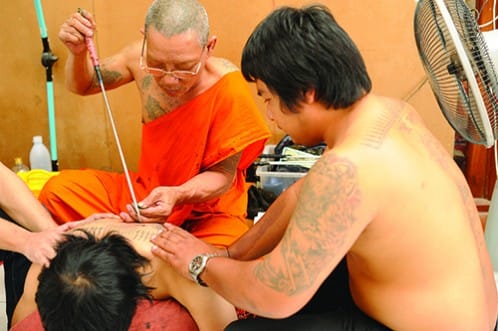 All photos from:
Thai Magic Tattoos: The Art and Influence of Sak Yant by Isabel Azevedo Drouyer.
144 pages, 280 x 215 mm, Hardback; $29.95
Via River Books and ACC Distribution.