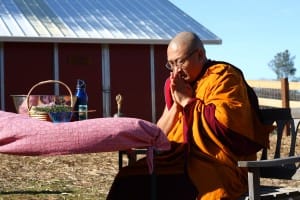 Ven. Geshe Thupten Phelgye has been campaigning for vegetarianism and the compassionate treatment of animals since he was a teenager. The Geshe recently stopped by Animal Place Sanctuary in Grass Valley, California, to offer a blessing to the land and animals there; dozens of people came to witness the event. Established in 1989, the 600-acre Animal Place Sanctuary is home to animals that were victims of cruelty and neglect, specializing in rescue and adoption.
He addressed the group after with a message:
"These little animals have their life," Phelgye said. "Life is precious for them. Just try to refrain from causing more harm or being a part of taking their lives. It is the very first step to put into practice."
In an article for TheUnion.com, Phelgye explains how he first developed his passion for vegetarianism when running an errand as a child for a senior monk to a slaughterhouse.
"I saw the whole process; it was unacceptable, very painful to watch them. I see the animals being killed, everything from beginning to end. I felt so helpless watching things that went on.
"This is how I took it as a mission. I made a commitment before these dying animals that I would be their voice, I had to do something about this."
Phelgye is the founder of the charitable trust known as the Universal Compassion Movement and is a member of the Parliament of the Central Tibetan Administration.
Related content: Dharma Voices for Animals
Photo courtesy of www.animalplace.org