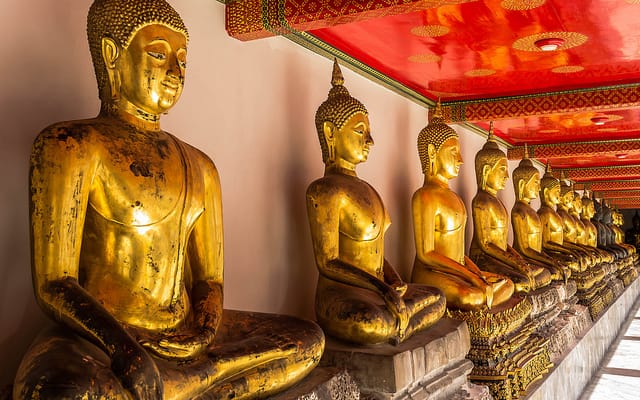 Photo by
Aditi Basu
.
Varieties of meditational experiences by Don Morreale, Michael Stroud, Sandy Boucher, Roger Guest, Joel Weishaus and Erik Storlie.
No Adult Supervision
By Don Morreale
"For the next three months," teacher Joseph Goldstein says at the onset of the annual fall retreat in Barre, Massachusetts, "the Insight Meditation Society becomes one of the great meditation centers of the world." What makes it so for me, first and foremost, is the complete absence of adult supervision. You won't find a lot of hierarchy here, no senior disciples taking the neophytes in hand, nor much in the way of religious rules and regulations. You're free to sit in the dharma hall or the library or your room—or if you feel like it, chuck it all and go for a walk in the woods. Bowing is not compulsory; some do, some don't. There's no meal chant either, but if you want, you can recite "the Buddha's Reflection on Eating" to yourself before tucking into the best vegetarian food you're likely to taste in this incarnation or the next.
In the absence of ritualized behavior, a natural dharma etiquette arises out of the ringing silence. If at first everybody just stands up and walks out at the end of the evening dharma talk, after a couple of weeks, without anybody saying anything about it, the assembled company finds itself sitting in respectful silence while the teacher bows to the Buddha and makes her exit. "We're not here to enforce a bunch of rules," explains teacher Steve Armstrong. "That's why it's called insight meditation. Changes in behavior have to grow out of deep inner realization. Otherwise what's the point?"
If there are any rules, they are the five basic precepts all Buddhist retreatants hold to: don't kill anything; take only what is offered; avoid sexual activity; practice right speech, which in this context means, "honor the silence"; and steer clear of drugs and alcohol. Governed by this simple code of ethics, IMS remains one of the few places in America where you can set aside the street wariness you've learned to carry with you like a bulletproof vest. There's something profoundly reassuring about finding your expensive thermos sitting undisturbed right where you left it last night in the dining hall. Morality, one finds, isn't oppressive and stultifying; it's relaxing and liberating. In such an environment, you can learn to let go.
If you're expecting twelve weeks of untrammeled bliss, better reconsider. I have spent more than one three-month course whirling in typhoons of rage and resentment, still others dragging myself through inner landscapes as flat and arid as the Atacama Desert. "The practice," says Steve Armstrong, "takes you out to the extreme edge of what you are able to bear, and then asks two simple questions: 'What is this?' and 'Can I be with it?'" When you are able to clearly identify your experience and accept it for what it is, it's like a heavy curtain going up. Your anguish lifts in an instant. Just like that.
Beware! Sitting a three-month retreat can rearrange your whole view of practice. In my case, I no longer see it as a means of getting from here to there or from this to that. Nor is it a spiritual martial art, in which all of the forces of mind are brought to bear on a single thrusting point. These days it's more like settling back in a giant hot tub, arms outstretched in a gesture of welcome and surrender.

Don Morreale is the author of The Complete Guide to Buddhist America. He lives in Denver.
Insight Meditation Society, 1230 Pleasant Street, Barre, MA 01005; (978) 355-4378; www.dharma.org/ims.htm

---
Zafu with a Star of David
By Michael Stroud
This fall I went on what many would regard as a classic Buddhist group retreat. It included periods of mindful sitting and walking meditation, gongs to signal the beginning and end of practice sessions, a vow of silence shared with about fifty other retreatants.
But these retreatants were Jews, and the object of the three days at La Casa de Maria Retreat Center in Santa Barbara, California was to prepare for the High Holy Days, the time when Jews are expected to review their lives and make amends to those we've harmed. We followed our meditations with t'fillot, or prayers, and our "dharma talks'' were delivered by a rabbi steeped in Torah and Jewish custom. The retreat was sponsored by Metivta, a contemplative Jewish practice center in Los Angeles.
This retreat was a chance to let my Buddhist and Jewish halves cross-fertilize each other. My sitting practice has been nurtured by years of studying Zen in Berkeley, Ch'an in Taiwan, and Vipassana at Spirit Rock in Marin County. My connection to Judaism grew out of a conservative Jewish upbringing in Palo Alto and was strengthened as I raised a family. As I've discovered, these two "selves" aren't separate at all, just different ways of accessing spiritual truth, call it buddhanature or the divine.
Enough Jews bounce back and forth between the two traditions that we've taken to calling each other "JuBus." Retreat leader Rabbi Rami Shapiro himself delved deeply into Buddhism before settling on a Jewish practice that incorporates much of what he learned from Buddhism. But Jews do have their own meditative tradition: eighteenth-century Hassidic master Rabbi Nachman of Breslav spent hours meditating in the fields, and Talmudic rabbis as long as 2,500 years ago spent six hours a day in meditation, one hour before and one after each prayer period.
But we Jews have forgotten much of that contemplative path, and so many of us borrow from Buddhism to supplement the noisy, joyous community tradition we still cherish. At La Casa de Maria, a third of us sit on zafus, including Rabbi Shapiro. Mine has a centerpiece with the Star of David on it. Some silently recite Hebrew mantras such as Sh'ma Yisroel, the proclamation of God's oneness; I prefer to sit with my breath and watch my thoughts, emotions and sensations as they came up. Our prayer services are boiled down to nine central chants from the liturgy.
"How can we gauge if our meditation practice is working?" one of us wanted to know toward the end of the retreat. "It's supposed to make you a kinder, more compassionate, more loving person,'' Rabbi Shapiro said. "The practice begins with you, but ultimately you use it to heal your relationships with family and friends—for tikkun olam, the healing of the world.'' In my mind's eye, I can see the Buddha nodding in approval.

Michael Stroud is a freelance writer in southern California.
Metivta, 2001 South Barrington Ave., #106, Los Angeles, CA 90025-5363; (310) 477-5370; www.metivta.org/home.htm
---
To Bow or Not to Bow
By Sandy Boucher
I was not new to Buddhism, having been meditating for about five years, when I came to visit the Providence Zen Center in Rhode Island to interview the priests and other Zen students. But I had been mainly in Vipassana settings, not Zen, and I was unsure about what practices might be followed in the Korean Zen observed at PZC.
The Providence students kindly welcomed me to stay in the center and scheduled an appointment with guiding teacher Bobby Rhodes for the following day. I spent the evening visiting with a friend and went to sleep planning to perform the daily practice along with the other residents.
In the early morning, I joined a line of gray-robed students in the spacious, dark-beamed meditation hall with its large, gold Buddha statue and gleaming wood floor. The voice of a giant bell rang out into the silence. My friend had explained to me that each morning's service began with 108 bows. "You might want to just stand and bow from the waist," she advised. Ha! Not me!
The bowing began. We all dropped to our knees, bent forward, and touched our foreheads to the floor. Then we rose up again, all the way to standing position. A brief pause, and down we went again. This felt easy enough. I kept count. From the line of students came the swoosh of robes folding around the steadfastly bowing bodies. Already I had bowed ten times and I noticed the beginning of tightness in my thighs. An atmosphere of concentration and reverence filled the hall.
At twenty bows I broke a sweat, and my legs trembled. Doubt crept in. I glanced for a read of the other students, but saw only serene faces, steady movements. At thirty bows my thigh muscles had clamped like fists. I struggled to control my body, while perspiration trickled down my sides. As I went on folding down to the floor, my mind began to flutter anxiously.
At forty bows I knew the game was up. My thighs were completely cramped, preventing any further downward motion. I surrendered: while the others performed the next 68 full bows, I stood upright and bowed from the waist, as my friend had recommended.
Later that day I interviewed Bobby Rhodes and other PZC students, but secretly I was preoccupied with my condition. I was virtually incapable of going down stairs. I could walk normally in the halls and could climb the steps, but the first time I had to descend I was amazed to find that my thigh muscles had become burning steel bands that would not flex. Luckily no one was there to hear my anguished gasp or to see me grab the railing to keep from pitching forward. Finally I found a way to get down, step by step, bracing against the banister, swinging my whole leg out and scissoring, splay-legged to the step below, groaning discreetly.
During my stay at PZC, the students were too generous to comment on my predicament. As for myself, inwardly I bowed, recognizing once again how practice can sabotage our aspirations, how it humbles us and leads us to a tenderness for this mind/body that is our actual living reality.
Sandy Boucher is the author of Hidden Spring: A Buddhist Woman Confronts Cancer.
Providence Zen Center, 99 Pound Road, Cumberland, RI 02864; (401) 658-1464; www.kwanumzen.com/pzc/
---
Sitting in a Winter Wonderland
By Roger Guest
In the cold dawns of January and early February in Vermont, a semi-permanent thin white crust is stretched over the frozen ground. The wind whistles through the leaf-bare maples, up and down the hills and in the door before you can close it. In a rag-tag column, meditators wrapped in scarves and parkas hunch against the fresh air, their breath emerging as long streams from frozen whiskers and red nostrils. It's 7:30 AM. Time for the daily walk during the month-long meditation program known as a dathün. Twenty minutes of mind mixing with the soft crunch of boots on a road. Destination nowhere; the path is literally the goal.
Footprint follows footprint and breath follows breath. Thirty-five silent practitioners settle into a schedule of daily ritual, and a seamless pattern of sitting, walking, eating and sleeping evolves. Karmê Chöling's gray mornings blend into early evenings and days fold into weeks of quiet, cold ordinariness. Somewhere in the midst of it all, thirty-five minds become something of a team, and together begin to settle.
Or maybe not! For just as one begins to rest in this pervasive bleakness it is punctuated by a glorious storm. In less than one furious day and a half, the Vermont winter dumps two or three feet of snow on the world. Under this growing blanket and the thickest of clouds, huddling by the imaginary fire, everything gets end-of-the-world cozy.
Morning comes before there are even footprints to the barn, and with it a perfectly clear sky with not even a whisper of a breeze. The sky is a blue so bursting with sunshine, so brilliant and dazzling, that you can't look into the distance: the air sparkles! Everything is magical and childlike.
Oh yes, let's not forget that at night, a transcendental array of stars emerges, trillions of pinpoint jewels against a black so black it bristles with silence, staggering the mind back against its own insubstantiality. Among ourselves, a cluster of humble practitioners, the bond of not speaking is a huge relief. No words can improve upon this.
Meditating silently through these cycles gives the phrase "winter wonderland" special meaning. "Wonder" is now a synonym for open mind in a state of nowness. Since each moment contains more than anyone can grasp, you give up on language. Since the world and its weather become more than a metaphor for mind and thoughts, you give up thinking about it. What's left is mere simplicity, more than monumental, more than sacred—pure display.
Roger Guest was co- director of Karmê Chöling from 1980 to 1986 and is now director of the Boston Shambhala Meditation Center. Karmê Chöling, 369 Patneaude Lane, Barnet, VT 05821; (802) 633-2384; www.kcl.shambhala.org.
---
Two Words
By Joel Weishaus
In the autumn of 1968, I received a letter from a friend inviting me to join him in Japan. As a would-be Zen student, there was no question: I arrived in Tokyo a few weeks later.
There I met a young Englishman, a student from Oxford, who said he had an invitation to do the winter sesshin at "a real Zen monastery, built in the eighteenth century by the great master Hakuin." This may be my only chance to stay at a monastery, I thought, so I asked him if I could tag along. He was apprehensive, saying that as I didn't have an invitation I probably wouldn't be welcome there. I asked another Zen student about it and was told that although it was against etiquette, I should go for it.
We took the train to Mishima City, about halfway between Kyoto and Tokyo, then walked up a wide, curving dirt road. It was dusk. There was a light rain. I breathed in the fragrant air deeply. Small buddhas peeked from behind bushes, wondering what these two tall gaijin were doing there.
We reached the gate in darkness and rang the bell, which beckoned a young shaven-headed monk to the door. "Who is this person with you?" the monk asked my companion.
"He's a poet from America," the Englishman replied.
Maybe because the abbot was a poet too, or maybe because the Japanese expect from Americans such an unthinkable breach of etiquette as showing up at a monastery's gate without an invitation, both my friend and I were admitted. We were shown into a large, bare room where we waited on the tatamied floor, cross-legged, tired and hungry, listening to the patter of rain.
Some time later, a telephone rang in an adjoining room and someone with an unbelievably deep voice answered it. After the conversation was over, a small, ageless-looking man with a very powerful presence appeared and smiled. This was how I met Soen Nakagawa Roshi, the abbot of Ryutaku-ji.
Walking briskly while we limped on aching limbs, Roshi led us to a small room, where he whisked up a pot of thick green tea, almost tasteless, which he served with sugar cookies. I told him I was a poet, and he said he'd written some poems, too. Thus we chatted until a monk came in to show us to the zendo, where we would unroll futons.
During the next days I explored the monastery, examined the craftsmanship of the wooden structures, viewed national treasures, including masterpieces by Hakuin, and climbed into the hills, where I could see the snowy peaks of Fujiyama. I sat in the almost empty zendo, as most of the monks were still on vacation. I saw Roshi only at meals, which, unlike most abbots, he took with the monks. Other than a few greetings exchanged, we didn't speak.
Suddenly it happened. One morning before sunrise, Roshi appeared in the zendo. A monk handed him a small bell whose handle had broken. Holding the bell as if it were a bird with a broken wing, he looked directly at me. In a voice that seemed weighted with all the burdens of this world, he said in English, "Everything breaks. Everything breaks." He turned and disappeared into the gloom of the cavernous room.
Later that morning, Roshi went to Tokyo and I left the monastery to continue my journey. More than thirty years later, his two words are still guidance for the way I live my life.

Joel Weishaus is a poet, critic, and experimental writer in Portland, Oregon.
---
Sawtooth Sesshin
By Erik Storlie
Shunryu Suzuki Roshi led the first sesshin I ever did. It was at the Sokoji Temple in San Francisco in 1965. For decades after I was an avid sesshin participant, but now my retreats are mostly at home—or in wilderness. Last summer my wife Tamara and I did a twenty-four hour meditation vigil after a two-day hike deep into the Sawtooth Mountains of central Idaho.
We begin at noon on a clear, sunny day. Our tent is pitched at a favorite campsite, which is a grassy meadow cupped on three sides by steep slopes rising up to snow­-covered peaks. A small stream, swollen by snowfields melting under intense summer sun, winds through camp. We agree to fast till noon the next day, although we'll take water as needed in this high, dry atmosphere. We won't lie down, except for a brief sleep in the night. We'll stay within view of each other, but will not talk.
We embrace, bow toward each other, then slowly make our ways around the meadow. I look for a place that beckons me to sit. After a time, I see that Tamara is above me, walking among great boulders where our meadow rises up to cliffs. I settle near our tent on a thick grassy hummock where the stream dashes into a small, glassy pool. The swift water cuts steep banks in the tough, resilient sod, and the mossy sides of this miniature canyon are honeycombed with mouse-sized holes. For years I've observed these little tunnels but never seen who lives there.
I ease into the long afternoon. My hummock allows me to cross my legs comfortably, keep my spine and neck erect, and drop my gaze softly on the pulsing waters. My ears fill with the bubbling rush. Again and again my awareness returns to my breath, rests on the breath. Occasionally I rise to stretch, slowly walk about the edges of the stream, and again return to my seat. Above me Tamara has settled near a huge boulder perched on a steep talus, where she has sweeping views of the great ring of mountains.
As the afternoon wanes, I sense quick motion at the rushing edge of the stream. A water rat emerges dripping from the water and rests on a tiny muddy landing before one of the holes. He's the size of a very large mouse—sleek, plump, a glistening gray-brown. Sensing my attention, he flings himself back into the middle of the rushing water. Will he be carried clear to the lake? But in a flash he reappears a few feet downstream at another muddy landing. Here, safe from my reach, he watches. Soon more water rats visit me. They cavort in the tumbling water, dashing in and out of their holes. One inches up the bank to nibble at the seedy tops of grasses. I feel warm, blessed.
That night Tamara and I lie side by side in sleeping bags under an open sky. Frost gathers on moss and grasses and on our bags. At sunrise, I wake to see Tamara already high up the mountain slope, sitting in the sun. I get up, pull on warm clothes, and make my way slowly back to my hummock. At noon we approach each other with slow smiles, embrace, then sit to boil water for soup.
Cradling her cup in two hands, leaning back against a granite ledge, Tamara says softly, "I was freezing before dawn, so I headed up to catch the first rays of the sun."
"What called you to go so high yesterday?" I ask.
"I think I needed everything to open out before me. And to see the little lake cradled below in the arms of the mountains. The lake was alive—golds and blues rippling as the light and wind changed. There's more. It's hard to find the words."
"Ah," I say, thinking of the water rats, "It is hard."
I reach over to squeeze her hand. We both lean back against granite and sip our cups of soup.
Erik Storlie is author of Nothing on my Mind: Berkeley, LSD, Two Zen Masters and a Life on the Dharma Trail.