Buddhadharma editor Tynette Deveaux on a "challenging but important" recent article that touched a nerve — and a highly respected Buddhist monk/teacher's own response to it.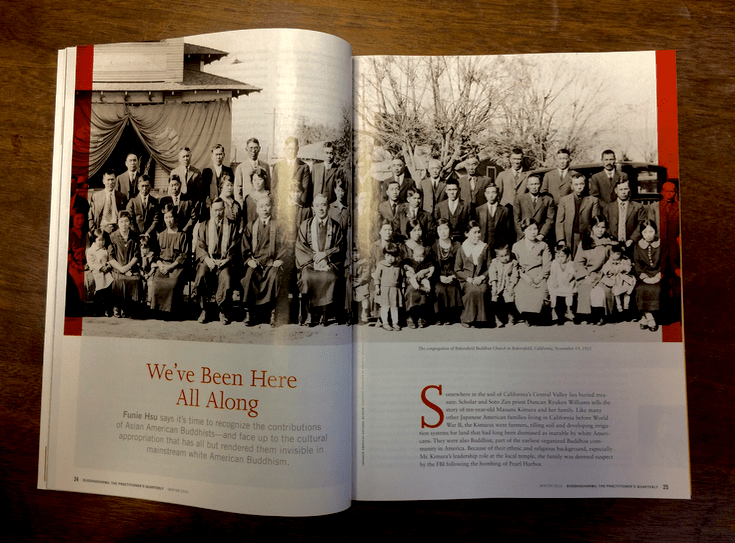 Recently we published an article by Funie Hsu titled "We've Been Here All Along," which explores how Asian American Buddhists have historically been marginalized in American Buddhism. The author — an Asian American Buddhist scholar — bravely discusses what happens when white American Buddhists embrace teachings from Asia in a broader culture built on white privilege and racism. It's a challenging but important article.
We don't usually get much feedback from readers, but this one struck a nerve with several who took the time to write to us. The tone of these letters surprised me — some were quite angry at Hsu and lodged personal attacks ("She should be grateful for what she has"; "She ain't no buddhist"). Others were more tempered but equally defensive ("I felt judged and unwelcomed"; "The article is implicitly racist toward white people").
Last week, while we were taping a panel discussion on Buddhist ethics for our next issue, Ajahn Amaro, abbot of Amaravati, took a moment to let us know how much he appreciated Funie Hsu's article. I thought it might be interesting for him to tell you why. —Tynette Deveaux, editor, Buddhadharma
I am not an Asian-American Buddhist but I have certainly witnessed and been a part of some of the situations described in the piece, and to which Ms. Hsu calls useful attention.
I am European by birth and have been a monk in a Buddhist lineage hailing from North-East Thailand since 1979, practicing under the guidance of Ajahn Chah and Ajahn Sumedho. I have lived mostly in the West as a monk since that date, in both the UK and the USA.
As a monk in a somewhat conservative order, my community has maintained close ties with its Asian cultural and religious roots. Our monasteries in the West, of which there are about thirty (there are about 300 in Thailand as well), tend to straddle two worlds; on the one hand there are the Asian immigrant communities, mostly from Thailand, Sri Lanka, Laos, and Cambodia, and on the other there are the Western-born folks who have encountered Buddhism through reading, traveling or browsing the net.
Over the years, particularly during my time in the USA, I have interacted a lot with both of these groups. It is sad to say, but in conversations with Western-born Buddhist teachers and practitioners, at formal meetings and conferences as much as in informal dialogues, I have regularly encountered the kind of white cultural conceit that speaks of practicing "real Buddhism" rather than "folk Buddhism" weighed down with so-called "cultural baggage." As one whose lifestyle is devotedly built around such "baggage" (preferably understood as "skillful means") such comments and discussions come across bearing the ugliness and conceit of the unconscious racism of: "Some of my best friends are…"
I found I could empathize with the spirit of Ms. Hsu's article and felt many of her points were very apposite. We can all be blind to our conceits (I had no idea how English I was until I went to live in an international community) and her highlighting of these issues helps the reader to, in my humble opinion, turn the attention back on to their own heart to consider what they are assuming to be true and real. When we challenge such assumptions, often only spotting them when we feel particularly gratified (Yes!) or offended (How dare she!), we can then become aware of the stress-filled limitations these conceits bring. Once the heart is awake to the bondage it is creating, it can more easily let go and be free of it.
All good wishes,
Amaro Bhikkhu, Abbot, Amaravati Buddhist Monastery