Rod Meade Sperry reports on his recent visit to the Reciprocity Foundation and their space in New York.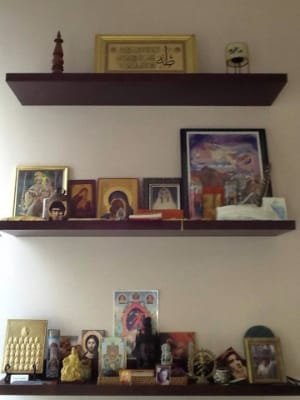 You may recall reading about New York's Reciprocity Foundation and its open-handed approach to feeding and working with homeless youth in Taz Tagore's Lion's Roar piece, "Home Cooking," earlier this year. Just a couple of days ago, it was my good fortune to visit with Taz and fellow RF co-founder Adam Bucko, to learn more about how that approach manifests in all they do.
The Reciprocity Foundation offices, on W. 36th in Manhattan, are bright and welcoming: there's the big table that Taz wrote about, where healthful vegetarian meals are shared, Thanksgiving-style, with homeless youth; the massage-chair where kids who may otherwise be lacking in healthy, positive human contact get to experience just that; the meditation-and-discussion area…
It's in that last spot where you'll find a shrine of sorts. It really captures the spirit and essence of the RF.
As Taz explained to me, as youth who've been working with Reciprocity move on from the program, they're invited to contribute an item to the three shelves that feature on the main wall of the meditation room. The items on these shelves aren't from any one spiritual outlook or tradition: instead, the youth leave behind an ever-widening array of images that are meaningful to them, not merely to say "I was here," but to inspire those who follow.
It's a graduation ritual of sorts — though, often, these same young people come back to the RF to inspire and mentor others. It's no surprise: the RF has made a dent by doing things differently, working to make sure that the kinds of kids who are often overlooked — and disastrously under-served by the system — have a voice, a place to connect with others, and the support to do some very important work: discovering and believing in their best selves, and building the kinds of lives they really deserve.
For more from the Reciprocity Foundation, be sure to visit them online. Or click here to learn how to donate and make a difference right now.