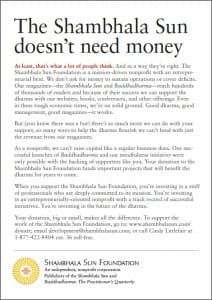 A note from our publisher, James Gimian:
You might have seen our full-page development ad in the recent Shambhala Sun: "The Shambhala Sun doesn't need money." (If not, you can click on it here to expand and read it.) The ad's real message, of course, is about the positive impact your donations to the Shambhala Sun Foundation can make.
Following up on the ad, I want to send a big thank you to all our friends–both known and anonymous**–who have contributed to our work. (**Our friend Anonymous has surprised us with special end-of-year gifts in the past—we hope you're well, Anonymous!)
We're always honored when our readers pitch in to the SSF's mission of communicating the dharma through Shambhala Sun, Buddhadharma, and our various other initiatives. Whenever, whatever, however you choose to give, it always means a lot. So whether it's something "modest," or something larger, we want to send along this shout-out: thank you!
To make a donation to the not-for-profit Shambhala Sun Foundation, just click here.
Wishing you a happy and safe holiday season and a great 2013,
Jim Gimian
Publisher, Shambhala Sun Foundation