With man's best friend, Alexa Mergen discovers true gentleness.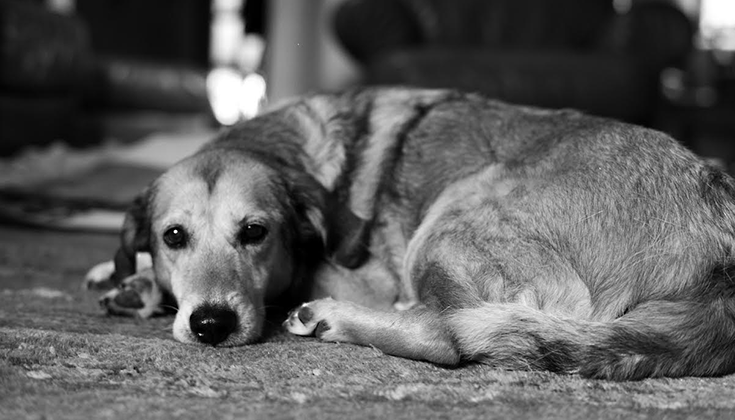 Old dogs just want to be listened to. This listening, I have found with my old dog Sasha, is a way of ahimsa, of practicing non-violence. Like old creatures everywhere Sasha spends her time resting in the sun or curled under a blanket sleeping. She walks slowly and stops often. Arthritis swells along her spine and her hips are out of whack yet she will still hobble across the park to welcome anyone who arrives.
Found on the Vallejo streets as a six-month-old puppy, Sasha's story is one of violence averted. Animal control brought her to the Benicia-Vallejo Humane Society, one of the 4,000 – 6,000 shelters the Humane Society of the United States (HSUS) estimates operate nationwide. My husband and I had completed the paperwork to adopt Sasha on a weekday and returned on the weekend to take her home. A miscommunication placed her on the truck to the Fairfield shelter, seventeen miles away, to be euthanized. This was 1995, before cell phones. The shelter worker leapt in her car determined to intercept the truck and save Sasha. She did; Sasha escaped being one of the thirty to sixty percent of homeless dogs and cats HSUS estimates are killed in shelters annually. As a condition of Sasha's adoption we agreed to spay surgery, our first decision as her caretaker, made with the intention of acting responsibly to safeguard her health and reduce the number of puppies born, to refrain from adding to the pet overpopulation problem humans have created.
Some texts on ahimsa state that beasts are cruel and man must overcome baser tendencies to practice kindness and ahimsa's pure love and selfless service. But I find my crueler nature comes from my most human side, of judgment and jealousy, fear and falsity. My most injurious actions are my words, which follow my thoughts and are not always necessary, true, or kind.
Many dogs kill for food or distraction when given half a chance. Sasha never has. She is purely domesticated—most at home in a home. When we lived in the desert she stayed inside as coyotes called. When we camped in the mountains she crawled into the tent. Archaeologists believe dogs became tamed around 13,000 B.C. Seeking warm shelter and the regular food supply mankind offered, they largely domesticated themselves. Dogs then became tractable, the way our thoughts can be handled with the practice of meditation and our bodies and minds made malleable and receptive. Wild dogs, mostly abandoned or escaped from cruel conditions, especially those who roam in packs and learn to enjoy killing for sport, can abuse their strength and power. Outside the parameters of kindness, they turn feral.
Sasha bared her teeth at me once. She was a one-year-old and I had given her a meaty bone a neighbor left for her. I knew little about dogs then and soon realized the bone was too large and too raw for her. I reached to grab it and her face changed from the floppy eared Labrador retriever with soft brown eyes to all white teeth and tensed grimacing cheeks. I stepped back and when she looked up at me she fell immediately contrite, slinking away from the bone and her bowl, tail tucked. I could not punish her for her instinct or offer praise for her ability to discipline herself. I removed the bone, cooked it and gave it back to her in pieces. Until that day, we'd not brought meat into our house—except the traces in Sasha's kibble–and I can only wonder what senses the bone stimulated for a young dog. In that moment Sasha overcame her physical body and refrained from acting on her initial will.
"Obey" comes from the French "to hear." An obedient dog hears commands and follows them. After fourteen years Sasha knows her commands so well it doesn't matter that she is deaf. It's my turn to listen. When I listen, sitting with the old dog by her brown pillow in the corner of the living room, I may experience the pure love of ahimsa. We have made so many mistakes with this dog, leaving her alone as a pup for hours, disciplining her too harshly, not training her enough, feeding her bad food, taking her on trips that were too far and too rough, and, way too often, losing patience. She watches me as I rant on about a work annoyance or perceived injustice and if I allow myself to catch her eyes I calm down. I can stop my violent thoughts and words right then if I choose, like she did when she was learning. Noticing and sitting with Sasha is an opportunity to allow for forgiveness a hundred times a month.
Like the other 73 million dogs in the United States, Sasha has been bred to yield to human feelings and commands. So perhaps the intentions behind her actions are debatable. Perhaps her gentility is all genes and her presence is merely the mirror available to me as I reflect on kindness. Yet, her behavior is observable. She approaches the saddest, loneliest people to lean gently against them or to nudge their hands. Sure, she will defend herself against other dogs with a growled warning but has never resorted violence. She is not meek and she is not aggressive.
Quite possibly, one day Sasha will be euthanized after all. When she was in pain a few months ago we met with her veterinarian to discuss the process and he offered to come to our home with the injections, a sedative and an overdose of anesthetic. For now, aspirin manages her pain. People who have been through this process with their own old dogs tell us we will know at what point to decide to relieve her suffering, if we listen. This will be our final act of responsibility toward her, when we make that decision. "Decide" also derives from French and means to "cut off." That will be the decision: to cut off the life of a gentle creature, to attempt through orchestrating death to practice ahimsa toward one who inspired ahimsa in life. Whether or not animals have souls will not matter at that moment when we listen for clarity and then act with loving intention. And in the time we have now I sit with her. For this listening must be born of practice, as there are degrees to listening as there are degrees to ahimsa and neither can be mastered.