Anyone who's read the news lately probably doesn't need to be told that Arizona's passage of SB1070, a harsh new bill meant to curb illegal immigration in the state, has become a major flashpoint in the debate about immigration reform in our country. What you may not know is that among those protesting the new law at the recent National Day of Action Against SB1070 was none other than an American Zen roshi.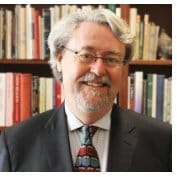 James Ishmael Ford has been a Zen practitioner for forty years, and has spent twenty of those years as a student of John Tarrant, Roshi, in the Sanbō Kyōdan Zen lineage. In 2005, Tarrant Roshi formally named James as his Dharma successor.
He is currently a guiding teacher with Boundless Way Zen, an ecumenical network of American Zen communities (most of them located in eastern Massachusetts). An ordained Unitarian Universalist minister for nearly twenty years, he has served as senior minister at the First Unitarian Church of Providence, RI since May 2008.
In addition, he is the author of two wonderful books (In This Very Moment: A Simple Guide to Zen Buddhism and Zen Master Who?: A Guide to the People and Stories of Zen), and the great Buddhist blog, Monkey Mind.
We caught up with James on his return from Arizona. He and I "spoke" via email.
James, would you say a bit about SB1070? At least among pundits, there's a lot of divisiveness about what it means. How do you understand the bill?
There are two particularly problematic points in the law.
The first is that it changes the status of someone who is in our country without documents from administrative to criminal. Before the new law someone who makes his or her way into the country illegally is liable to deportation. In Arizona it is a crime with a mandatory sentence—first time as a misdemeanor, and the second as a felony.
For me the problem here is that these people are almost all simply trying to get work. Work that is here; they would not be here otherwise. Those who study the undocumented are generally in agreement that they are less criminal, less violent than the general population. There are in excess of ten million undocumented people in the country. This is a problem. But this provision of the Arizona law pursues and punishes the weakest, the poorest, most vulnerable people in a complicated situation.
The second provision in the new law is the requirement that law enforcement officers follow up on any "reasonable suspicion" that an individual might be undocumented. The senate version explicitly excludes visual cues such as race. This is repeated in the house version and is underscored in a separate statement issues by [Arizona Governor Jan Brewer] when she signed the bill.
We're talking Arizona. The majority of the undocumented here, the vast majority are Hispanic. There is simply no way someone who is mandated to pursue the undocumented can avoid looking at everyone with a certain coloration or accent as possibly undocumented. This law pushes law enforcement officers to make decisions based upon color. I find it inescapably racist.
What brought you to Arizona? There were things that you could have done on a local level, but you went right to the heart of it.
There are several reasons I went to Arizona.
For one, I have a personal connection. I served the Valley Unitarian Universalist Congregation in suburban Phoenix, where I also guided the Desert Lotus Zen sangha in the late 1990s. I continue to have dear friends there, many caught up in the struggle to right this injustice.
But, also, this was such an injustice. The way the law scapegoats the poor called to my heart and demanded some action.
Actually, shortly after the Arizona bill was signed into law, a mirror law was introduced in Rhode Island and I was very active in opposing it. The difference was, perhaps, important in explaining why I felt a need to go to Arizona.
At home I encouraged friends, students and congregants to inform themselves about the legislation and, if they felt the way I did, to contact their State representatives. I spoke to this from the pulpit. I also wrote about it. The legislation was introduced in the House, so I spoke with the Speaker's attorney about the issue at some length in my capacity as a representative of communities of faith. I also spoke directly with two other House members requesting they put pressure on the Speaker to block the bill from moving to committee. As it was introduced after the deadline for introducing legislation this year, this was a simple enough action.
In Arizona I saw my task as bearing witness. I wore a clerical shirt and marched with other ministers and priests. It was important to show that people of faith, of many different faiths saw this law as cruel. It was meant to underscore as we move into a national dialogue that while it is absolutely necessary to address the issues of undocumented immigration, we need to engage this conversation with a sense of decency and care, and avoid scapegoating and even worse things.
Would you please tell us about your time in Arizona for the National Day of Action Against SB1070? What happened? For you, what was most striking/affecting?
I am by nature a contemplative, and a spiritual director in the Zen tradition. After that I am a parish minister concerned most of all with the care of those who I serve.
But my spiritual life has been a path of exploring the preciousness within our passingness of each individual and how each of us is in fact woven out of an inescapable web that is existence. I've learned in my bones and marrow we all share the same family name. From this I've come to feel there are times when a person of faith must stand up, and as they say, be counted.
There's that old Japanese proverb, vision without action is a daydream. And action without vision is a nightmare. Here I felt the conditions demanded my presence.
I am a child of the nineteen-sixties. So, demonstrations are hardly novel to me, although perhaps my sense of their usefulness has changed over the years. In Rhode Island there was a small demonstration against the mirror bill. I was not particularly interested in participating, feeling I could do more of genuine use with a few phone calls.
There is a real problem with our attitude and laws regarding immigration. I read one estimate that suggests if every illegal immigrant were in fact deported it would cost the country about forty-one billion dollars a year. Our interdependence is inescapable, and beyond the call for simple decency, any remedy must take into account that the American economy needs these immigrants. The Arizona law aims simply at punishing the undocumented. And yes, there were other provisions. But the heart of it, if heart can be used, was about punishing the undocumented.
For me walking with the demonstrators, including many, many immigrants of both legal and illegal status, underscored the simple humanity of these people. I was deeply moved by one placard carried by an elderly woman. It read "the face of an illegal immigrant." Beneath it there were pasted photographs of a young man in a Marine uniform. I wondered who was she? Who was he?
I still remember that image, both of the woman and of the young man.
These are not abstractions. These are people, most in this country wanting nothing more than to be Americans, or at the very least, to support loved ones back where living is very hard.
What do you think is needed next in terms of addressing Arizona and immigration reform? What's next for you?
I will continue to bear witness.
I have made sure I actually know something of the law. I read it as well as the most objective analysis I could find.
I also educated myself on the actual statistics—which were a bit hard to come by. For a quick start I recommend Wikipedia's article on illegal immigration in the United States. (Remember to look at the "discussion" section for evidence of bias, and that while Wikipedia is a wonderful first reference check, it should rarely be one's last reference check.)
No doubt here in Rhode Island the mirror law will be introduced again in the next legislative session. I will be active in opposing it. Also, I am and will be encouraging my Federal representative and Senators to pursue forms of immigration reform that seeks to genuinely better the situation for everyone.
Above all, I will continue to look for ways to witness for our common humanity, to not be swept away by fear, and hold up the need for all of us to treat each other with some care, as ultimately belonging to one family.
What would you say to our online audience about Arizona, SB1070, and immigration reform? Please preach.
In November of 2007, Manuel Jesus Cordova Soberanes, crossed that most dangerous and unforgiving border in Arizona in search of work—for that chance to lift his family out of grinding poverty, poverty few on this side of the border can imagine. A bricklayer, he believed he could get work in Tucson. It was evening and the desert heat was turning bitter cold. He had been walking for two days and was some fifty miles from the city when he came across the van, crashed some three-hundred feet beneath a forest service road. Dawn Tomko, the driver, was dead. However her nine-year old child Christopher was still alive if in shock. Manuel pulled him out of the wreck, took the worn sweater off his back, covered the boy, and then built a fire. Something he had not dared to do before for fear of discovery, something he now desperately wanted. The man and the boy huddled through the night. The next day Manuel waved down some hunters who called for help. The day after that he was deported back to Mexico.
Under Arizona's new law he would have been charged as a criminal for not having documents. And the jail sentence is mandatory.
Manuel is the face of illegal immigration.
That elderly woman holding the sign with the words "the face of an illegal immigrant" and the pictures below of a young marine, both of them, they are the face of illegal immigration.
As a Buddhist I feel compelled to bear witness to our radical interdependence. As a citizen I feel compelled to bear witness to our being a country of compassion and justice. As a human being I feel compelled to bear witness to the humanity of these people who have come to this country seeking nothing more than hope.
And in that witnessing to call us all, in Abraham Lincoln's felicitous phrase, back "to our better angels."