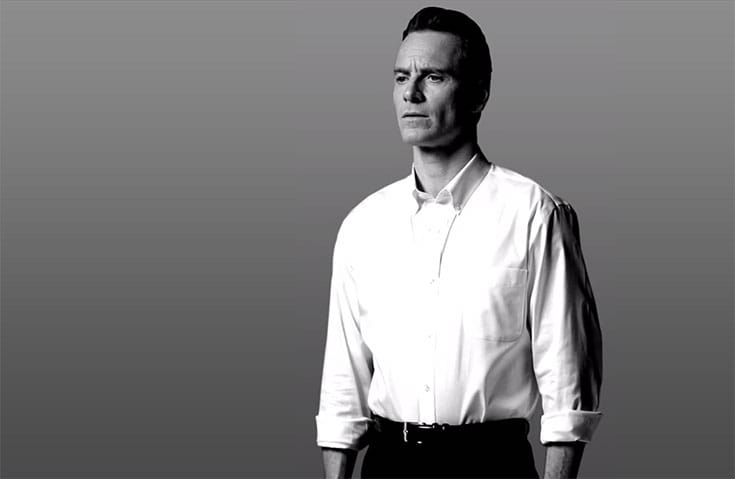 Michael Fassbender as Steve Jobs. Still via
stevejobsthefilm.com
.
In Steve Jobs, Aaron Sorkin portrays the late Apple founder as a ruthless perfectionist. Some have attributed Jobs' real-life perfectionism to Buddhism, which he practiced and studied most of his life; biographers Brent Schlender and Rick Tetzeli write that, in Jobs' Buddhist-inspired view, perfection was a ceaseless process of becoming — "a goal that can never be fully attained." But that's a connection Sorkin doesn't draw, and Buddhists should be relieved, says A. Jesse Jiryu Davis.
Americans: we can love an asshole, so long as he is a winner.
The surprising popularity of Aaron Sorkin's 2010 film The Social Network is evidence: Sorkin made Facebook's founder Mark Zuckerberg the antihero of that movie. Zuckerberg betrays his employers and his best friend. He disparages women. He builds a website that is frivolous at best, and at worst invasive and addicting. Yet, he is the hero of the film because he is the underdog who wins. In a legal battle with the wealthy Winklevoss twins, he argues that craftsmen like himself, who implement products, deserve the profits. The twins' claim that they own Facebook because the idea was theirs collapses.
In Steve Jobs, opening this week, Aaron Sorkin now chooses to focus on the coolest, baddest antihero of Silicon Valley.
Sorkin continues the intellectual debate of The Social Network, but inverts it. In the earlier film the craftsman is the underdog, fighting the idea men. In Steve Jobs, on the other hand, the idea man is the amoral hero, while the craftsman, Apple co-founder Steve Wozniak, is the voice of conscience. But the emotional structure of the two movies is the same: the hero screws over those closest to him, but he is made charismatic by two traits: defiance and success.
We come face to face with Jobs in a play of three acts, obeying the Aristotelian unities. Each act is a real-time depiction of the minutes leading to three product announcements: The first Macintosh in 1984, the doomed NeXT computer in 1988, and the iMac in 1998. In Sorkin's stagy script, those whom Jobs should most be loyal to—Wozniak, Jobs's ex-girlfriend Chrisann Brennan, and their daughter Lisa, whom Jobs will not acknowledge—demand his attention as he prepares backstage. He denies them with shocking brutality. In the 1988 scene, Jobs threatens to have Brennan killed: "I know people who know people."
By constricting its scope to three (imagined) half-hours in Jobs's life, the film skips most stops on the standard tour of his biography. His use of LSD and his rivalry with Gates are merely mentioned. We see him betray his loved ones intimately, but we do not see his public defects, like his wage collusion with Google or the scantiness of his charitable giving. A Buddhist viewer should be relieved that Jobs's spiritual explorations are also absent here; his monstrous conduct is not good PR for Buddhist training.
Michael Fassbender, appearing as trimly tailored as Peter O'Toole, is an odd choice for the lead. Compared with actors in previous Jobs movies, like Noah Wyle or Ashton Kutcher, he is square-jawed and blonde and unlike Jobs. His flawlessness was more fitting in "Prometheus", in which he played a very expensive robot.
But Sorkin calls his film "a portrait, not a photograph" of Jobs, and Fassbender's perfect physique works as an objective correlative to the mind of a character obsessed with perfection. Backstage before the Macintosh launch, Jobs stands impassive in his undershirt as Chrisann Brennan begs him for help: she and Lisa are on welfare, while his Apple shares are worth $441 million. "Dramatically undervalued," he comments. "This would be a good time to get in." Fassbender's Hollywood body is wrong for Steve Jobs—he looks more like something designed by Jobs. He is beautiful and he does not care whether you can afford him.
Steve Jobs is a Sorkin product, with the sloppy brilliance his products are heir to. Characters declaim more than they speak. Exposition and philosophizing are crudely jammed into the dialogue. Reams of script are recited very fast. Almost nothing happens. Somehow the film is propulsive, even though the hero's moral arc bends nowhere. In the final minutes, Wozniak proclaims, "You can be decent and gifted at the same time!" Jobs is expressionless. Behind him, a huge screen shows a photograph of a shark, and then "Think Different."