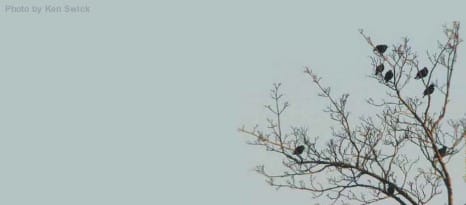 Love
Love means to learn to look at yourself
The way one looks at distant things
For you are only one thing among many.
And whoever sees that way heals his heart,
Without knowing it, from various ills—
A bird and a tree say to him: Friend.

Then he wants to use himself and things
So that they stand in the glow of ripeness.
It doesn't matter whether he knows what he serves:
Who serves best doesn't always understand.
Czeslaw Milosz, winner of the Nobel Prize in Literature in 1980, was a poet of exile. He lived in Warsaw during the Nazi occupation and the Soviet takeover of Poland that followed. He defected to France in 1951 and moved to California in 1960. In poem after poem, Milosz writes about how one might begin to heal after the spirit has been injured in a damaged world. In his poem "Dedication," he writes, "What is poetry which does not save / Nations or people? / A connivance with official lies…"
"Love," published in 1945, presents Milosz's philosophy of the sacred and his understanding of attachment and illusion. Though it is an early poem written by a poet who maintained his Catholic faith throughout his life, "Love" offers a view that is broader than any religious constraint, one that Milosz returns to again and again in later poems.
For Milosz, love means having the grace to distance oneself from "I," for "You are only one thing among many." The ability to see all things as interconnected allows love to offer its most profound service. Even a tree or a bird knows us as "friend." The poem itself—with its optimism, hope, and gentleness—helps the reader "heal his heart."
The line "without knowing it" foreshadows the elusive desire in the next stanza: "Then he wants to use himself and things / So that they stand in the glow of ripeness." The words "glow" and "ripeness" infuse the poem with warmth. In the last line, lack of certainty is rewarded: "Who serves best doesn't always understand."
Milosz's poem "To Allen Ginsberg," which he wrote fifty years later, echoes that theme. It begins: "Allen, you good man, great poet of the murderous century, who / persisting in folly attained wisdom." Milosz continues, "I confess to you my life was not as I would have liked it to be… And I lived in the America of Moloch, short-haired, clean-shaven, tying / neckties and drinking bourbon before the TV set every evening."
Illusion is the enemy of the authentic life, Milosz tells us again and again, as in the poem "Texas": "I have experienced the shame of the recollected illusion / of loving, hating, aspiring, striving / And now I can hardly believe / That I managed to live through my life." Without living an authentic life, or at least aspiring to one, there can be no poetry. Milosz said in a talk that "art of any kind, including poetry, doesn't live very well in the world of appearances, because the basic striving of a good artist is truth."
In 2007, I went to a reading by Robert Hass, the former U.S. Poet Laureate who worked with Milosz translating his poems from Polish to English. Hass was asked if the line "Who serves best doesn't always understand" was Milosz's homage to the last line in Milton's sonnet "On His Blindness": "They also serve who only stand and wait." Hass smiled and said, "Yes, I believe it is." Milton's poem questions how he can best serve God. I believe Milosz's poem "Love" does this as well.
In an interview Milosz said, "Buddhism is primarily for me a profound empathy for the suffering of all living beings." As personal and individual and intimate as love is, Milosz tells us, it cannot glow in ripeness unless it mingles with the divine.