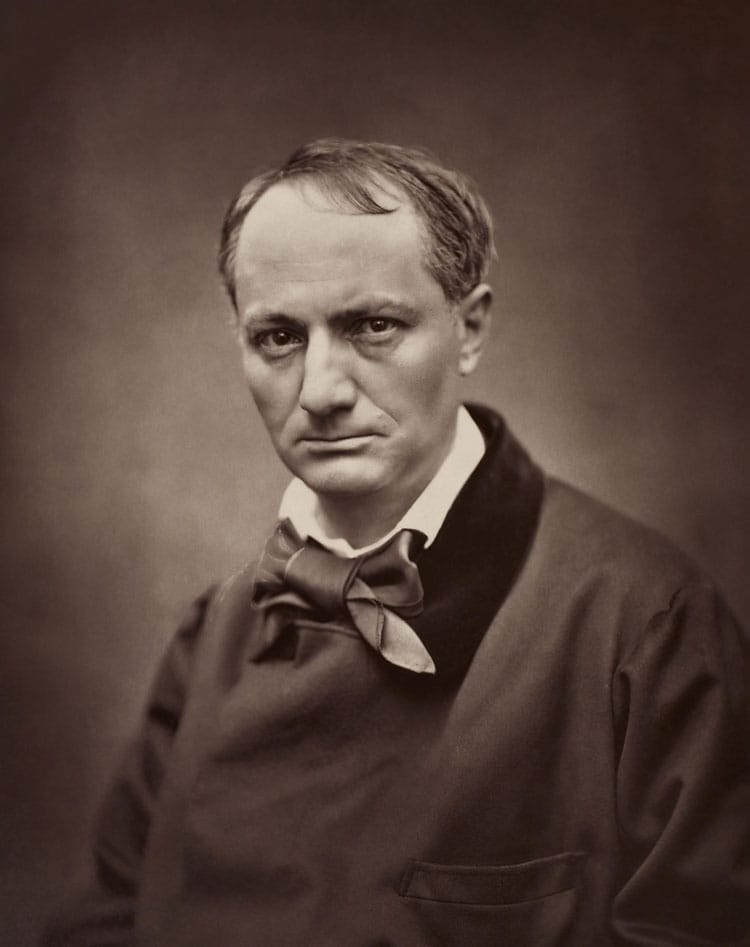 "Étienne Carjat, Portrait of Charles Baudelaire, circa 1862" by Étienne Carjat
Our White House
Outside the city I have not forgot

Our white house, small but in a peaceful lot,

Her chipped Pomona and her old Venus

In a skimpy grove hiding their bare bust,

And twilight sun both dazzling and superb

Behind the pane where its immense eye burned

Wide open, and the intense curious sky

Pondered our long silent meals and the eye

Of sun mirrored in candlelight to merge

On frugal tablecloth and curtain serge.
Charles Baudelaire (1821-1867) is often called the father of modern poetry. A drunk, a sinner, and a street stroller, he was also an impeccably dressed dandy and an unusually courteous gentleman. He was sentenced to prison for a year for his "obscene" writing, specifically his series of poems alluding sympathetically to Sappho and her lesbian friends, but the sentence was commuted. Baudelaire wrote about the lowest ranks of society—the beggars, the blind, and the freezing prostitutes and sneak thieves on winter streets. A master of sonorous prosody, he rendered many poems hard to forget.
In "Our White House," the poet speaks as a city man, off to the country to visit his maternal refuge, probably on a Sunday evening. Baudelaire's twice-widowed mother, whom he adored, was Caroline Archenbaut Defayis Aupick. She angered him by not turning over all his inherited estate, but her prudence ultimately guaranteed him a lifetime allowance to carry him through the years. They also fought because she didn't approve of his "black Venus," Jeanne Duval, on whom he lavished moneys he didn't possess, and because of his dissolute ways that led to his early death. But his mother was loyal to him and his art, and he died in her arms in hospital. Then in her remaining years, she devoted her life to editing his work and enhancing his name, making him the most fabled poet in the French language. In many ways Baudelaire was closer to his mother than to any other person, as we may observe in their silent dinner in this short poem.
The first lines reveal Baudelaire's nostalgia for their modest house with rundown neo-classical statues. Our white house is peaceful, he states. "Her chipped Pomona and her old Venus" and the skimpy trees are a sorrowful patch of nature. But then, the poet declares the grandeur and beauty of the sun and intimately humanizes the heavens, speaking of the "curious sky." He also reveals the material setting of the table, citing the "frugal tablecloth." The poem ends not with drapes made of linen, cotton, or silk, but cheap serge curtains.
The power in the poem resides in its understatement. Baudelaire is writing a poem about his mother's house, which is also about him and his mother and their full relationship. To do so he paints the sun and sky, the garden, the table, and the candlelight of intimacy, and only then does he yield one key personal phrase: "our long silent meals." The voyeur sun witnesses the scene.
On a personal note, Baudelaire is a French poet I've been attached to since my student years in Paris. One afternoon in my room on la rue Jacob, a young woman, whom I'd seen for only a few moments at a cafe, came to the door with the unexpected gift of a pre-war leather-bound edition of Baudelaire's poems, and then she left. I now take this same volume to France each summer and, though the Baudelaire corpus of poetry is not large, I never finish reading it.