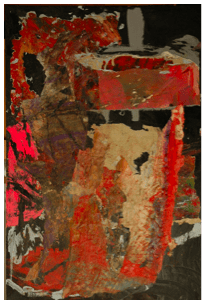 Buddhist artist John Beardman is continually astonished by how the dharma is manifest in the act of creativity. Here he discusses the death and rebirth of art. Pictured here are some of his "reborn" pieces.
At significant times in my artistic career, accidents have occurred. There was a war in Lebanon that destroyed a stash of large paintings, or at least caused their disappearance. There was a fire at a university storage barn that destroyed the most significant paintings I had done over a period of ten years. And there was a flood at another storage facility of the same university that did in another batch. Each time there is an accident like this, I view it as the opportunity it is. A time to look at my role, get an overview of my past work, and use that knowledge to make new art.
A few years ago I was moving some of my art to a storage place in upstate New York, but dusk fell before I could empty the work into the space allotted. I decided that unloading could wait until the next morning and I left the car trunk propped open by the rolls of canvas. Beneath the canvas were some fifty paintings on paper—drawings in the vernacular. Well, there was a thunderstorm that night and by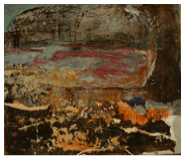 morning the drawings were ruined. Great soggy sheets of paper with the paint peeling off greeted me before breakfast.
I had fun easing those old drawings—now "dead"—into a "rebirth" as collaged paintings. They were uncomfortable, unbearably so in their bardo of becoming, and they simply jumped into a new life—one informed by the present moment. The problem is when I don't accept the infinite possibilities that each small "death" occurs in my life. There is a strong tendency to continue the path carved by my habits. But the paintings reborn after that storm were very much of the moment, yet with the past incorporated.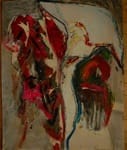 The same happened recently when several of my paintings suffered due to a malfunctioning oil burner. I found piles of crumbled shards. Some of the shards were gummed up in great wads. These presented the greatest challenge.
Each event is the occasion for me to process my life. Each time I am a little more able to see what my work was originally about, and find out what was abiding in it and me. Some of the new works that have resulted carry with them a piece of the rotting and burning they suffered in their past lives. What has persisted is the direction of the work—something of each original intent is imprinted on the "new" or "remixed" paintings.