Each Friday, we share three topical longreads in our Weekend Reader newsletter. This week, Lama Justin von Bujdoss explores the idea of adapting the dharma to the needs of the present moment. Sign up here to receive the Weekend Reader in your inbox.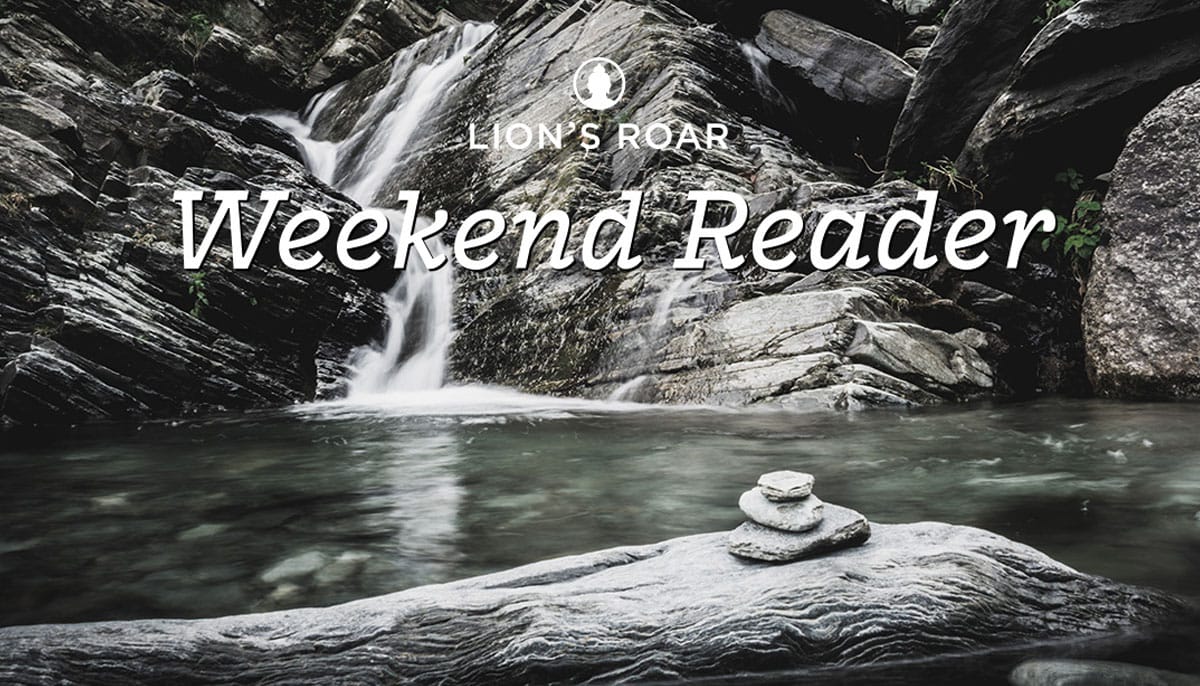 If everything is impermanent, and change is the constant, why do we hesitate to adapt the dharma to the needs of the present moment? As David Loy has written, "To influence the modern world, Buddhism must adapt to it." Right now, sanghas (Buddhist communities) are being challenged to their core with ethical challenges, so it feels timely to check our assumptions about the presentation and transmission of the dharma.
It's important to know what tools are available to support our sanghas in moments of need. And it's also helpful to know when dharma practice is one of those tools and when it is not. In her article, "What Meditation Can't Cure," Debra Flics offers meaningful insight into how we can be more skillful in supporting survivors of abuse, trauma, and mental illness. To meet the modern world, Buddhism needs appropriate tools to address suffering.
In "The Healing Practice of Cultural Humility," Charlene Leung reminds me that when I feel compelled to take swift action to address an issue in my community, it's important to avoid hubris and hold appreciation for the fact that we are the heirs of our traditions, but we do not own them. Rather, we are tasked as caretakers and shepherds. We must ask ourselves: how can we support healthy adaptation without losing our tradition's heritage?
Similarly, in "Do You Know Your True Face," the straightforward clarity of Lama Rod Owens highlights the need to pay attention to the layers of interdependence that lead each one of us to the dharma. It takes great care, thoughtfulness, and boldness to act with our eyes open to others without losing the ability to be ourselves. As the world becomes more connected, we must be ever more mindful of interconnectedness, diversity, inclusivity, and intersectionality in our communities.
Adaptation is difficult, but perhaps it is — in a sense — essential to the tradition of dharma. I hope these three articles provide you with some inspiration about how you will bring your practice into the world.
—Lama Justin von Bujdoss, guest editor
Lama Justin von Bujdoss is a Staff Chaplain for the New York City Department of Correction and a dharma teacher trained in the Karma Kamstang tradition of Tibetan Buddhism. He will be one of three teachers featured at the 2018 Lion's Roar retreat this October, "Facing Life's Challenges."
Meditation wasn't designed to heal early psychological wounds, explains Debra Flics. She cautions us not to look to it as a replacement for psychotherapy.
Traditionally, difficulty concentrating has been attributed to the five hindrances — greed, aversion, sloth and torpor, restlessness, and doubt — all states of mind that prohibit deeper states of concentration. For some people, these mind states may be composed of those early psychological wounds that we are carrying with us. For example, what a meditation teacher may call aversion, a psychotherapist may see as self-hatred. What a meditation teacher may see as sloth, a psychotherapist may recognize as depression. What a meditation teacher may see as restlessness, a psychotherapist may see as anxiety or PTSD. Because these mind states may be composed of very difficult, even traumatic, experiences that occurred before we were developmentally able to contend with them, just naming them as hindrances and feeling their energetic components is often not enough.
Charlene Leung discusses how Buddhist practice can help us be aware of and work with our biases.
One way we can develop our cultural humility is by extending our formal Buddhist practices of compassion, contemplation, mindfulness, and awareness meditation into our everyday lives. Using contemplative practice, we can explore our social conditioning, how we have been taught to operate in the world as social beings. Social conditioning is how culture is transmitted, how social systems are held in place. Social conditioning is not all bad. It's how we learn to live and work well with others, but it's also how we have unconsciously learned to see groups of people in specific and limited ways. It started the day we were born, when people learned our biological sex, as evidenced by numerous studies showing the effect gender bias has on infant development. It's the basis for how we fundamentally feel about humanity.
Lama Rod Owens says we all need to look honestly at who we are, in all our complexity — and that includes those who teach the dharma.
To teach from a place of intersectionality begins with understanding that teaching is not an objective activity. We are offering dharma teaching from the many ways in which privileged and disprivileged identity locations inform who we teach and even what we teach. Most white teachers will not consider race in the dharma because white teachers have been conditioned not to see race and to normalize their racialization. It is the same for male teachers who do not openly talk about patriarchy.
For many white teachers, connecting to an identity of whiteness that has been perpetuated and defined by the domination of other races is a significant obstacle. Whiteness does not mean oppression, but still, it has often been defined by superiority and the power over other.
To resist naming our identity locations is to commit a kind of aggression toward ourselves and to further obscure blind spots that hurt others. Others are hurt when they are not seen; invisibility is another form of violence and oppression.