Each Friday, we share three topical longreads in our Weekend Reader newsletter. This week, Buddhadharma's Koun Franz explores the importance of vows and honest affirmations. Sign up here to receive the Weekend Reader in your inbox.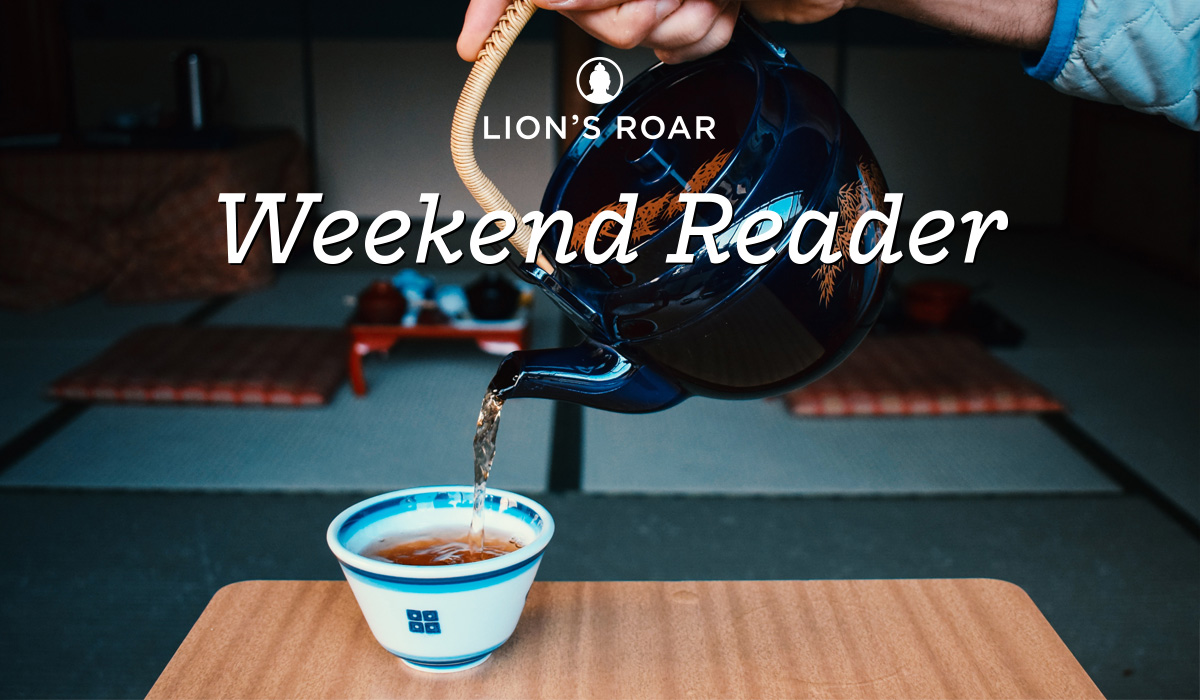 I drink a lot of tea. And over the last few years, I've become increasingly aware of the little tags on the teabags — many of them offer short quotes, or more often, some kind of affirmation. Here's what I got this morning: "There is nothing like you, there was nothing like you, and there shall be nothing like you." (Recent favorites include "The purpose of life is to enjoy every moment" and "Recognize that you are the truth.") Most, it seems to me, are variations on You're special, or, put more plainly, You're at the center. I matter — or so my teabag tag tells me — more than anyone. My feelings, I'm told, are true.
I appreciate encouragement as much as anyone. But, if I'm honest, I don't think being told I'm special is what I need. Like a hit of sugar, these kinds of affirmations can give me a little lift, but then what? I think I'd be better off with a reminder of the purpose of my life — and it isn't, I'm afraid, to enjoy every moment.
What is the purpose, from a Buddhist perspective? Perhaps there's more to it than this, but it seems a big part is simply to take responsibility—for my life, for my actions, for the welfare of others, for this moment. In my practice of Zen, I feel the weight of that when I recite the repentance verse:
All my past and harmful karma / born from
beginningless greed, hate, and delusion / through body,
speech, and mind / I now fully avow.
And I know the possibility of it when I renew the bodhisattva vows:
Beings are countless; I vow to free them all / Delusions
are inexhaustible; I vow to put an end to them / Dharma
gates are infinite; I vow to enter them / The awakened
way is unsurpassable; I vow to embody it.
If this is the responsibility we take on, how do we encourage ourselves to carry so much, to keep going on a path that, from the outside, looks like it promises failure? I think we need some honesty, not flattery. In "Maezumi's Three Teachings," Karen Maezen Miller shares three reminders that we could all benefit from — probably every day. In "Living a Life of Vow," Zenkei Blanche Hartman outlines not just how vows operate in our lives but how they manifest as a formal practice, something we return to and renew in community. And in "I Kinda Vow," we hear, in the honest and very funny voice of Genine Lentine, how it feels when we really need that pep talk but show up for the practice anyway.
If I knew the magic words of encouragement for someone on this path, I'd write them here. I'd say them to myself. But I'm not sure they'd make a difference. When the dishes are dirty, we clean them; when we drop something, we pick it up. What's the alternative? That's not special, but I think it's enough.
—Koun Franz, deputy editor, Buddhadharma: The Practitioner's Quarterly
Karen Maezen Miller shares Maezumi's Three Teachings, which, she says, you're not likely to find elsewhere.
2. Don't make excuses for yourself
The list of all the people and things I can, and do, blame is endless. Don't get me started! Blaming external, or even internal, conditions for what I do or don't do is dualistic. As long as I'm casting blame elsewhere, I am reinforcing my own wrong-headed view as separate. Taking this teaching at its most profound level, I must begin to see that any excuse for myself is a self-deception. The power to change is only mine.
To live the life of a vow, says the late Zen teacher Blanche Hartman, is to be at home right here in this body.
When I first came to practice, I thought, "I'm a mess now but I'm going to get straightened out and then I'm going to get on with my life." After some years I realized, "I'm never going to get finished with this." Momentarily I was disappointed and then I thought, Pollyanna that I am, "Oh, that means you will never use up this practice. I can never wear it out. It'll last my whole life."
The same is true of our vow. Our vow will sustain us and inspire us to practice for the rest of our life and maybe for lives to come. These vows will be our guide and our support and our inspiration for our whole life.
Genine Lentine has been thinking about her murky relationship to the bodhisattva precepts, which are renewed monthly during the traditional full moon ceremony. The result is her humorous and perhaps more realistic "half moon ceremony."
I vow not to kill.
Well, except when it comes to some very smāll,
very icky, perhaps sentient, but nevertheless very īcky,
very tiny, very nūmerous beings, beings who walk on food sūrfaces,
or crawl on my skīn, especially those beings whose bītes line up in thrēēs—
I made the mistake of gōōgling these bēings
I mēan, have you seen pīctures of those beings on the īnternēt?
Here, I'll shōw you, do you want to look at some nōw?