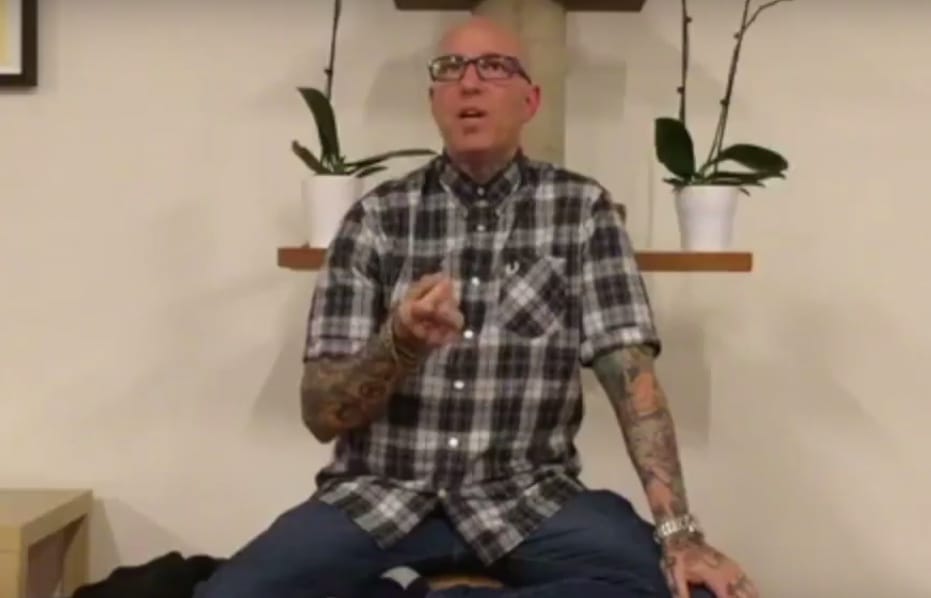 Noah Levine teaching at Against the Stream in Santa Monica on March 12, 2018. Screenshot via ATS on YouTube.
In the latest allegation of sexual misconduct against a prominent Buddhist teacher, the Los Angeles-based Against the Stream Buddhist Meditation Society (ATS) on March 29 released a statement addressing allegations of sexual misconduct by its founding teacher Noah Levine; Levine addressed the matter via an email message the next morning.
Update, April 20, 2018: Against the Stream has retained an independent investigator and expects the investigation will be completed within three to four weeks.
Levine is one of the leading younger generation Buddhist teachers in the US and the author of bestsellers such as Against the Stream, Dharma Punx, and Refuge Recovery. The statement by Against the Stream reads:
It is with great regret we announce that we have received reports of sexual misconduct by Noah Levine which require an investigation. During the investigative process we are required to suspend Noah's teaching activities with Against the Stream and his membership on the Board of Directors. We know this announcement may have significant emotional impact on you, as it does on the teachers and staff, and we plan to be of support in whatever way we can. This is a time for the refuge of Buddha, dharma and sangha.

All classes will continue as scheduled. If you have questions, please feel free to call 805-764-1340.

Matthew Brensilver, Vinny Ferraro, JoAnna Hardy, Cheryl Slean, Mary Stancavage
ATS Teachers Council

Heather Briggs, Charles Boyd, Vinny Ferraro, David Francis, Jacqueline Drummond Lewis, Leda Maliga, Brooke Rowland
ATS Board of Directors

Andre Hardy
Executive Director
Levine issued a response to the ATS letter on the morning of March 30:
To all who care about the Refuge Recovery, Against the Stream, Dharma Punx, and affiliated dharma communities:

Many of you received a letter yesterday from Against the Stream. The letter and the action taken by the board are based on a false allegation.

I have spent the last 30 years healing, recovering, and trying my best to help others do the same. I am certainly not a perfect or enlightened person, but I have found in the dharma a path that has led to an embodied honesty and transparency about any shortcomings I have. It is with that same transparency and honesty that I write this letter to make clear that what I am being accused of is absolutely untrue.

Here's what is happening-

Recently a letter was sent out to members of our community and to undisclosed recipients. The letter contains an allegation made through a third party regarding a woman I was dating who has apparently made a claim that some of our consensual contact was somehow non-consensual. This never happened. All of our interactions were mutual with clear and open communication. The breadth and clarity of our conversations makes this accusation all the more surprising to me and those who know me.

I have made myself available to all involved parties to discuss the matter – not just to deny the allegation, but to make sure that every concern, every question, and every fact is addressed openly and truthfully.

Further, all of the governing bodies of the organizations I am involved with are aware of and responding to the letter. This includes the boards of Against the Stream and Refuge Recovery as well the executive team at Refuge Recovery Treatment Centers. The ethics council at Spirit Rock Meditation Center is also aware of this and will be doing their own inquiry into this accusation. I have also informed my teachers Jack Kornfield and Ajahn Amaro and will continue to be in direct contact with them.

I am doing my best to meet all of this with forgiveness and compassion, bringing mindfulness to all of the unpleasant thoughts, feelings, and sensations that are arising and passing through my heart, mind, and body.

With kindness, compassion, appreciation, and as much equanimity as I can embody in this present moment,

Noah Levine
Update: On April 3, Against the Stream released the following statement:
We at Refuge Recovery Treatment Centers are aware of allegations toward our Founder, Noah Levine. The allegations relate to a personal relationship outside of Refuge Recovery Treatment Centers. Noah has asserted that the allegations are not true. Noah is cooperating with Refuge Recovery Treatment Centers and all involved parties in the process of addressing these allegations.

This situation is distressing and difficult for all involved. We want you to know that the top priority of the Refuge Recovery Treatment Centers is the safety and absolute commitment to care for our clients, their recovery, and our entire treatment community. We continue to be dedicated to providing the highest quality of confidential treatment for our clients.

Our experienced and highly skilled team will continue to work on teaching and healing, relying upon foundations of Buddhist meditation practices and evidence-based therapy that serve as the philosophical backbone and structure of Refuge Recovery Treatment Centers.

Together, may we end the suffering that addiction causes.

with Loving Kindness and Compassion for all living beings,

Refuge Recovery Treatment Centers
Update: On April 18, Against the Stream released a statement that announcing that they have retained an independent investigator. After a three- to four-week investigation is complete, the ATS Grievance Council will review the results and make recommendations based on the findings. The statement reads:
Dear Sangha,

We are writing with an update about the current situation at Against the Stream. As you know, a few weeks ago ATS received notice of allegations involving our founding teacher Noah Levine. The Board and Teachers' Council deemed these allegations worthy of investigation and, as is protocol in such cases, Noah was asked to step down from all his teaching duties.

The ATS Grievance Council has convened and collected information relating to the concerns.  We have retained an independent investigator to conduct the investigation and make findings of fact which will be provided to the Grievance Council.  We currently anticipate that the investigative process will be complete in approximately three to four weeks, and a report will be provided by the investigator shortly thereafter.  The Grievance Council will then review the report and make recommendations based on the findings.  This is the information we can share at this time while maintaining the integrity of the investigative process and respecting all involved in the process. We will let you know if anything in this projected time frame changes.

We understand this is a difficult time for all involved and sitting with uncertainty and all the accompanying emotions can be a challenge. We recognize the hurt and confusion that is being felt by many in the community and we are doing our best to be expedient as well as holding safe spaces to practice together.

With gratitude for your patience,

Against the Stream