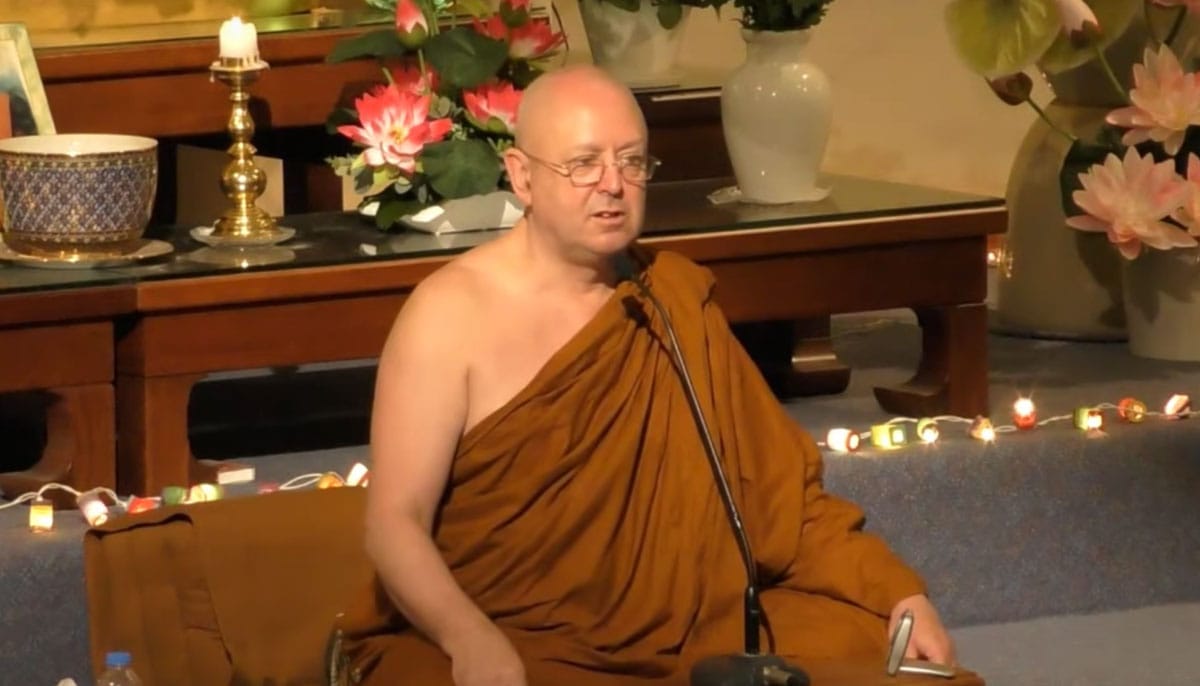 Ajahn Brahm. Screenshot via Buddhist Society of Western Australia on
Youtube.
Ajahn Brahm has resigned from his position as the spiritual director of the Buddhist Society of Western Australia (BSWA), the organization announced in a news release.
The announcement was written by Drew Bellamy, Immediate Past President of BSWA. It reads, in part:
The 2015-2018 Committee has for some time been examining and trying to implement more support (paid or unpaid) and a more efficient organisational structure at the Society in order to reduce the workload of Ajahn Brahm and the Volunteer Committee. Again at this year's AGM, due to certain members forming a blocking party with proxy votes, we were unable to get changes through to support this aim.
At the end of the AGM, Ajahn Brahm considering his workload and lack of support by members on this issue informed the meeting he felt he had no choice but to resign from the Society.
Brahm has served as the Spiritual Director of BSWA since 1995. A letter from Brahm addressing his resignation was also published by the BSWA:
The committee had agreed on a proposal to amend the Constitution of the BSWA to allow the committee to appoint a subcommittee consisting of members of BSWA. At present, the Constitution of the BSWA only allows a subcommittee to be made up of serving committee members… this increases the workload of existing committee members by excluding non-committee members from helping on a subcommittee. It also increases my own workload, and stops us to tapping the expertise of our current members.
Despite me showing strong support for this amendment and advising the members at the AGM how this will reduce my workload, this proposal was blocked by a small group using proxies which, though legal, was unethical in my opinion…
As such, I have decided to step down as the Spiritual Director of BSWA. In practice, this means Venerable Hasapanna will be the Spiritual Director and I will be the Assistant Spiritual Director.
When the Buddha was not heard at Kosambi, He went to the Parileyya Forest for three months. I doubt that the lay members of the BSWA will wait that long to settle this matter.
With Mega Metta, Ajahn Brahm
Can you help us at a critical time?

COVID-19 has brought tremendous suffering, uncertainty, fear, and strain to the world.
Our sincere wish is that these Buddhist teachings, guided practices, and stories can be a balm in these difficult times. Over the past month, over 400,000 readers like you have visited our site, reading almost a million pages and streaming over 120,000 hours of video teachings. We want to provide even more Buddhist wisdom but our resources are strained. Can you help us?
No one is free from the pandemic's impact, including Lion's Roar. We rely significantly on advertising and newsstand sales to support our work — both of which have dropped precipitously this year. Can you lend your support to Lion's Roar at this critical time?