In the November issue of Lion's Roar magazine, eight practitioners discuss the Buddhist themes in their favorite TV shows. Between compassion, reality, and the cause of suffering, there's lots to contemplate in Here and Now, says Jessica Pimentel.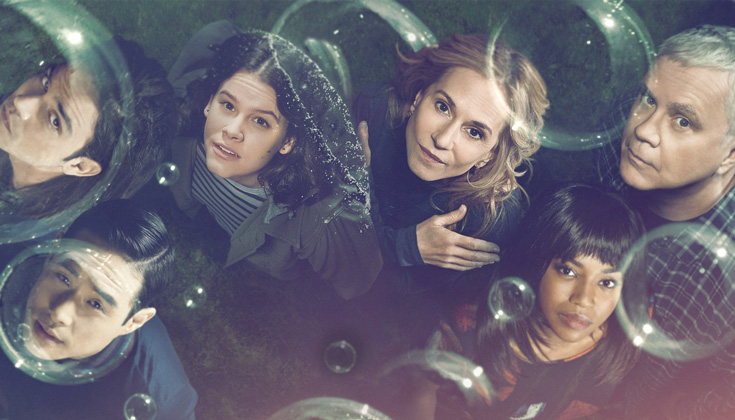 Although Alan Ball's new series Here and Now is not being renewed for a second season, I found season one interesting from a Buddhist perspective. The show touches on almost everything that leads to suffering in modern American society.
Alan Ball is famous for making shows with characters who have a blatant, "in your face" way of dealing with big personal, social, emotional, and mental problems. As a result, his shows are not for everyone. Here and Now tackles adultery, bigotry, coming-of-age and midlife crises, mental illness, morality, ethical behavior, LGBTQIA issues, religious discrimination, bullying, classism, racism, and the repercussions of abandonment and separating children from their mothers.
Can these hallucinations actually be a form of bodhisattva activity?
As if all of these issues were not enough fodder for contemplation, there's a slightly supernatural/supermundane element to the show. One of the characters, a brilliant artist, suffers from severe schizophrenic hallucinations. Rather than just a slight warping of reality, these hallucinations are grand and poetic visualizations that are monstrous, all engulfing, and terrifying. His family cannot grasp the magnitude of what he is seeing.
Later down the line, we see that his visions are not merely delusions of a sick mind but are connected to actual events that occurred in the life of his therapist, a Muslim who has struggled for many years with finding his spiritual center and coping with personal loss.
The visions are intricately tied to helping the therapist and turn out to be prophetic, which makes us question the nature of reality. Is it possible that many people who suffer mental illness are merely vibrating at a higher, more empathic level than the rest of us in Western culture have yet to understand? Can these hallucinations actually be a form of bodhisattva activity or a type of power to communicate with someone who is deeply suffering in order to help them?
Lastly, even though there is often conflict within this multiracial, multifaceted family, when things go extremely wrong, they seek methods of compromise, compassion, and forgiveness. In other words, the family pulls together and puts their differences and anger aside for the greater good.