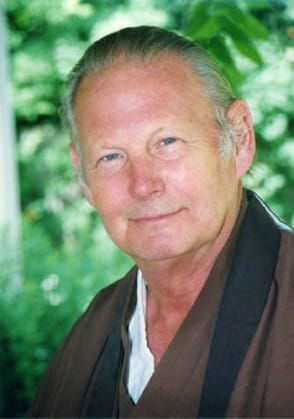 Albert Low, founder of the Montréal Zen Center and dharma holder in the Zen lineage of Philip Kapleau, has died. Low was born in London in 1928. He left England after a Navy stint to live in South Africa with his wife Jean; there the two started a family. His disapproval of Apartheid found Low moving on to Ontario, Canada in 1963. He began studying Zen with Haku'un Yasutani in 1966, and would later practice with Philip Kapleau, who would authorize Low as a Zen teacher twenty years later.
Low had been an executive in South Africa and Ontario, and would bring these dual areas of interest and expertise together in what would become his best-known book, Zen and Creative Management. He also authored numerous other works, including The Iron Cow of Zen, Zen and the Sutras, and most recently, What am I? The Heart Sutra for Everyone.
MZC Board president Monique Dumont, reached for comment by Lion's Roar, has provided the following, which serves as a brief biography and appreciation of Low, and includes ceremony details as well.
We at the Montreal Zen Center are mourning the recent death of our esteemed teacher, Albert Low.

In the nineteen sixties and seventies Albert was the student of Hakuun Yasutani and later Philip Kapleau of the Rochester Zen Center, from whom he received authorization to teach prior to coming to Montréal where he founded the Zen Center in 1979.

Albert authored numerous books in which he documented his unique approach to Zen Buddhism and related subjects. Many of his books have been translated into French and other languages. He also maintained a website titled "Thoughts Along the Way" where he posted monthly essays on meditation practice and related topics. Albert was awarded an honorary degree in the Humanities from Queens University in 2002.

He was deeply loved for his warmth and boundless compassion and generosity, while at the same time he was deeply respected as an uncompromising and demanding teacher. He was universally recognized by his students as a master of the subtle teaching of Zen. He was a man of exceptional spiritual vision, clarity and intelligence which was daily manifest in his intellectual creativity and his unflagging commitment and dedication to his work, which he continued for many years in the face of severe physical weakness and pain. His death at age 87 is a profound loss for us.

The funeral ceremony in honor of our esteemed teacher will take place on Sunday, February 7, next. In compliance with what Mr Low would have wished, this ceremony will be held in a place that was so close to his heart and where his presence is still very much alive, nearly palpable, the Zendo at the Centre.

This will be a private ceremony in the presence of the members of Albert Low's family and where only regular members of the Centre are invited to participate.
We at Lion's Roar extend our sympathies to the members of Montréal Zen Center and all else who were touched by Dr. Low's life and work.