"I teach Buddhist theater."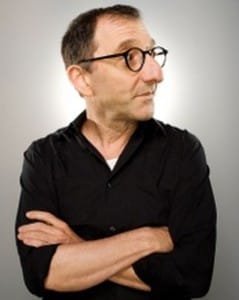 So says David Razowsky, the erstwhile artistic director of Second City's L.A. training center who's now trotting the globe giving workshops as a comedy "improv guru." And maybe that's not simply marketing hype. In a Chicago Sun-Times profile published yesterday, Razowsky cited Steve Hagen's Buddhism Plain and Simple in his recommended reading list, and says great improvisers need an in-the-moment presence, a "zero-point [of] non-engagement":
"When I give an improv class, I say, 'Your personality's not allowed in the room, your ego's not allowed in the room.'"
Razowsky goes on to observe that, "the only source of suffering is non-acceptance" and that truly inspired improvisation avoids judgment, jettisons ambition, notices everything that arises as it arises, and is imbued with a sense of gratitude.
In fact, he says, "all improv is meditation."
THANK YOU FOR READING LION'S ROAR. CAN WE ASK FOR YOUR HELP?
At Lion's Roar, our mission is to communicate Buddhist wisdom in today's world. The connections we share with you — our readers — are what drive us to fulfill this mission.

Today, we're asking you to make a further connection with Lion's Roar. Can you help us with a donation today?
As an independent nonprofit committed to sharing Buddhist wisdom in all its diversity and breadth, Lion's Roar depends on the support of readers like you. If you have felt the benefit of Buddhist practice and wisdom in your own life, please support our work so that many others can benefit, too.

Please donate today — your support makes all the difference.

Lion's Roar is a registered charity in the US and Canada. All US & Canadian donations are tax deductible to the full extent allowed by law.