Note: In 2018, allegations of sexual misconduct against Noah Levine led to the dissolution of the organization he founded, Against the Stream Meditation Society (ATS). The publication of this article on LionsRoar.com does not constitute an endorsement of Noah Levine as a teacher.
There is an often-told story in my tradition about the Thai Forest tradition master Ajahn Chah and his apparent attachment to a certain drinking glass. Sitting around with some other Buddhist monks, nuns, and lay students discussing dharma and enjoying some tea, someone asked Ajahn Chah something like, "You've been teaching us about impermanence and how everything is constantly changing. You've told us that being attached to anything in this transient world will always cause us to suffer. Yet it appears that even you, who has renounced all worldly possessions, have become attached to that special drinking glass."
Ajahn Chah replied with something like, "It is true, I do enjoy this drinking glass. I like the way it holds my tea. I admire the way the sun shines off it, at times creating tiny rainbows. This is my favorite glass, but I do not cling to it, because to me this glass is already broken. I know that my time with it is temporary and precious. So I enjoy this glass while it lasts, but I am fully aware that eventually it will fall from the shelf or be knocked over and shatter. And when that happens I will say 'of course.'"
I heard this teaching early on in my Buddhist practice and it was a very important guide for me on how to relate to change and impermanence. This was tested a few years ago when my 1964 Chevy Impala lowrider was being test driven by my mechanic, who was working on the hydraulic suspension system. The car bottomed out as he drove over a large metal construction plate on the road and the frame was ripped in half. My prized possession was wrecked.
When I got the news, I experienced anger and sadness, but I reflected on Ajahn Chah's broken glass and said to myself, "Of course, this lowrider too was already broken."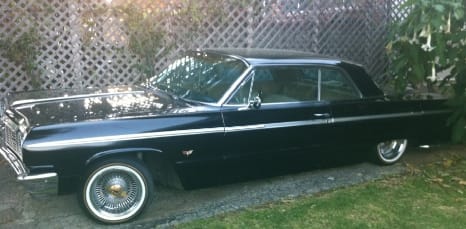 Noah Levine's latest book is The Heart of the Revolution: The Buddha's Radical Teachings on Forgiveness, Compassion, and Kindness. Thanks to Noah for providing the above photo of his lowrider in its heyday.
Thank you for reading Lion
'

s Roar. Now can we ask for your help?

Lion's Roar is a nonprofit. Our mission is to share the wisdom of the Buddha's teachings—to inspire, comfort, support, and enlighten readers around the world. Our aspiration is to keep LionsRoar.com available to everyone, providing a supportive, inspiring Buddhist community that anyone can access, from curious beginners to committed meditators. Do you share our aspiration? We can't do this without your help.

Lion's Roar reaches more readers like you than ever before. Unfortunately, advertising and other revenues are falling for print and online media. We know we have something deeply precious to share with the world, and we want to continue this important work. Can you help support our efforts now?

Lion's Roar is independent, unbiased, not-for-profit, and supported by readers like you. Please donate today and help the lion's roar echo for readers around the world.