Each Friday, we share three topical longreads in our Weekend Reader newsletter. This week, Buddhadharma's deputy editor Koun Franz addresses patriarchy in Buddhism. Sign up here to receive the Weekend Reader in your inbox.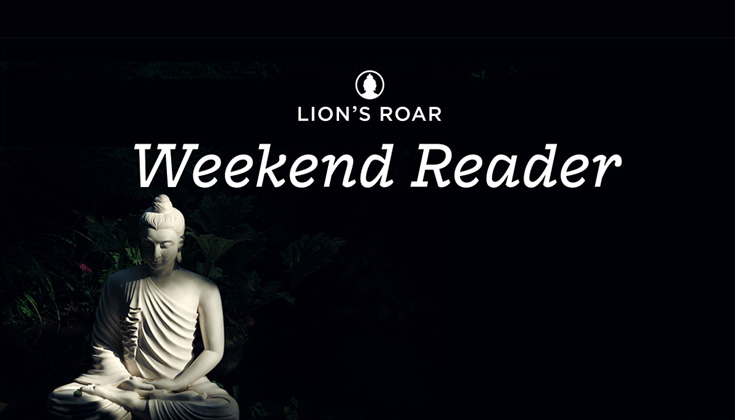 In the wake of the national discussion around patriarchy and #MeToo, I've been thinking a lot about lineage. I regularly chant the names of those in my lineage, going all the way back to the Buddha (and even to the buddhas before Buddha). I bow to them. I face them, and as I do, I thank them. But I also hold them accountable.
I know that of the nearly one hundred names in my particular line, almost none of them had much respect for women. We all know this. How? Because we can see the world around us. And we can know that what we see is a little better than it was in our parents' time, and that's a little better than our grandparents' time, and so on. We are all products of a culture and a time. No degree of spiritual attainment seems to completely transcend that.
Dogen, in the Soto Zen tradition, is often lauded as a teacher who upheld the spiritual capacity of women. And he was fairly progressive, at least by the standards of that time (eight hundred years ago) and place (medieval Japan). But by today's standards, his openness ("Even a woman can attain enlightenment!") reads mostly as an attempt to expand the definition of realization to places many would have thought unthinkable. That is, it's less about upholding women and more about challenging men. And besides, no one listened to him; after his death, women were pushed to the side for another eight hundred years.
Famously, the Buddha himself had to be persuaded by Ananda to ordain women. He finally relented only grudgingly, saying it would hasten the degenerate age of the dharma (to this day, Soto Zen nuns perform a ceremony in remembrance of Ananda as an ally). Did it really happen that way? I'd like to think, as some do, that the whole "ushering in the degenerate age" story was made up later by those with an anti-woman agenda; I'd like to imagine that the Buddha saw through it all from the beginning. But the hard truth is that, given his upbringing, perhaps the only thing that could have led him to a feminist perspective would have been some insight gained in meditation. And if there's anything we've learned from all the Buddhist scandals of the past few years, it's that meditation practice doesn't necessarily lead to an enlightened view of one's place in the world.
Just a few days ago, Neil DeGrasse Tyson tweeted, "Imagine how much more advanced society would be today if women, who comprise half the world's brain power, were socially and intellectually enfranchised from the beginning of civilization." Imagine if, from 2500 years ago, women had been truly trusted with the dharma, to learn and hold and transmit it. Imagine if, for two-and-a-half millennia, Buddhism had not only given a voice to women but had also been a voice for women, upholding their worth in the face of cultural institutions that dismissed them. Asia would be different. The world would be different. Buddhism would be different — and it would be better.
Men need to own this history and take responsibility for it (we also have to be careful about glorifying the men who came before us). Male teachers, especially, need to acknowledge that this tradition has been rigged in their favor from the beginning—and that it still is. We need to admit it to ourselves. We need to talk about it openly in our sanghas.
Here are three articles by men who are wrestling with the questions of masculinity, patriarchy, and inheritance—in short, with their place in all of this. Cameron Conaway, from a young age, linked masculinity with violence; it was meditation that finally opened a door to something else. David Dae An Rynick faces the demons of his father, who was a sexual predator. And Lama Rod Owens unpacks some of the responsibilities of being a male practitioner, teacher or not.
It's not too late for Buddhism, of course. 2500 years from now, the story of this tradition might be very different. But for now, let's be honest about where we came from — and what remains to be done.
—Koun Franz, deputy editor, Buddhadharma
From a young age, Cameron Conaway was trained to channel rage into violence. Years later, he learned he could transform his anger into something else. Trigger warning: abuse.
Like most young boys and men in our society, I was conditioned from a young age to transfer my rage into socially-accepted forms of violence. In our sports-obsessed, patriarchal culture — in which men are pressured to conform to hegemonic masculinity or else endure ridicule and hate — it felt entirely natural for me to transfer my rage into fighting men in steel cages, and sometimes get paid to do it.
My father was a caring and somewhat charismatic minister turned therapist. He was also a sexual predator.
My mistake in response to my father's confession was to keep it secret. I did tell my wife, and eventually my daughter. I also, very belatedly, had a conversation with his third wife. But now I see how I could have done more. I thought the events were in the past and there was nothing that could change what had already happened. What good would his public humiliation do? I didn't want him to be subject to the fury our hypocritical society has for those who commit sex crimes, and I certainly didn't want him to go to jail.
I see now that my silence was a kind of collusion with his original crimes.
Lama Rod Owens on why Buddhist community members — especially male-identified teachers, monks, staff, authorities, and lay practitioners — must confront and deal with ethical misconduct, and how to do it.
Patriarchy is gender-based systematic oppression, where bias and power collude to create systems that exclude women. Patriarchy is an expression of misogyny or hate of the feminine and female body. Patriarchy conditions male-identified people, especially cisgendered men, to be in opposition to women and the female body, as well as the very idea of the feminine, as a strategy to accumulate and maintain power.
Patriarchy censors men's emotional expression, labeling such expression as weak or feminine. Such conditioning has depleted my own access to live a fuller, more expressive life that is in more alignment with the feminine. My work to undo this patriarchal conditioning has been to work to feel deeply into my emotional body and to openly express that feeling.
Note: This article has been updated to include a paragraph about the need for men to acknowledge their role in upholding patriarchy.