Lion's Roar editor-in-chief Melvin McLeod conducted this interview with the Dalai Lama two decades ago, shortly before His Holiness's 60th birthday.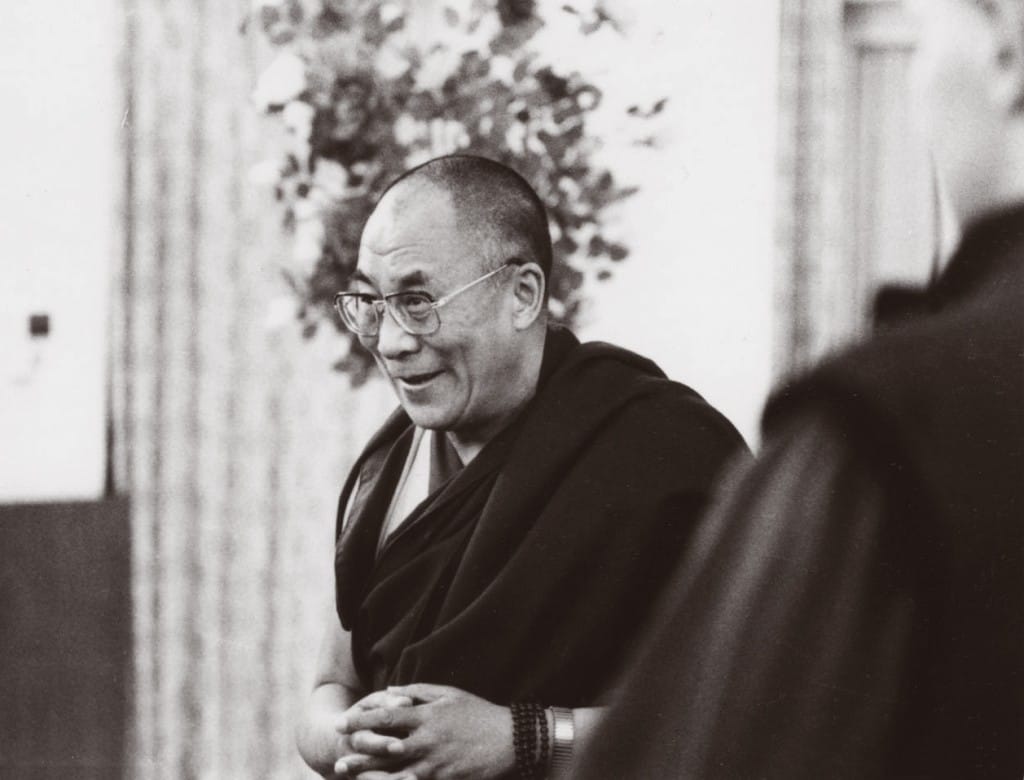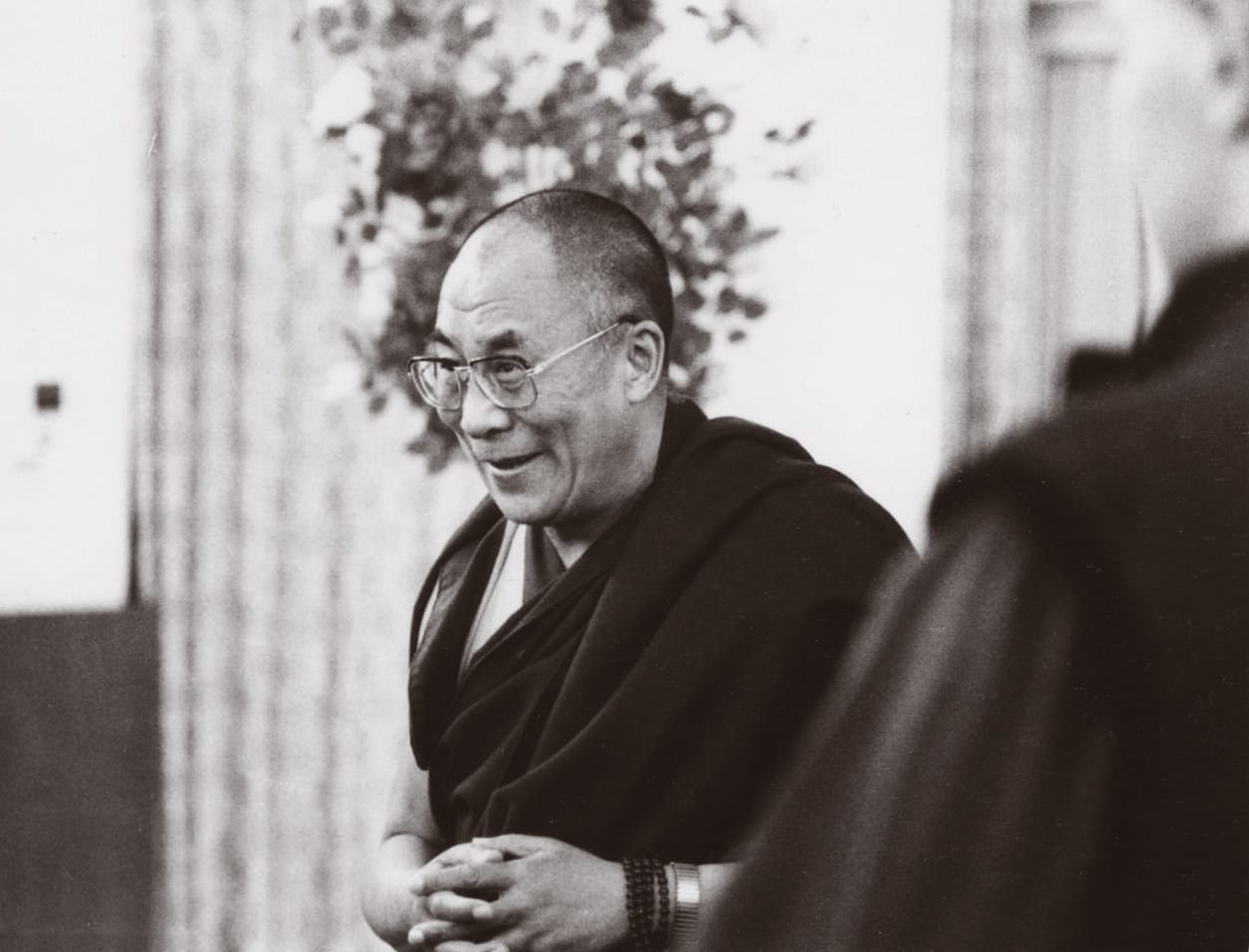 I think it is fair to say that you are now the world's most universally respected moral leader. From that position of unique moral authority, you choose to emphasize the compassion aspect of Buddhism rather than the wisdom aspect. Why don't we see headlines in the newspapers that say, "Dalai Lama says there is no God"?
[Astonished] No creator? Didn't I say that?
Yes, but to a Buddhist audience. In public, you talk about what's common in the world's religions—love, peace, compassion—but you don't stress what's unique in Buddhism, things like egolessness, non-theism, meditation.
My basic opinion is that genuine, healthy harmony among different religions is based on the full acknowledgement that there are fundamental differences. That is healthy. If we say, oh, all religion is the same, that's hypocrisy. If we create some kind of harmony in that context, then one day someone finds out Buddhism does not believe in a creator, and they will be shocked.
So I think it is important to make all the differences very clear. And despite those differences, there is common ground. We can work together. So that's my basic approach. Sometimes I mention at some interfaith services that Buddhism doesn't believe in an external creator. But unless the atmosphere is positive, usually I don't bring it up.
What is your reason for asking this?
Well, for example, you said that the Buddha discovered that greed and materialism are not the path to happiness. But the Buddha also discovered that belief in an outside savior was not the path to happiness. Perhaps it would be helpful to people if you said that more.
Well, it is important to think how much contribution we can make to the world. But in that context, there are certain types of mental training—training for compassion, for patience, and for tolerance—which can be taught without emphasizing the uniqueness of Buddhism.
For some religions, their fundamental belief is in a creator. They believe salvation is entirely dependent on the creator. If the general public believes that, 1 would indirectly argue with them to say otherwise. Even the Buddha failed to convert all Indians to Buddhism. So the poor Dalai Lama cannot do that. [Laughs.]
Generally speaking, when some other religions try to convert people, we feel that is unfair. Then if our side tries to do the same thing, how can we argue with that?
Which religion is right, that's very difficult to say. To me, Buddhism is best, there's no doubt. But that does not mean many other people should follow Buddhism, no. I am not interested in provoking people, or in recruiting more Buddhists. Of course, if a genuine Buddhist comes along, I feel happy, but that does not mean I wish for more Buddhists. No.
You have said that Buddhism must adapt to the West. In what ways?
Buddhism is something that can change under new circumstances. This is bound to happen, but 1 believe it is a natural process. We cannot make it happen—put together Buddhist tradition and some western culture and make it western Buddhism. We cannot make it happen; it must he a natural process. This is my feeling. But western Buddhists involved in such an evolution must have full knowledge of the dharma. This is important.
Now as far as the fundamentals, like the teaching of the Four Noble Truths, there is no difference whether it is east or west, north or south. No difference. Also some parts of tantrayana ritual, such as the four initiations, these we cannot change. They involve the basic, important practice. So these are the fundamentals, and they cannot change, will not change. But some minor things, such as instruments, performance, I think when they come to new cultures, these will change.
As people consider the future of western Buddhism, much of the current focus is on ethics, rules, councils, the redress of students' grievances. This is one traditional approach to Buddhism, with an emphasis on codified rules of conduct. But there is another approach, in Zen and in the yogic tradition, which actually celebrates unorthodox behavior if it is truly the product of awakened mind, of wisdom and compassion. How do we reconcile these two schools?
Here I think there are some complications. Generally speaking, there are two types of Buddhist teachings. One involves organizations, such as monasteries and Buddhist communities. For these, the Buddha himself made very clear that there should be rules. This is one category.
Then the other category is based on the relationship between the teacher and the student, especially in the tantrayana. That actually has no involvement with organization; it is simply an individual relationship. That is also the more confidential way.
So in one way, these Buddhist centers in the West involve the tantric teachings. But at the same time, many of these centers depend on organization, not individual teacher and student. So this creates a lot of complication.
In Tibet, most bigger monasteries practiced tantrayana, but the monastery's organization in most cases strictly followed the vinaya [monastic rules of conduct]. The monasteries were administrated by abbots, who were not necessarily teachers. Now here in the West, I noticed that at some centers, one individual lama is the head of the organization as well as the teacher. So this might cause some complications.
Then the immediate cause which developed this idea of codes of conduct for teachers is some unhealthy scandals. So this is very serious. This is a matter of the Buddhadharma, this is not a matter of one or two individual lamas. Therefore we have to treat it very seriously, and to make preventive measures for the future.
Doesn't this involve mistrust of the teacher?
When the teacher has broken trust, what else can you do?
There has been serious disagreement among a number of senior Tibetan teachers. Many western students have been disturbed by the political infighting and their faith has been shaken. How should they understand these developments?
In the past, some lamas joined the Chinese forces. Not just the communist Chinese forces, but previously as well. Some lamas joined the Chinese forces and invited them into Tibet. Similarly one lama joined the Ghurka forces. So such things are normal, ok. From the Buddhist viewpoint, there is always the possibility that these are also bodhisattvas, or manifestations of the Buddha.
But at the same time, all lamas are not perfect. Some westerners, I think, new Buddhists, have too many expectations.
Particularly serious is the dispute over the recognition of the Seventeenth Karmapa. You approved His Eminence Tai Situ Rinpoche's recognition of a young Tibetan boy, which was disputed by His Eminence Shamar Rinpoche. This was the first recognition of an incarnate teacher officially acknowledged by the Chinese. What do you think the Chinese government's motives were for cooperating in this way?
I told His Eminence Shamar Rinpoche that it doesn't matter if you find a young boy as another incarnation of the Karmapa. OK. Khyentse Rinpoche had five incarnations. Everybody accepted that. So that is not problem. But as far as the throne of the Karmapa, the person who owns the throne, there should be one, and that we have already decided.
Now the Chinese communists told me the Seventeenth Karmapa could leave India before the Tibetan New Year, before February of 1993. He should have reached India before the end of last year, but he has not been allowed out yet.
Actually, the Chinese have stressed that if the Karmapa goes to India and visits the Dalai Lama, the Dalai Lama will brainwash the young lama. So that is one of their worries. Therefore, it is very clear the Chinese want to manipulate him.
Will they succeed?
The very purpose of the incarnation is serving the dharma. So such a being actually cannot be pro-communist.
This is the way it should be, but then, I don't know. We will need caution. We must be prepared to take counter-measures.
What would those be?
If the Chinese really manipulate him, we have to make that clear. For example, what if the Karmapa were to come to the West and say conditions inside Tibet are very good, and the Chinese government is very kind toward Buddhism.
He says there's no need to worry— inside Tibet there is no religious persecution, or human rights violations. If he were to make such statements, we would have to make it clear that he is the instrument of the Chinese, being used by the Chinese as an instrument, and these are not the genuine statements of the Karmapa. We would have to make that clear.