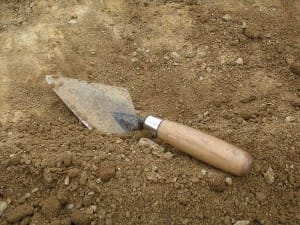 Reports that archaeologists have discovered a Buddhist monastery in their excavation.
According to a report from Indianexpress.com, archaeologists from the University of Calcutta excavated relics that appear to be Buddhist at a site in Midnapore, West Bengal. The team found structural details of a monastery, an inscribed seal, and a stucco head (possibly of the Buddha). The seal is inscribed with a message in Sanskrit that appears to be "the Buddhist Dharmaparyay, a hymn that gives glimpses into the Buddha's teachings on philosophy," according to the report.
Also found were "terracotta votive tablets showing the Buddha in the 'dhyana' pose along with two rows of miniature figures at the bottom showing the famous five transcendent Buddhas. The tablets showing the Buddha in dhyana is very unique, and a characteristic monastic artifact that proves beyond doubt the existence of an extensive monastic settlement at the site, the archeologists said."
This finding indicates with much certainty that there was, in face, a Buddhist presence in Southwestern Bengal. With only 40 percent of the site excavated so far, there is still much more to be unearthed.  There is much interest in the possibility of further findings.