From Marianne Marstrand of The Global Peace Initiative of Women comes this transcript of a talk by Andrew Harvey – mystical scholar, Rumi translator, poet, and architect of "sacred activism" – given at the recent launch of Bhikkhu Bodhi's "Buddhist Global Relief" in New York City. The language here is intense, but see for yourself if it doesn't turn out to be the kind of inspiring, galvanizing push that Harvey himself says we all need.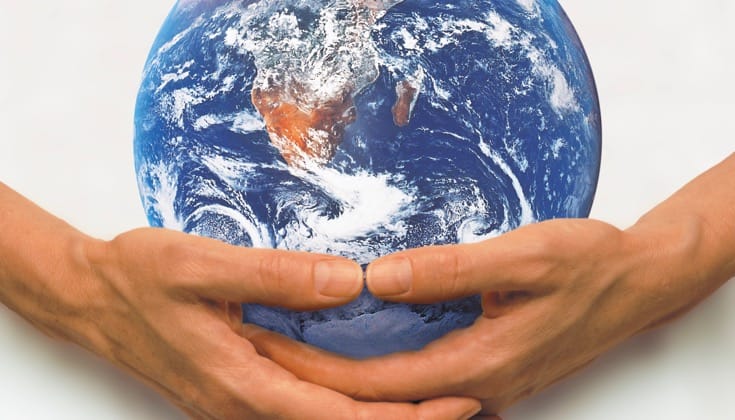 I would like to share very briefly my vision of sacred activism with you. I'd like to begin by saying that I only believe three things. I believe that we are heading into the eye of a perfect storm of crises, which threatens the human race and a great deal of nature. I think it is extremely important that we all stop denying just how dangerous and insane and savage the terror this perfect storm of crises is and just what it actually means for all of us and the world. I think you know what those crises are. There is a holocaust going on that the doomsayers had predicted. There is a retreat amongst many of the major religions into fundamentalism, which disorders our unity. There is a domination of a kind of corporate mindset of all of the different rounds of activity of corporate magnates that is brutal, that is addicted to power, that is addicted to domination, that is addicted to exploitation, and addicted to greed. There is a mass media, largely owned by corporations, filling our minds with violence, trash and celebrity trivia, at the very moment where you and I need to be inspired, galvanized and given the authentic information.
And there is a lifestyle which you and I both live, which is hectic, driven and multi-tasking, which makes it almost impossible for even for the most well meaning of us to have the kind of pleasure and peace in which to hear the voice and soul that could guide us.
When you bring all of these crises together, and add to them a population explosion which will have three billion or more people on the earth in 2050 to feed, and a proliferation of weapons of mass destruction in the hands of Grade-A lunatics and psychotics, such as the unfortunate head of North Korea and the completely insane head of Iran, then what you and I are looking at is a perfect storm of interrelated crises that are all the manifestation of a selective force — human self. A human self that has lost the most fundamental connection of all, which is the connection with our own deepest sacred nature, the sacred nature of creation and the sacred nature of life.
That is the first thing I believe, and I think it is very important that we all wake up fast, because all those who are not awake now, are going to be awake very soon. The crisis is not going to relent and it is going to get very much fiercer very soon. If that is all that I believe, I would have asked Bhikkhu Bodhi if we might make a vat of Jim Jones Kool-Aid and recite the verses from the Dhammapada together one last time, and die together. But that is not happening.
The second thing I believe is this storm of crises is an evolutionary possibility of unprecedented intensity. Because it gives us the opportunity to gaze into the mirror of our destiny, and to see very clearly, that unless you and I evolve to the next level of putting our deepest principals and our holiest compassion and our greatest passion for life into direct clear radical action on every level, we will simply not survive. In other words, this great death that we are living, that we are manifesting out of our addiction, our greed, our extraordinary apathy, our fantastic lack of concern for life, this great death is also potentially the birth canal of an enormous and unprecedented birth. The birth of a chastened and humbled humanity opened at last by tragedy and awakened by the knowledge of the shadow, to really claim all of our innate sacred consciousness and start acting truly acting from our heart and deeply to turn apocalypse into grace. Nightmare into opportunity, a terrible tragic situation into a gathering together on a massive scale to transform the world.
This vision was wasn't something that I awoke to — it was transmitted to me by my greatest teacher, the man who transformed my life, Father Bede Griffiths, who sat me down at the age of eighty-six, in his quiet hut in South India. On the last occasion we were together, he said:
"There are three possibilities, my dear Andrew, for the future of the human race. The first possibility is that the human race will wake up to the horror of what it is creating and ask for immediate transformation and start changing everything. This is totally unlikely. The second possibility is that the human race will prove so stubborn in its addiction and so addicted and so apathetic and so rotten and broken down by the corruption and power that it has chosen that it will continue in its nightmare and suicidal and matricidal power and take the whole world away in its apocalyptic madness.  I don't think that is likely either. Because the God that I had in the deepest recesses of my mystical experience is the God of all embracing humanity, all the resourceful intentions, and a God that will go on, going on reaching out to us to give us the strength and the passion and the wisdom to awaken us even in our darkest and especially in our dark humanity."
And then he said that there is a third possibility. And this is the possibility that I have experienced in the depths of my life and you will experience in the depths of your life. And this possibility is that this crises is the equivalent on a global scale of a crisis that a mystic goes through at a certain moment on the path when they go through what is called in the Christian mysticism the 'Dark Night of the Soul', and in the metaphysical systems of Mahayana Buddhism the shattering of the false self, the shattering of the created self.
If humanity can see this immense consciousness as a God-sent, God-given, God-ordained opportunity to unlearn all our dangerous attainments; if humanity could settle in the deep ground of divine inspiration and learn to how to go through the shattering ordeal with authentic grace, with authentic commitment to transformation — then not only will humanity survive, but humanity will be transfigured and transformed and will be born into an authentic divine power, [finding its] authentic divine nature through the death of the collective false self that is manifesting this great death that is wrecking everything.
Ever since that conversation, I have asked myself, day after day after day after day, one question: What in us can birth the birth of the divine humanity, transformed by tragedy, illumined by the shattering knowledge, and transfigured by divine grace? What force can give us the power to turn this devastating situation around?
Four years after Father Bede died, I found a kind of answer.
I had a dream in which he showed me two rivers. One river was a river of fire which was going toward the sea and the other which is a river of even more intense fire which was going toward the sea. And at the sea they met and they erupted in a glowing and glorious radiant divine Hiroshima of energy. And then I heard this voice saying, "these two rivers are the two noblest forces of the human psyche. And these two rivers are the river of the fire of the mystic's passion of the God and the river of the activist's passion for justice. When these two rivers meet, what happens is a third fire is born and that fire is the fire that is ordained to transform everything and that fire is the fire of divine compassion and love in action."
It was that dream, that vision that gave me the term "sacred activism" and it is in honor of that vision that I honor the work that the Buddhist Global Relief is doing and stand before you and ask you to do one thing […] if you truly believe as I do that we are facing extreme danger but with extreme opportunity. And I ask you in the name of the Buddha to get up at three o'clock in the morning someday soon and to surround yourself with the peace of God in whichever way you understand it and to ask yourself one question:
What, of all the causes of this beleaguered and damaged world, breaks my heart the most?
I ask you to dare to ask yourself this question, and I ask you to dare to listen to what your heart says to you. Because you will find that if you do that your heart will reveal to you a sacred mission that belongs to you, just to you, and that will be the most deepest and most radiant voice of your soul and that you will be given, at that moment, an injunction and direction. What you do then, is to join with other people with similar heartbreak, and to work together in your local community, to do something real about what it is that you advocate in yourself.
My last thing that I like to offer to you is what I am doing. I am going everywhere talking about this vision of sacred activism but I am also bringing out a way of grounding it in the world. On Thanksgiving Day, I am releasing a global website called "Networks of Grace" and these networks are going to be cells of between six to twelve people gathered around a heartbreak, or a profession, or a passion — dedicating themselves in their local communities to getting this grassroots radical revolution of the third power, Love in Action, going — and it is the only way which we will get a chance of it working. If you are waiting for the corporations to transform your situation, you will wait until the last tree is burnt down. And if you are waiting for the politicians to have major spiritual transformation and suddenly give millions away and start feeding the poor, you will be waiting for the last animal to disappear.
This revolution of the soul in action depends upon you and me getting real about three things: about this tragedy of where we are, about the opportunity of where we can go, and about the heartbreak that you and I all feel. And when we get real about all of those three things, then we are impelled to work together in the networks of grace to do something about them.