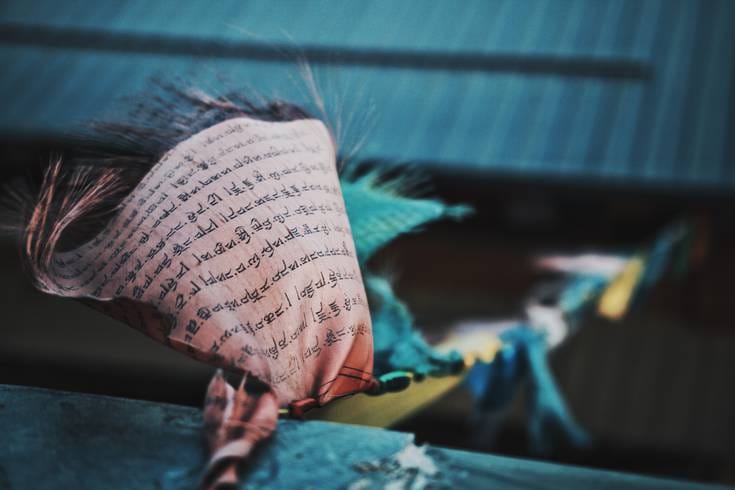 Tibetan Prayer Flags. Photo by
kychan
.
Called to lead her clan in rebellion against the brutal occupiers, Ani Pachen survived twenty-one years in Chinese prisons. Now she campaigns for Tibetan freedom, a living symbol of her people's indomitable spirit.
The California coastal fog rolls in as thick as wool socks over the Big Sur coastline between Cambria and Cuyucos. The high hum of traffic along Highway 1 offers counterpoint to the roaring bass of the Pacific Ocean. A small group of people walk along the narrow shoulder of the road.
The conclusion of this day's thirteen mile walk will mark the midpoint of the March for Tibet Independence, which started in San Francisco and will conclude in front of the Chinese consulate in Los Angeles. The small group of walkers includes several Tibetan monks and nuns in their maroon and saffron robes, a few Tibetan refugees, and a handful of young North American supporters of the Tibetan cause. When they complete their trip in L.A. they will have walked more than 525 miles.
Carrying placards asking drivers to "Honk for Tibet" and the Chinese to "Free the Panchen Lama," they stride purposefully into downtown Cuyucos, a sleepy, frayed-around-the-edges seaside community several tax brackets removed from its tonier cousins Monterey and Carmel to the north.
In the lead is a bandy-legged nun who leans on a carved wooden staff as she walks. She is self-contained, but you can tell by looking at her face that she is tired. She is 67 years old and her crooked gait is from twenty-one years of abuse and torture in Chinese prisons. She is Ani Pachen Dolma, known as "The Warrior Nun," who led her clan in armed rebellion against the Chinese invaders in the late fifties. The sister is fierce.
"Today, I am very homesick as I walk," she says. "This land reminds me of the province of Kham, my home in Tibet. Watching the horses around here makes me remember what it was like to ride and race back home. I don't think that I could ride now, today. But it is nice to think of home."
Home for Ani Pachen was Gojo, in eastern Tibet. She was born there in 1933 into the ruling Pomdha Tsang family, which shared a regional leadership role with nine other families. Her life from the beginning was different from that of other young Tibetan women.
"My father taught me to ride and to shoot," she says. "I used to race horses when I was a teenager. They didn't have separate races for girls. I raced my horse against men."
The people of the Kham region are legendary for their equestrian skills. During festival times in Kham, hundreds of people would gather for days of prayer and play—dancing, sharpshooting and trick riding. Among Tibetans the Khampas have a reputation for being tough, fearless, and maybe a bit wild. When I ask Ani Pachen if she ever had a wild streak, her response is to punch me hard in the arm and laugh. Her eyes are bright and her gaze is deep and direct.
"I raced my horse against men," she reminds me.
Today, though, it's a white passenger van that ferries the weary crew to St. Peter's Episcopal Church in nearby Morro Bay, where they're greeted by a big pot of sweet tea brewing on the stove and a potluck supper prepared by the parishioners. They'll sleep that night on the floor of the church's community room.
As marchers and parishioners socialize, off in a corner Ani Pachen is discretely massaging her feet. She has already had to stop for several days along the route because of pain in her ankles and feet, and sometimes she'll ride in the van for a while. But there is no question about her determination to make it to the Chinese consulate.
"I am walking to make people understand about Tibetan independence," she says. "I am walking so that people understand what we have suffered. I am walking so that people understand that the Tibetan culture is in danger of dying." Her own story is that of the Tibetan people—the cruelty of their oppressors, the enormity of their suffering, the strength of their spirit.
"When I was young I really wanted a religious life," she remembers, "but my family wanted me to marry." She fled her home when her family tried to arrange a marriage, and returned only when the family relented. Dividing her time between household activities and studies at the monastery of Gyalsay Rinpoche, she devoted herself to meditation practice and Buddhist studies.
But if Ani Pachen had managed to avoid marriage, she still bore responsibility as her family's only child. Her father requested that she return from the monastery to train to become his heir as chieftain. If she was not to be a wife, she would be a warrior.
By now it was 1954, the fourth year of Chinese occupation of Tibet. These were years, she recalls, of broken promises, harassment of the Tibetan people, and ever bolder attempts by the Chinese to control and the eradicate the Tibetan culture.
Then over the following year, word filtered to Ani Pachen's father and other leaders in eastern Tibet of growing horrors being wrought by the Chinese communists in their effort to subjugate the Tibetan people. The Khampa leaders realized they could not stand idly by and allow the Chinese to run rampant. Instead, they resolved to fight.
"In 1958, the Chinese forces occupied the Zining and Amdo areas, and advanced forward to Derge in Kham," Ani Pachen recalls. "People were imprisoned. All those who tried to protect Tibet's religion, the people who mattered, were killed or arrested. We decided to unite and fight. All of the chieftains in Gojo decided to fight the Chinese in unison under the command of my father and two other men."
In the war councils that followed, Ani Pachen sat at her father's side. When he fell ill and died before the year was out, she wished only to return to her meditation practice. But she was pressed by her father's allies to assume his position of leadership.
She hesitated. What finally compelled her to take up arms was not the thought of losing land or possessions. Instead, she decided to accept leadership of the rebellion because of her fear that the teachings of the buddhadharma would be destroyed in Tibet.
They never really stood a chance against a modern army. But it was their home, they knew the land well, and the people of Gojo, several thousand farmers and nomads, resisted the invading Chinese for more than a year. Facing defeat, she recalls simply, "We made a decision to go upcountry. The Chinese followed and we were captured."
At every stop along the way from San Francisco to Los Angeles, Ani Pachen will tell her story. There are no big crowds, just small gatherings in church basements like this one. As she speaks her face remains impassive. Her litany of suffering is delivered in an understated monotone.
"I was twenty-five years old when I was imprisoned for twenty-one years," she says. "I went into prison a young woman and came out an old woman. No one in my family survived but me. When they arrested me they bound my hands and feet and hung me upside down and interrogated me. They beat me continuously. I would pass out and they would throw water on me and beat me some more. They shackled me for a year. They put me in a hole in the ground and forced me to live in my own feces. All other prisoners suffered the same."
Ani Pachen tells her story in the book, Sorrow Mountain, co-authored by Adelaide Donnelly. The Dalai Lama wrote the foreword, and Richard Gere, who was instrumental in the project, wrote the preface. It's a moving and fascinating story, but one that Ani Pachen recounts without any ownership or interest in herself. She wants to protect the dharma. She wants to know the whereabouts of the Panchen Lama. She wants anyone who will listen to know that an entire culture is being demolished.
"Tibet's greatest crime was in practicing the dharma," she says. "Here many people are concerned about the endangerment of animals. This is good. But I am talking about an entire culture. Tibetan culture is on the verge of extinction."
Eventually sent to a labor camp, she was accused of leading other prisoners in reciting mantras and praying. "They said that they knew that I was telling the other prisoners that the Dalai Lama was going to come back," she says. For not "reforming her mind," the Chinese authorities added another three years to her sentence. Finally, after twenty-one years, including eleven in Lhasa's notorious Drapchi prison, Ani Pachen was released in January of 1981.
What of the jailers? I ask her. What of those who tortured you? How could you forgive them?
She smiles. "It is just karma," she says. "I felt terrible for those who imprisoned me. In jail I simply took on their suffering. I took on their pain."
Ani Pachen reaches her hand out and fingers a medal that hangs from my neck. On one side is Green Tara, protectoress of the Tibetan people; on the other side is Padmasambhava, also known as Guru Rinpoche, the great Indian yogi who brought Buddhism to Tibet.
"I am very close to Guru Rinpoche," she says. "During my years in prison I would meditate and think of him sitting on top of my head, on my shoulder, in my heart. I would recite mantras. I would practice."
After her release from prison Ani Pachen went to the countryside and eventually escaped from Tibet into Nepal. From Kathmandu, she took a bus to Dharamsala, India, home of the Dalai Lama and seat of the Tibetan government-in-exile.
"The only thing I wanted was to see His Holiness," she says. "When I had my audience with him I felt that I could die afterwards without any regrets. It had been my dream since my time of imprisonment."
The next morning Ani Pachen rises early and is saying her prayers while the van is being loaded. In downtown Cuyucos the group stands by the side of the road as the Tibetans lead morning chants. Afterwards, everyone sings the Tibetan national anthem. The day's walk begins. Moving with assurance, Ani Pachen brings up the rear. The hills are rolling out in front of her and there are thirteen miles to cover before she will tell her story again. Anyone who believes the battle for Tibetan independence is over should meet this gentle and fierce warrior. They will know that it is not.