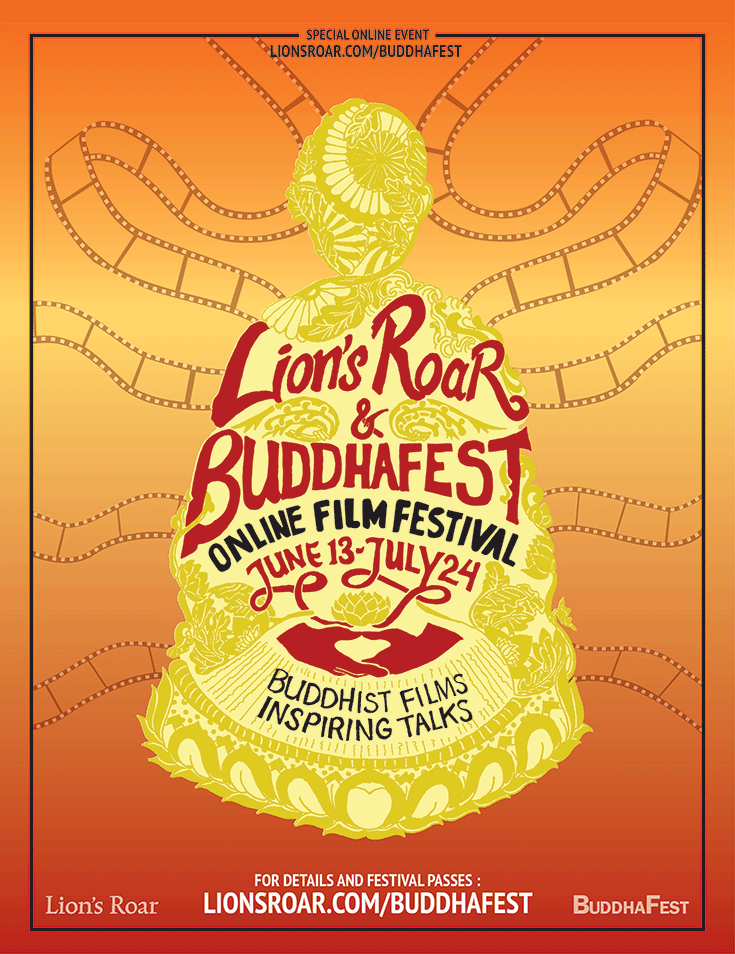 The 2016 Lion's Roar & BuddhaFest Online Film Festival has begun, and will run from June 13 to July 24. Tickets are available now at buddhafest.lionsroar.com. Update: all six BuddhaFest film trailers are now online.
Lion's Roar has partnered with BuddhaFest to bring you this special opportunity to see Buddhism and art brought skillfully together through cinema. Six films are featured, ranging from the dramatic feature For the Coyotes to Painting Peace, a beautiful documentary on the artist and calligrapher, Kaz Tanahashi. In addition, six brand-new talks created specifically for the festival will be available, from some of Lion's Roar readers' favorite teachers, including Tara Brach, Roshi Joan Halifax, Dzogchen Ponlop Rinpoche, and Sharon Salzberg.
Festival ticket holders will have access to all six films and all six talks, on demand, for the duration of the festival period (June 13 to July 24). Full festival access is just $20 for Lion's Roar subscribers or $30 for general admission.
To purchase tickets, and to view a complete list of BuddhaFest's films and teachers, click here.
THANK YOU FOR READING LION'S ROAR. CAN WE ASK FOR YOUR HELP?
At Lion's Roar, our mission is to communicate Buddhist wisdom in today's world. The connections we share with you — our readers — are what drive us to fulfill this mission.

Today, we're asking you to make a further connection with Lion's Roar. Can you help us with a donation today?
As an independent nonprofit committed to sharing Buddhist wisdom in all its diversity and breadth, Lion's Roar depends on the support of readers like you. If you have felt the benefit of Buddhist practice and wisdom in your own life, please support our work so that many others can benefit, too.

Please donate today — your support makes all the difference.

Lion's Roar is a registered charity in the US and Canada. All US & Canadian donations are tax deductible to the full extent allowed by law.