The "hacktivist" group Anonymous, releasing the image below, has claimed responsibility for crashing the Chinese government website www.naqu.gov.cn in retaliation "for oppressing Tibetans in Driru [County] & closing down Jan. 8, 2014 three Tibetan monasteries in that area."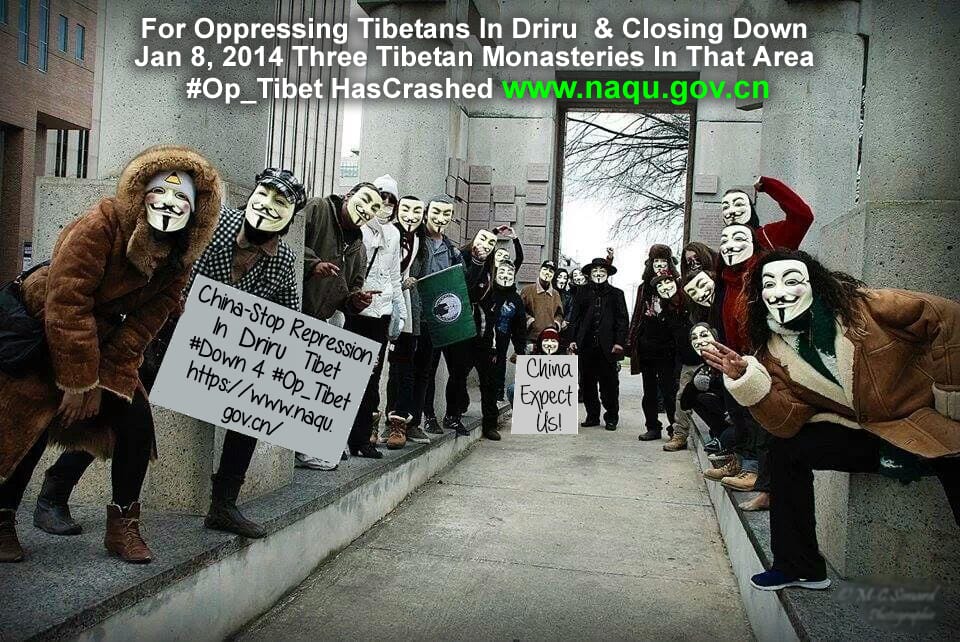 Radio Free Asia clarifies that the three Buddhist monasteries in that restive part of the Tibet Autonomous Region — Dron Na, Tarmoe, and Rabten — were shut down by Chinese police on December 26; the Anonymous action took place yesterday.
"The closure came," RFA reports, "as paramilitary police were assigned to enforce political re-education campaigns in the county while screening for dissident monks and restricting activities in the monasteries."
The paramilitary forces were said to have been surrounding the monasteries for several weeks.
For months, Tibetans in Driru have been resisting the imposition of a Chinese government "loyalty campaign." Tensions intensified in November when Chinese police, attempting to root out Buddhist monks they considered a threat, arrested Kalsang Dondrub, who was responsible for Tibetan cultural education at Dron Na Monastery, and then "ransacked the monastery."
Anonymous has created the Twitter hashtag #Op_Tibet for those who wish to follow their activities in support of Tibetan human rights.
For related reading about the difficulties Tibetan Buddhists are facing in their attempt to maintain traditional monasteries in the face of Chinese interference, see "The Disneyfication of Tibet: How Tourism has Become a Tool of Occupation" in the latest issue of Washington Monthly.