Another Tibetan self-immolated Saturday and is feared dead, say reports coming out of Ngaba, Eastern Tibet.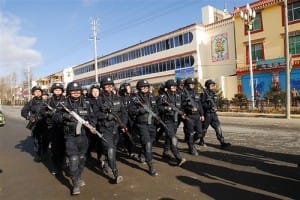 According to Phayul.com, unrest began between townspeople and Chinese officials when "security personnel arrived at the scene of the self-immolation and severely beat the Tibetan layman while putting off the flame."Free Tibet has confirmed that at least one person, a woman, has been shot in the clashes. Unconfirmed reports suggest that several people may have been shot and gassed during the incident.
Update: The New York Times' Edward Wong has now written on the violence. His report begins:
"Chinese security forces on Saturday fired into a crowd of Tibetans in a restive area of Sichuan Province after they tried to take away the body of a Tibetan man who had died after setting himself on fire that morning to protest Chinese policies in the Tibetan areas, according to reports from two Tibet advocacy groups and Tibetan officials in the exile government in India."
According to Wong, an International Campaign for Tibet spokesperson reported two shot, one possible death, and Free Tibet corroborated that one shooting had taken place; further shootings have yet to be confirmed.
Read the rest of Wong's report here.