Stuart Lord, president of Naropa University, on the value of contemplative education. Photos courtesy of Naropa University.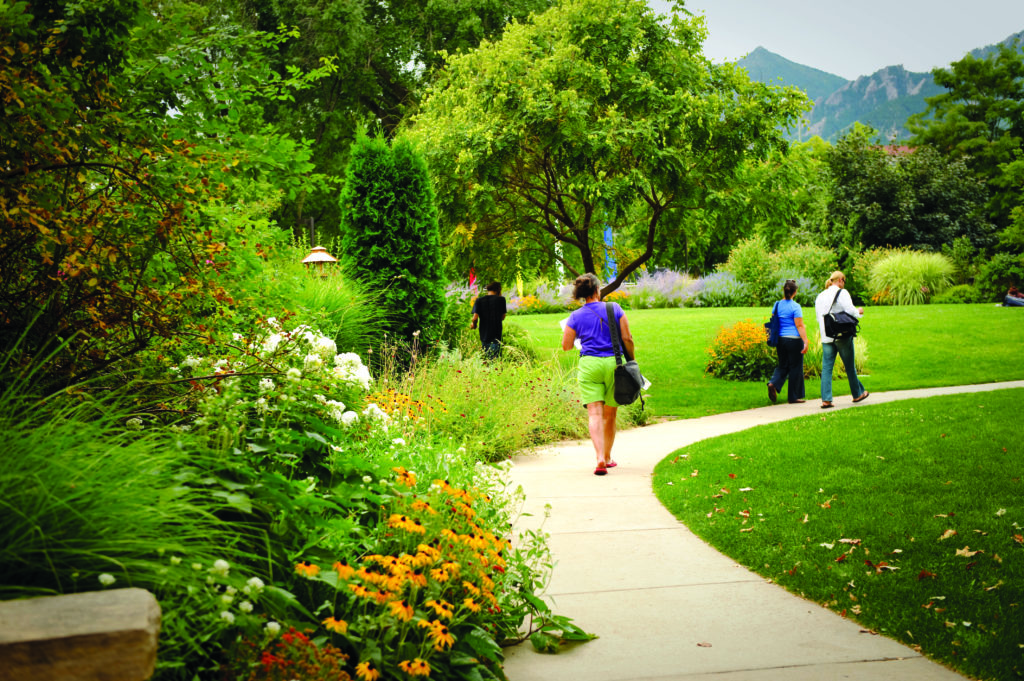 Elisabeth is a student who has committed her life to service, reflection, and transformation. Her commitment was born during an educational trip to Guatemala. Instead of learning the language and culture intellectually in a classroom, Elisabeth chose to immerse herself in the way of life of the Guatemalan people. The sight of a mother carrying water from the river to her family, the sounds of laughter during a fiesta, the taste of fresh-cooked tortillas, and seeing the exhaustion and concern on the faces of hundreds of people who walked miles through the mountains to see the visiting doctor with their sick children—through these experiences Elisabeth connected with the hearts of the Guatemalan people and shared in their lives.
Living with a family in the rural mountains, Elisabeth absorbed the language and customs from the first rays of the morning light, until her day's learning ended as the last dying embers of the fire in the family's one-room hut faded to darkness. Such experiential opportunities to serve and to learn connect students to the life source of genuine authentic community, allowing them to go beyond the limitations of traditional education and reflect on the deeper questions of meaning, life, and purpose. While most don't realize it at the time, what they are experiencing is a form of contemplative education.
At Naropa University — a world leader in contemplative education in Boulder, Colorado — meditative practices and awareness trainings are woven not only into our curriculum, but into the very lives of our students and the university community itself. Today, higher education's successes and failures are rooted in the inability to connect the mind and heart. We have developed keen minds but have failed to cultivate conscience and heart in our students. We prepare them for the latest iteration of the assembly line, but do not foster leaders who have the capacity to meet the world as it is and change it for the better. We educate in a vacuum. At Naropa, our solution is to step out of the void and into the world, reforging higher education into a holistic training that is grounded in contemplative pedagogy.
As the president of Naropa University, I'm often asked, "What is contemplative education?" At its core, contemplative education nourishes and supports a heartfelt and informed intelligence. Contemplative and meditative practices unlock the power of profound inward observation, enabling the learner to tap into a wellspring of understanding. In Cultivating the Spirit, How College Can Enhance Students' Inner Lives, Alexander Astin, Helen Astin, and Jennifer Lindholm write, "The use of contemplative practices in higher education has demonstrated its positive effects on cognitive performance, releasing stress, and aiding in the development of the whole person, including development of interpersonal skills, emotional balance, and academic skills."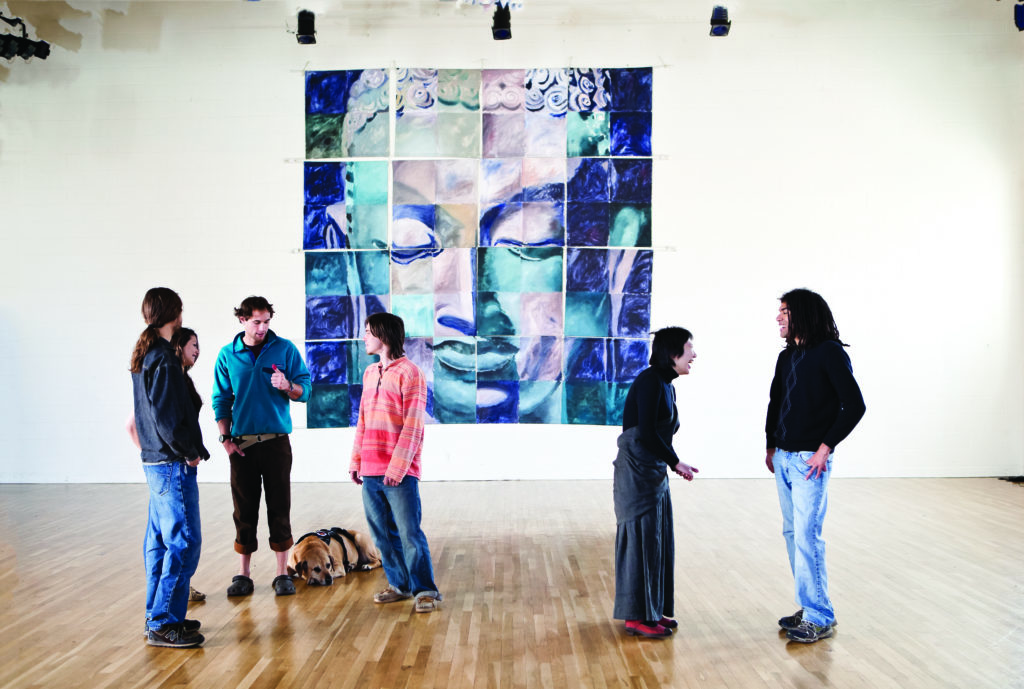 A 2010 white paper produced by the Mind & Life Education Research Network cites the benefits of contemplative practice on learners: "Drawing upon research in neuroscience, cognitive science, developmental psychology, and education, as well as scholarship from contemplative traditions concerning the cultivation of positive development, we highlight a set of mental skills and socio-emotional dispositions that we believe are central to the aims of education in the twenty-first century. These include self-regulatory skills associated with emotion and attention, self-representations, and prosocial dispositions such as empathy and compassion. These positive qualities and dispositions can be strengthened through systematic contemplative practice. Such practice induces plastic changes in brain function and structure, supporting prosocial behavior and academic success in young people."
In explaining the positive impact of contemplative practices on the learner, teacher, and the learning environment, Mirabai Bush, senior fellow and associate director at the Center for Contemplative Mind in Society, says, "The practices have had an extraordinary range of effects on the teachers, the students, the classroom, and on learning, teaching, research, and personal relationships. These include increased concentration, greater capacity for synthetic thinking, conceptual flexibility, and an appreciation for a different type of intellectual process, distinct from the linear, analytical and product-oriented processes so often valued in contemporary education." Although the benefits of this kind of holistic approach to education have been largely overlooked in traditional, Western educational systems, interest in contemplative higher education is growing, and some six hundred faculty and college administrators have now joined the Association for Contemplative Mind in Higher Education (www.ACMHE.org).
Yet while self-reflection is the first step in contemplation and in making decisions from a foundation of heart and mind, the act of contemplation alone does not make contemplative education unique. It is when contemplation infuses a rigorous academic study with the disciplined training of the heart that contemplative education s distinctiveness shines, enabling a student s capacity not just to see but to address the needs of the world. Steeped in academic excellence and spiritual insight, this marriage of a compassionate heart and a purposeful mind makes contemplative education distinguished, valuable, and powerful.
Education that is merely a process of acquiring intellectual knowledge is learning from the outside in, disconnected from the heart, the spirit, and the rest of the world. In contrast, contemplative education fosters learning from the inside out. It brings intellect and intuition together in a powerful pedagogy of creativity and insight. Why is that of value? In contemplation, the heart and mind are equally engaged. Meditation and other contemplative practices enhance our awareness of our lives and the lives of others. Awareness, felt in the body, held in the heart, and known in the mind, brings with it the desire and capability to lead an engaged life of mindfulness and service.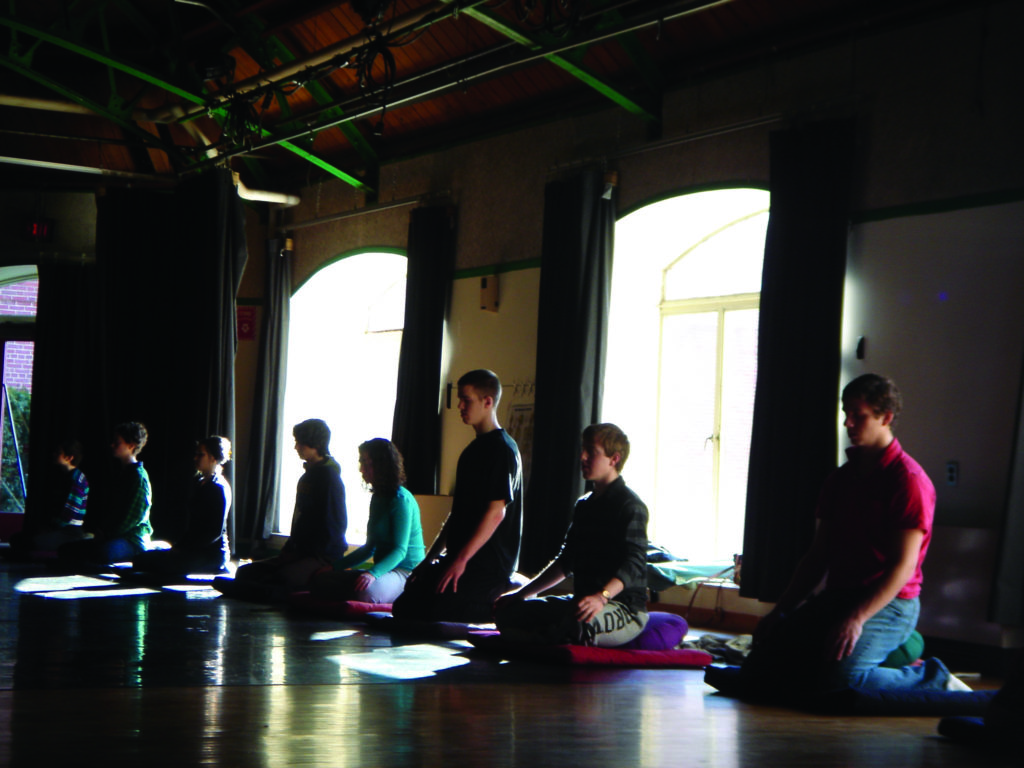 In a contemplative educational setting, a student who is developing the tools for engagement will find that awareness permeates life both in and out of the classroom. For example, someone interested in the environment would not just read textbooks and case studies on the subject, but would also participate in a community project to clean a local river and petition for legislative changes to ensure its safety. By reflecting both quietly during meditation practice, aloud during class discussions, and publicly on the causes and effects of environmental degradation, the student learns holistically through study, personal insight, and informed action. To complete the holistic circle, students must be enabled to probe further, discovering how their own choices have contributed to the problem and what steps must be taken to improve the situation on a personal, as well as a societal level. This training is particularly relevant given the need for ethical decision-making so evident today.
At Naropa, students are asked to utilize contemplative practice in their investigations of life's big existential questions: Who am I? What is happiness? How do I lead a life worth living? How can I be of service to others? Such questions, when united with contemplative inquiry, can be a profound inspiration to the academic pursuit, breathing life and meaning into ones higher educational career. These big-life questions are difficult to approach in a traditional educational curriculum. However, by learning the value of personally experiencing the subject matter, intuitively as well as intellectually, students of contemplative education begin to embrace the immediacy of their interior lives as a means of fully integrating what they learn. And while these important topics may be largely unexplored in traditional education, their profound mystery remains at the foundation of our very lives.
The full meaning of contemplative education is very subtle and difficult to describe concretely. One way to approach this method of teaching is to see its results in the lives of students, in the choices they make in regard to service, in their efforts to meet the world as it is and change it for the better.
Danny Sprague-Chaffin, a peace studies major at Naropa, formed a nonprofit organization, raised funds, and led the effort to build a school in a remote region of Nepal. Until he found a meaningful purpose and application of his passion, Danny didn't feel comfortable with his place in school or in the community. His need to improve the world drew him to the children of Nepal; Danny combined his own insight with the learning he received in the classroom, allowing him to perform effective actions that served the world community. Through hard work, dedication, and insight, he has made lasting changes in the lives of many children, all from a place of contemplative inquiry and informed and compassionate action.
Naropa alumna Amber Gray is another wonderful example of the results of a contemplative education. Amber trained in somatic counseling psychology, and today offers psychotherapy, training, and program development throughout the world, particularly to survivors of extreme trauma. Amber spent much of 2010 in Haiti after its devastating earthquake, offering informed, compassionate service to Haitians. She collaborated with their community and mental health organizations, providing training and support for caregivers and citizens. Amber assisted these caregivers in fully integrating their own personal losses, so they could better serve the larger community from a truly healthy, holistic, and aware space. Amber's contemplative practice allowed her to manage this work effectively and with compassion. It is her contemplative practice that informs, fuels, and nourishes her deep passion to serve.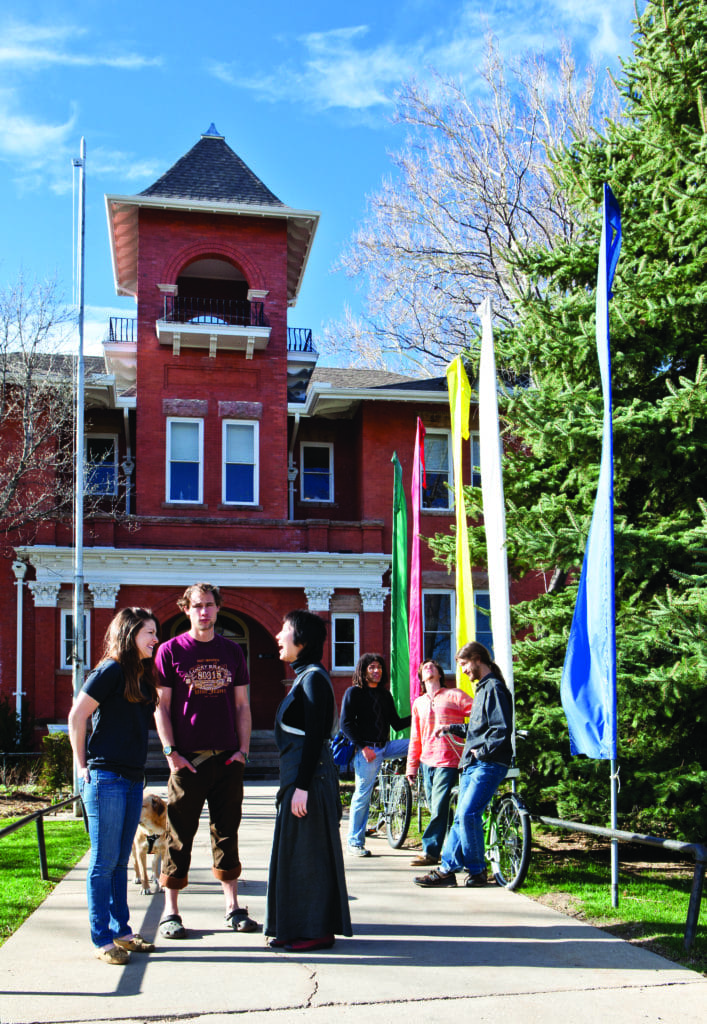 Graduates of Naropas degree programs run businesses, teach, create nonprofits, and serve in myriad ways. One of Naropas
graduates, Arron Mansika, studied environmental leadership and then founded a successful business, Boulder's Best Organics, in 1996. The Boulder County Business Report ranked it the second-fastest-growing company in the Boulder Valley in its revenue class (sales under $2 million) in 1999. Arron says reporters are often surprised that he is so successful in the business world despite having graduated from a school that doesn't offer a business degree. "I think there is a misperception as to what a mindfulness education can prepare you for," he said. "I jumped right into the Western business world, but with, in my opinion, an advantage: I am showing up frilly." Among the characteristics of showing up frilly, he says, are having a strong sense of who you are, listening to your intuition, being vulnerable yet brave enough to speak your truth, being awake, and dropping fear and hesitation so you shine through as yourself.
Albert Einstein said, "Problems cannot be solved by the same level of thinking that created them." Many of the world s problems require new and innovative approaches to find lasting solutions. The focus on immediate results and a bottom- line mentality have come at the expense of future generations, creating calamitous effects in nearly every sector of human society around the globe. More of that kind of thinking won't solve the complex, multifaceted issues that plague our global community. The greatest disservice we can do to students is to imprint them with how we assume the world to be, without giving them the necessary tools to investigate and explore the world as it is, with an open heart and a discerning mind. Students need both skills and opportunities to explore the vast range of possibilities the world has to offer so they can find creative solutions to the world's problems.
"By virtue of increasing connection, the personal transformation cultivated by mind training has great potential for enabling humanity to live on this planet sustainably and in peace," P.G. Grossenbacher and Steven Parker wrote in "Joining Hearts and Minds: A Contemplative Approach to Holistic Education in Psychology" (Journal of College and Character). Those whose higher education includes a contemplative education component are imbued with the much-needed capacity for authentic insight and revolutionary thinking; they are poised to meet the world as it is, and have the passion and capacity to improve it. When these students graduate, they have spent years turning problems upside down, looking at them from the inside out, holding them quietly within, and working collaboratively with others to find novel approaches to solving them—providing not just a quick fix, but a true change that benefits everyone. Gandhi said, "The best way to find yourself is to lose yourself in the service of others." Service, when used in a contemplative education framework, is a form of meditation leading to profound insight and positive transformation, both personally and globally. This form of compassionate service allows insight and heart wisdom to flow through all of one's deeds and actions, imbuing everyone and everything he or she touches with the benefits of such awareness.
All of those qualities are nourished by a special kind of education, a contemplative education. Naropa University graduates are able to work with the raw tensions of the world and the complexities of the human dilemma, ultimately cultivating a fuller human experience. Although we all have our own particular intentions, hopes, and dreams, when we allow our hearts to be open we can best utilize the many gifts and opportunities that come our way. When I look back on the seeds of my life, they were planted during times when I was able to reflect on the deeper questions of life. These many encounters created space in my life, allowing me to gain awareness of myself, the world, and my personal path of informed and compassionate service.
With such insight one is able to cultivate community and nourish positive change and personal growth. In such a community, there is always the opportunity for real human interaction and heartfelt connections. Commonalities, rather than differences, take precedence. In the contemplative educational environment at Naropa, students, faculty, and staff can allow the walls around them to dissipate so that they develop authenticity. I have seen it time and time again. It's such a powerful opening of the heart that once awakened, the human connection cannot be severed. When this realization has been achieved, there can never again be anything that stands in the way of the heart and its ability to connect with others. That is contemplative education, and that is how we, as a community, are changing the world.
The real question, though, is how can you apply these principles to your life?
We all must cultivate our heart s willingness to closely inquire into ourselves, our relationships, and our communities. For the success of our society we must demand a rigorous approach to practice and an open investigation into ourselves. Only when grounded in authentic self-awareness do we have the capacity to answer the call to serve.