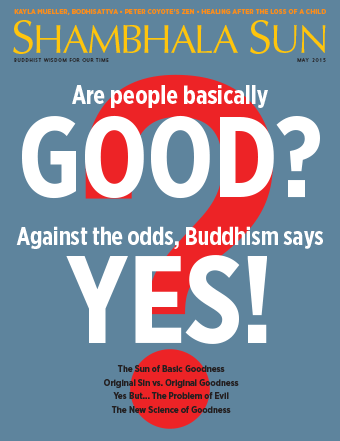 That's the question posed on the cover of our new May 2015 magazine. As for the answer? Buddhism tells us Yes, they are. But why, and how?
Inside the issue, you'll find trusted Buddhist teachers — Sakyong Mipham Rinpoche, Melissa Blacker, and Norman Fischer — unpacking the Buddhist concept of "basic goodness" and why we can have faith in it — and ourselves — even in the face of the unfathomable unkindness and evil that seems so strong in the news and in our very culture. Plus: Jeremy Adam Smith on why goodness counts, along with 3 practices to cultivate it.
Other features include: actor and author Peter Coyote's thoughtful and lyrical relection upon his life in Zen, and Andrea Miller reports on dharma teacher Jan Chozen Bays and the moving, healing ceremony her community offers to all parents who've lost children through miscarriage, abortion, and death.
And, in The Moment, the Shambhala Sun's new front section: How to do Zazen; A Buddhist pot-smoker on putting down the pipe (and, our readers chime with their own thoughts about intoxicants); lifelong Republican Christopher Ford on why Buddhism works for him; helpful guidance from Gina Sharpe, Thich Nhat Hanh, and Stan Goldberg; and we remember Kayla Mueller, a bodhisattva in thought and deed. Plus "Beginner's Mind," "Bodhi Chatter," a "Hot Off the Press" preview of Allan Lokos's new book, Through the Flames, reviews, and more.
Click here to find a copy of the magazine near you, and click here to subscribe.